PENN MUSEUM'S FREE HOLIDAY FAMILY CELEBRATION, SUNDAY, 07 DECEMBER 2008 FROM 1:00 TO 4:00 P.M.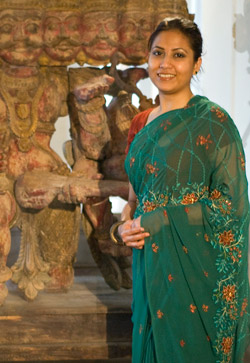 10 NOVEMBER 2009, PHILADELPHIA, PA—Grab your "Holiday Passport" and get into the spirit of the holiday season Sunday, December 7th, 1:00 to 4:00 p.m., when the University of Pennsylvania Museum of Archaeology and Anthropology celebrates its 13th annual FREE Peace Around the World family-oriented afternoon. Continuing with last year's tradition, this year's theme is "Holiday Passport to Cultures," and all visitors receive Museum "passports" with itineraries to visit Penn Museum International Classroom speakers and learn about holiday traditions in countries around the world. The day also features international music, choir music by children and adults, exotic face painting, balloon art, international family crafts, free treats for children, and more!

This year's event is in honor of Elaine Garfinkel, who founded Peace Around the World at Penn Museum in 1995. Elaine was an active member of the Penn Museum women's community for fifteen years. Her kindess and compassion live on through this special event.

Peace Around the World is co-sponsored by the Middle East Center, the Center for East Asian Studies, the South Asian Center and the African Studies Center of the University of Pennsylvania, the Museum's volunteer Women's Committee, the Bharatiya Cultural Center, the Bharatiya Vidayalaya of Montgomeryville, Pennsylvania and Canada Dry.

"We are delighted to offer this free, annual holiday 'gift' to the community," noted Dr. Richard Hodges, Penn Museum's Williams Director. "As the holiday season approaches, all of our thoughts naturally turn to connecting with others, near and far—and to our higher aspirations of one world at peace."
Guests can pick up their "passports" when they enter the Penn Museum, before "departing" on their world tour to countries including Spain, Pakistan, Turkey, Bangladesh, Saudi Arabia, Ghana, India, Democratic Republic of Congo, and Peru. Ten of Penn Museum's International Classroom program presenters will be on hand in different galleries, ready to share aspects of the history, festivals, language and social customs of their countries through special programs and activities—and to stamp visitors' passports. Passports stamped with at least four countries can be taken to the Pyramid Shop for Children to receive a small world-traveler prize.

In the Lower Egyptian gallerey, Hasan Ayaz from Izmir, Turkey, a graduate student in biomedical engineering at Drexel University, talks about the achievements of Turkey's legendary hero and father, Mustafa Kemal, in revolutionizing Turkey's culture and policies. Mustafa Kemal eternalized his political view with his famous motto "peace at home, peace around the world." Mr. Ayaz introduces Penn Museum travelers to an amazing mix of ancient and modern culture, traditions, religion, art and architecture of Turkey.

Surrounded by South and South-East Asian artifacts, Temple University freshman Kashan Ahmed from Karachi, Pakistan, shares aspects of the biggest and most celebrated festival from his part of the world: the Festival of Eid. The festival involves performing charitable acts and visiting with family and friends.

Nearby, Sharmin Farhana from Bangladesh brings elements of the Bengali New Year, presented through the ancient Bengali practice of Boishakhi Mela. The authentic ritual event marks a new beginning for the country and binds the people as one harmonious Bengali society regardless of religion, race and sect. Ms. Farhana, who volunteers regularly with the Penn Museum International Classroom, will show symbolic objects used in the festival such as a "Shika" or hanging basket used to store sweets, paper decorations and a traditional hukkah.

In the Mesoamerican gallery, Marta Garriga shares festivities of a Catalonian Christmas. Marta, a native of Catalonia in northern Spain, is a public school teacher who has taught for the Government of Spain in Barcelona and for the Education Department of Tate Britain in London. Through photos, music and food, Ms. Garriga recreates a Catalonian Christmas celebration for guests to experience firsthand.

Guests can try their hands at creating Origami figures as Mitsuyo Kimura and Mika Nakatani, both from Tokyo, demonstrate this traditional Japanese craft. In addition, Mitsuyo and Miko present aspects of Japanese traditional festivals and arts.

Prema Deshmukh, coordinator of the International Classroom at Penn Museum and who is originally from Hirehonnihali, India, introduces guests to the Indian celebration called Diwali, the Festival of Lights. During Diwali thousands of lights are lit to celebrate the victory of good over evil and welcome the goddess of wealth, Lakshmi.

In-between traveling to these different "countries" visitors can enjoy musical performances throughout the afternoon. Regional school children join in the celebration, offering holiday-oriented choral music that fills the galleries and reverberates from the grand stairwell throughout the afternoon. At 1:15 p.m. the Episcopal Academy Middle School Singers lend their voices to the festivities. The 30th Street Postal Employees Choir perform more holiday songs at 3:30 p.m.

From 1:00 to 4:00 p.m. artists from Peanutbutter's face painting troupe transform faces with their sparkly and sophisticated face painting. Family Fun Entertainment Company is on hand to create balloon animals for young guests.

In the Chinese Rotunda, young visitors can refuel between activities with a free cupcake and soda at special craft tables, families can work together to create various cultural items inspired by the Penn Museum's special exhibitions such as Benin masks, Lenape rattles and Himalayan flags, perfect for holiday gifts.

The three shops join in the festivities as well, offering 10% discounts on all purchases over $5.00 (20% off for Museum members). Shoppers will find a wealth of gift possibilities from around the world. Plus, on this special day only, Penn Museum offers visitors a $25 discount on family memberships! The Museum Café gets into the spirit, with a variety of hot entrees and holiday desserts available for purchase.

Penn Museum's International Classroom strives to promote intercultural understanding between residents of the Delaware Valley area and people from around the world. Drawing from a pool of about 150 speakers from 50 countries and six continents, the international Classroom is a rich resource for classrooms and teachers to facilitate learning about other cultures.
The University of Pennsylvania Museum of Archaeology and Anthropology, located at 3260 South Streets on the Penn campus in Philadelphia, is dedicated to the study and understanding of human history and diversity. Founded in 1887, the Museum has sent more than 400 archaeological and anthropological expeditions to all the inhabited continents of the world. With an active exhibition schedule and educational programming for children and adults, the Museum offers the public an opportunity to share in the ongoing discovery of humankind's collective heritage. For general information, visitors may call (215) 898-4000, or visit the Museum's award-winning website at http://www.penn.museum.