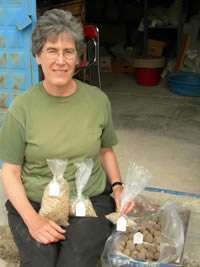 02 JANUARY 2007, PHILADELPHIA, PA Dr. Naomi Miller Senior Research Scientist at the University of Pennsylvania Museum of Archaeology and Anthropology, was selected to be a Sigma Xi Distinguished Lecturer for July 2007 through June 2009. Dr. Miller, an archaeobotanist who has worked extensively on Penn Museum archaeological excavations and other projects throughout the Near East, will offer her newest research and insights in three lecture programs offered to Sigma Xi members, students and the public: "Past, Present and Future of the Landscape in the Land of King Midas: Gordion, Turkey"; "Has it Always looked like This? Long-term Vegetation Changes in the Near East"; and "People and Plants: The Present as Key to the Past, Ethnoarchaeology in an Iranian Village."
Sigma Xi, an international research society, was founded in 1886 to honor excellence in scientific investigation and encourage a sense of companionship and cooperation among researchers in all fields of science and engineering. The Greek letters "sigma" and "xi" form the acronym of the Society's motto, "Spoudon Xynones," which translates as "Companions in Zealous Research."

Dr. Miller was among 25 scholars selected by Sigma Xi for this prestigious program, now in its 69th year. The Distinguished Lectureship Program supports the mission of Sigma Xi to promote the health of the research enterprise and the public understanding of science.

Photo: Dr. Naomi F. Miller with a variety of modern seeds and seed-filled mudballs she prepared for a demonstration garden of native plants that is part of the interpretive program for the museum at the archaeological site of Gordion in Turkey (June 28, 2006). Photo courtesy N.F. Miller.
The University of Pennsylvania Museum of Archaeology and Anthropology, located at 3260 South Streets on the Penn campus in Philadelphia, is dedicated to the study and understanding of human history and diversity. Founded in 1887, the Museum has sent more than 400 archaeological and anthropological expeditions to all the inhabited continents of the world. With an active exhibition schedule and educational programming for children and adults, the Museum offers the public an opportunity to share in the ongoing discovery of humankind's collective heritage. For general information, visitors may call (215) 898-4000, or visit the Museum's award-winning website at http://www.penn.museum.