Sleepover Programs at the Penn Museum Offered Select Friday Nights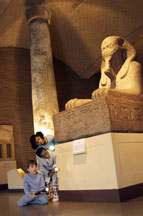 27 APRIL 2009, PHILADELPHIA, PA—Flashlights at the ready! Pith helmets optional; sleeping bags recommended! For the first time ever, children ages 6 to 12 and their parents or chaperones can take an overnight "expedition" to the University of Pennsylvania Museum of Archaeology and Anthropology select weekend nights in late Spring and Fall 2009, when the Penn Museum offers a sleepover experience like none other: Forty Winks with the Sphinx. Dates for the sleepovers (advance registration is required): Fridays, May 29th, June 5th, June 12th, and into the fall, September 25th, October 30th (with a Halloween twist), November 20th, and December 4th.
The night's activities are geared to take intrepid explorers on a journey through time and across continents, with hands on opportunities, through games and crafts, to explore ancient Egypt, the mummies and hieroglyphics, the ancient Greeks and Romans, the world of the ancient Maya, and more. A scavenger hunt and an evening expedition through the galleries by flashlight offer new ways to connect with the ancient artifacts awaiting discovery.
Later in the night, explorers roll out their sleeping bags—to doze at the foot of the third largest granite Sphinx in the world, by the 3,200-year-old pillars from the great palace of the Pharoah Merneptah, son of Ramesses II.
Forty Winks with the Sphinx
concludes with a continental breakfast in the Museum Café, and time to visit the children's gift shop.
Forty Winks with the Sphinx
sleepover programs begin Friday evenings at 5:30 p.m. and conclude Saturday mornings at 9:30 a.m. The overnight program is geared to children ages 6 to 12, and one parent or chaperone is required for five children.
Forty Winks with the Sphinx
is $50 per person (adults and children); $45 for Museum members. For details and online registration for
Forty Winks with the Sphinx
visit the Museum's website at www.museum.upenn.edu/sleepovers (to be launched 10 April 2009) or call the Museum Events Office at (215) 898-2680, Mondays through Fridays, 9 to 3 pm.
The
University of Pennsylvania Museum of Archaeology and Anthropology
, located at 3260 South Streets on the Penn campus in Philadelphia, is dedicated to the study and understanding of human history and diversity. Founded in 1887, the Museum has sent more than 400 archaeological and anthropological expeditions to all the inhabited continents of the world. With an active exhibition schedule and educational programming for children and adults, the Museum offers the public an opportunity to share in the ongoing discovery of humankind's collective heritage. For general information, visitors may call (215) 898-4000, or visit the Museum's award-winning website at
http://www.penn.museum
.