Penn Museum Presents Peripheries 2012-13 Documentary Series
Monthly Film Screenings with Expert Commentators
On Second Sundays Beginning September 9

PHILADELPHIA, PA 2012—Peripheries, a new Penn Museum Second Sunday Culture Films series, explores the lives of people on society's margins through a wide range of recent documentary films. Faculty experts from the University of Pennsylvania and other institutions introduce each film, with open discussion following the screenings. Presented in association with the 2012-2013 Penn Humanities Forum on Peripheries, Penn Museum's Second Sunday Culture Film Series runs from October through February, beginning at 2:00 pm in the Museum's Rainey Auditorium, 3260 South Street. The series is free with Museum admission.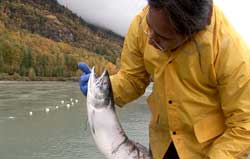 September 9 Smokin' Fish, Cory Mann & Luke Griswold-Turgis (2011)
Tlingit filmmaker Cory Mann is both co-director and subject of this film about retaining a very traditional indigenous lifestyle in the Northwest, while running a 21st century cyber business. Student group Natives at Penn leads a post-film discussion. The program is sponsored by the Penn Center for Native American Studies, Natives at Penn, Penn Cinema Studies, and the Greenfield Intercultural Center.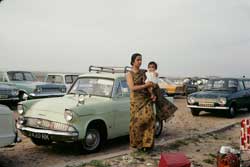 October 14 I for India, Sandhya Suri (2006)
On immigration to the UK in 1965, Mr. Suri makes his first purchase, a super 8 camera and reel to reel recorder for himself, and another set for his family back in India. At least once a month he films his family and records a soundtrack, then ships them back home, and receives the same from India. The film is a unique record of a family's experience as outsiders to a larger society, and how this changes in the next generation. Dr. Amardeep Singh, English, Lehigh University, facilitates a discussion. The program is sponsored by Penn Cinema Studies and the South Asia Center, University of Pennsylvania.
November 11 In Pursuit of Happiness, Ray Ono (2009)
After the initial grand economic bust in Japan, the homeless population has grown. This short film takes viewers to the lives of men who live on the outskirts of the city, and of Japanese society, but on another level speaks to the nature of happiness. Dr. Kyle Cleveland, Sociology, Temple University in Japan, leads a post-film discussion. The program is sponsored by Penn Cinema Studies and the Center for East Asian Studies, University of Pennsylvania.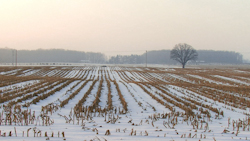 December 9 Excavation, Ellen Knechel (2011)
The small family farm in the Midwest has become exotic and peripheral to the majority of Americans who live on the coasts. In this highly personal essay Knechel's grandmother is moving out of her home as the family farm in Indiana begins closing down its operations. The question of what to keep, and what to leave behind, when the work of several lifetimes come to a close, is central to this subtle and poignant film. Director Ellen Knechel and Kate Pourshariati, film archivist, Penn Museum, facilitate a post-screening discussion. The program is sponsored by Penn Cinema Studies.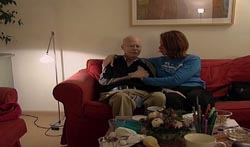 January 13 A Hospice in Amsterdam, Steef P.M. Meyknecht (2005)
For his research, Steef Meyknecht worked for three years as a volunteer in The Veerhuis Hospice. This film offers an unblinking, empathic look at a time of life often hidden from view. Dr. Nora Jones, Medical Ethics and Health Policy, University of Pennsylvania, leads a post-film discussion. The program is sponsored by Penn Cinema Studies and the Department of Medical Ethics and Health Policy, University of Pennsylvania.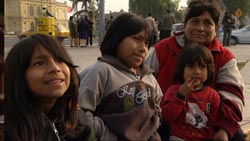 February 10 El Olvido (Oblivion), Heddy Honigmann (2008)
The filmmaker introduces viewers to Highland Inca people, having relocated to the capitol city of Lima, Peru, who give a startlingly personal view to recent political history and the effects of emigration on their lives. This film is highly original and steeped in love, and should not be missed. Dr. Ann Farnsworth-Alvear, Latin American and Latino Studies, University of Pennsylvania, facilitates a post-film discussion. The program is sponsored by Penn Cinema Studies and the Latin American and Latino Studies Department, University of Pennsylvania.
Penn Museum (the University of Pennsylvania Museum of Archaeology and Anthropology), celebrating its 125th anniversary in 2012, is dedicated to the study and understanding of human history and diversity. Founded in 1887, the Museum has sent more than 400 archaeological and anthropological expeditions to all the inhabited continents of the world. With an active exhibition schedule and educational programming for children and adults, the Museum offers the public an opportunity to share in the ongoing discovery of humankind's collective heritage.
Penn Museum is located at 3260 South Street, Philadelphia, PA 19104 (on Penn's campus, across from Franklin Field). Public transportation to the Museum is available via SEPTA's Regional Rail Line at University City Station; the Market-Frankford Subway Line at 34th Street Station; trolley routes 11, 13, 34, and 36; and bus routes 12, 21, 30, 40, and 42. Museum hours are Tuesday and Thursday through Sunday, 10:00 am to 5:00 pm, and Wednesday, 10:00 am to 8:00 pm, with P.M. @ PENN MUSEUM evening programs offered select Wednesdays. Closed Mondays and holidays. Admission donation is $12 for adults; $10 for senior citizens (65 and above); $10 for U.S. Military; $8 for children (6 to 17) and full-time students with ID; free to Members, PennCard holders, and children 5 and younger; "pay-what-you-want" the last hour before closing. Hot and cold meals and light refreshments are offered to visitors with or without Museum admission in The Pepper Mill Café; the Museum Shop and Pyramid Shop for Children offer a wide selection of gifts, books, games, clothing and jewelry. Penn Museum can be found on the web at www.penn.museum. For general information call 215.898.4000. For group tour information call 215.746.8183.