Day of the Dead Celebration at the Penn Museum Takes a Maya Focus
Saturday, November 3, 2012, 1:00 to 4:00 pm
High resolution images for press are downloadable.
PHILADELPHIA, 2012—Penn Museum offers a Day of the Dead (Dia de los Muertos) Celebration with a distinctively Maya focus Saturday, November 3, from 1:00 to 4:00 pm. Visitors will view an imposing Day of the Dead Altar created just for the event, watch dancers from two local music and cultural groups, enjoy storytelling and traditional crafts, and hear about Day of the Dead traditions and variations practiced around the world. Day of the Dead at the Penn Museum is cosponsored by the Mexican Cultural Center of Philadelphia. The celebration is free with admission to the Museum's special exhibition, MAYA 2012: Lords of Time ($22.50 for adults; $18.50 Military with ID or seniors, 65 and above; $16.50 for students and children, 6 to 12, free to Members and children 5 and younger) or with general Museum admission ($12 for adults; $10 for senior citizens, 65 and above; $10 for U.S. Military; $8 for children, 6 to 17, and full-time students with ID; free to Members, PennCard holders, and children 5 and younger).
Cesar Viveros, renowned Philadelphia artist and muralist, builds a traditional Mexican Day of the Dead Altar in the Penn Museum's imposing Rotunda, where he has the space to create a large-scale altar viewable in the round. The altar, built over several days beginning November 1, the official Mexican holiday, will remain on view through November 7.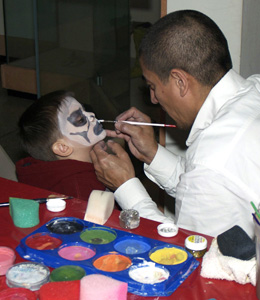 Constructed with love and care, these altars are built during Dia de los Muertos to honor the lives of those who have passed. Creating these altars is one of the most important traditions during Day of the Dead in Mexico—and in Mexican-American and Latino communities worldwide. The modern Mexican holiday is a rich blending of traditions, as its origins can be traced back to beliefs and activities of indigenous peoples of Central and South Mexico, as well as Catholic celebrations of All Saints Day and All Soul's Day. The altars have three levels: one for food and flowers, offerings to those who have died; a second level that acknowledges who the altar is dedicated to (in the Penn Museum's altar, the ancient Maya, celebrated in MAYA 2012: Lords of Time, and their rich culture, is remembered); and the third and highest level, which touches on the religious traditions, including the strong pre-Hispanic tradition that to remember someone is to "bring them back" among the living, once again.
With its roots in Mexico, Day of the Dead is today a popular celebration worldwide; at 1:00 pm, three University of Pennsylvania students from the group MEChA (El Movimiento Estudiantil Chicana/o de Aztlan), coming from different regions of the world, talk about how the day is celebrated where they live.
At 1:30 and again at 3:30 pm, dancers from the Philadelphia group Fuego Nuevo—children and adults dedicated to promoting traditions of ancient Mesoamerica through dances, rites, ceremonies, and arts, offer a new Maya-themed dance and movement presentation inspired by the Museum's MAYA 2012: Lords of Time exhibition.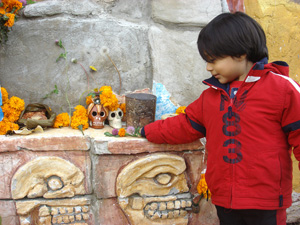 At 3:20 pm, right before Fuego Nuevo's second performance, traditionally dressed children from Casa Monarca in South Philly join the group, offering a presentation about the meaning of the Altar of the Dead components. At 2:45, storyteller Veronica Ponce de Leon, offers a special story, "El Cenote Encantado"—a legend from the Yucatan, presented in Spanish (with English translation).
Throughout the day, guests can have their faces painted skull-perfect for the celebration, and partake in a traditional sugar skull-making workshop and large-scale art mural with artist Ana Guissel Palma.
MAYA 2012: Lords of Time, Penn Museum's specially ticketed exhibition open now through January 13, 2013, considers the supposed Maya predictions of an impending apocalypse, as it explores the concept of time in the world of the ancient Maya—and introduces visitors, via video interviews, to the Maya people of today.
Penn Museum (the University of Pennsylvania Museum of Archaeology and Anthropology), celebrating its 125th anniversary this year, is dedicated to the study and understanding of human history and diversity. Founded in 1887, the Museum has sent more than 400 archaeological and anthropological expeditions to all the inhabited continents of the world. With an active exhibition schedule and educational programming for children and adults, the Museum offers the public an opportunity to share in the ongoing discovery of humankind's collective heritage.
Penn Museum is located at 3260 South Street, Philadelphia, PA 19104 (on Penn's campus, across from Franklin Field). Public transportation to the Museum is available via SEPTA's Regional Rail Line at University City Station; the Market-Frankford Subway Line at 34th Street Station; trolley routes 11, 13, 34, and 36; and bus routes 12, 21, 30, 40, and 42. Museum hours are Tuesday and Thursday through Sunday, 10:00 am to 5:00 pm, and Wednesday, 10:00 am to 8:00 pm, with P.M. @ PENN MUSEUM evening programs offered select Wednesdays. Closed Mondays and holidays. Hot and cold meals and light refreshments are offered to visitors with or without Museum admission in The Pepper Mill Café; the Museum Shop and Pyramid Shop for Children offer a wide selection of gifts, books, games, clothing and jewelry. Penn Museum can be found on the web at www.penn.museum. For general information call 215.898.4000. For group tour information call 215.746.8183.
Photo captions: Depicted here is a Day of the Dead altar created by artists Cesar Viveros and Ana Guissel Palma. Viveros creates a traditional altar in the days leading up to the Penn Museum's Day of the Dead Celebration (photo: Cesar Viveros); Face painting is part of the Penn Museum's Day of the Dead Celebration (photo: Penn Museum); muralist Cesar Viveros creates a large scale altar centerpiece like this one for the Penn Museum's Day of the Dead Celebration (photo: Cesar Viveros).