JAZZ INSPIRED BY EGYPTIAN HERITAGE:
Todd Marcus and Quartet Offer Up CD Release Performance
in Penn Museum's Egypt Gallery Wednesday, February 20, 6:30 pm
If you have ever visited the Penn Museum, then the cover and inside art of renowned bass clarinetist Todd Marcus's new jazz CD recording, Inheritance, may strike a resonant chord. That's because the album photography was shot in the Penn Museum's Egypt Gallery.
Rated one of the Top 10 Jazz Albums of 2012 by NPR's Patrick Jarenwattananon, Inheritance has garnered sparkling reviews since it was launched in October. Still, as the Todd Marcus Quartet continues the album's release tour at a special concert at the Penn Museum Wednesday, February 20, at 6:30 pm, it will be a memorable night for the lead musician.
"I really think this is going to be one of the most special performances of my career to date," said Marcus, who began exploring his heritage (he is half-American, half-Egyptian) in earnest about 2005. "It will mean a great deal to me on many levels—because of my Egyptian heritage, because of the Middle Eastern-inspired music I've written that we'll be playing, because the album's photography was executed at the museum, and even because I expect my father to be there. So it will be a special way to celebrate these forces in my life all coming together for the first time."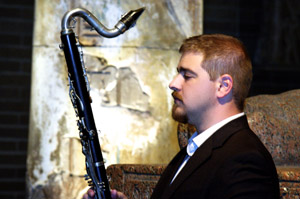 About the Concert:
The Todd Marcus Quartet presents the release of its new album Inheritance—a straight-ahead jazz recording featuring the rare use of Marcus's bass clarinet as a lead horn, in the Museum's Egypt Gallery, surrounded by ancient Egyptian art and artifacts which span thousands of years. The music showcases arrangements of jazz standards as well as original compositions, which feature Middle Eastern influences reflecting Marcus's Egyptian-American heritage. The Quartet features Marcus on clarinet, with Xavier Davis (piano), Eric Wheeler (bass), and Eric Kennedy (drums). Admission: $15. For tickets, go to www.penn.museum. For more information, call 215.898.2680.

For more information about the group, visit www.toddmarcusjazz.com. Todd Marcus responds to questions about his cultural influences, and the upcoming concert at the Penn Museum, in this Q&A.
Penn Museum (the University of Pennsylvania Museum of Archaeology and Anthropology) is dedicated to the study and understanding of human history and diversity. Founded in 1887, the Museum has sent more than 400 archaeological and anthropological expeditions to all the inhabited continents of the world. With an active exhibition schedule and educational programming for children and adults, the Museum offers the public an opportunity to share in the ongoing discovery of humankind's collective heritage.
Penn Museum is located at 3260 South Street, Philadelphia, PA 19104 (on Penn's campus, across from Franklin Field). Public transportation to the Museum is available via SEPTA's Regional Rail Line at University City Station; the Market-Frankford Subway Line at 34th Street Station; trolley routes 11, 13, 34, and 36; and bus routes 12, 21, 30, 40, and 42. Museum hours are Tuesday and Thursday through Sunday, 10:00 am to 5:00 pm, and Wednesday, 10:00 am to 8:00 pm, with P.M. @ PENN MUSEUM evening programs offered select Wednesdays. Closed Mondays and holidays. Admission donation is $12 for adults; $10 for senior citizens (65 and above); $10 for U.S. Military; $8 for children (6 to 17) and full-time students with ID; free to Members, PennCard holders, and children 5 and younger; "pay-what-you-want" the last half hour before closing. Hot and cold meals and light refreshments are offered to visitors with or without Museum admission in The Pepper Mill Café; the Museum Shop and Pyramid Shop for Children offer a wide selection of gifts, books, games, clothing and jewelry. Penn Museum can be found on the web at www.penn.museum. For general information call 215.898.4000. For group tour information call 215.746.8183.
Photos by Carlyle Smith.