Philadelphia READS! Community Night Wednesday, April 10 at the Penn Museum
Kicks off a Month-Long Children's Book Drive
MEDIA CONTACT: Pam Kosty, 215.898.4045, This email address is being protected from spambots. You need JavaScript enabled to view it.
High resolution images for media are downloadable HERE.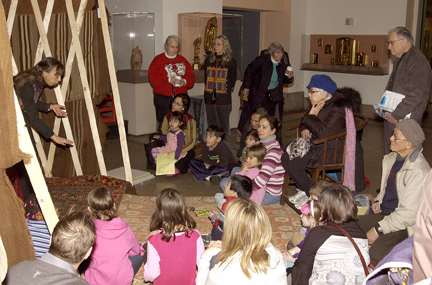 PHILADELPHIA, PA Spring 2013—It's a groundswell and it's building momentum—Philadelphia's cultural community is putting the spotlight on reading, literacy, and community engagement. Reading opens up worlds of opportunity—and books, like the many cultural treasures in the city, bring so many worlds vividly to life.
Penn Museum, in cooperation with the Greater Philadelphia Cultural Alliance's GroundSwell initiative, opens its doors Wednesday, April 10, 5 to 8 pm, for a free Philadelphia READS! Community Night and the official kickoff of a month-long children's book drive to benefit the teachers, the children, and ultimately, the community, of Philadelphia.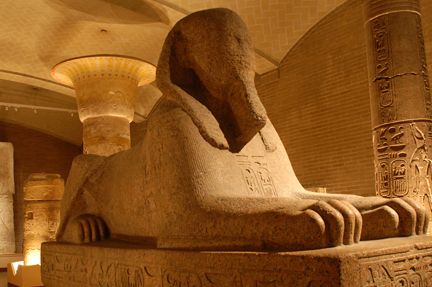 The free event is an invitation for people young and old to explore the world through the Penn Museum's many-cultured galleries—filled on this evening with a host of special activities and a literary twist. Guests are welcome to bring a gently used or a new children's book—suitable for pre-kindergarten through elementary school—to contribute to Philadelphia READS, a program that provides books and literacy resources to educators in the City of Philadelphia.
A Night to Celebrate Reading
Penn Museum curators, collections keepers, and graduate students join in the celebration with gallery storytelling, and hands on activities.
The Museum has the world's largest collection of ancient clay cuneiform tablets with Sumerian literature—featuring some of the earliest storytelling in the world. Irene Plantholt, Graduate Student, Near Eastern Languages and Civilizations, teaches guests how to write in ancient Sumerian on clay tablets, in a "first day of school" workshop at 5:00, 5:30 and 6:00 pm. Ancient Egyptian Hieroglyphs workshops, where everyone can learn to write his or her own name in hieroglyphs, are offered by Allison Hedges, recent Penn MLA graduate in Ancient Studies, at 6:30 and 7:15 pm.
Guests can enjoy favorite stories from diverse cultures, presented by curators and keepers and staff in the Museum's related galleries: International Classroom Program Manager Prema Deshmukh at 5:00 pm; Egyptian Section Associate Curator Jennifer Wegner at 5:30 pm; Near Eastern Section Assistant Curator Lauren Ristvet at 6:00 pm; Mediterranean Section Associate Curator Ann Brownlee at 6:30 pm; Physical Anthropology Curator Janet Monge at 7:00 pm; and Adrienne Jacoby, Executive Director, Philadelphia READS, at 7:30 pm.
Community presenters and performers join in the evening. Guests can explore the "language" of the drum, at a Middle Eastern drum workshop hosted by renowned Philadelphia drummer Joe Tayoun at 5:30 pm. Teaching artist, actor, and storyteller Jan Michener of Arts Holding Hands & Hearts leads an interactive program using newspaper headlines to create and perform poetry. Youth poets from ArtWell perform throughout the evening. Local dance companies Chisena Danza, Stone Depot Dance Club, and Jennifer Yackel & Dancers dazzle guests with two lively performances at 6:00 and 7:00 pm.
The West Philadelphia Alliance for Children (WePAC) joins the night. WePAC opens and staffs elementary school libraries with screened and trained volunteers, making a difference for more than 5,000 students. They will provide information on ways to volunteer in their effort to promote literacy.

Reach Out and Read Greater Philadelphia and The Children's Hospital of Philadelphia's Reach Out and Read Program are also on hand. Reach Out and Read is a national program that prepares America's youngest children to succeed in school by partnering with doctors to prescribe books and encourage families to read together.
Guests are invited to sign up in advance and share the invitation with friends: http://philadelphiareadscommunitynight.eventbrite.com/
Walk ins welcome, too!
About Philadelphia READS: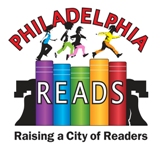 Philadelphia READS provides volunteer opportunities for individuals and groups to help put children on the path to academic success. The Philadelphia READS Book Bank provides children's books for classroom libraries and school supplies for students -- free of charge -- to Philadelphia educators who teach in under resourced public, charter and parochial schools, day care centers, after school programs and other educational sites. In the 2011 – 2012 school year, 91,000 books were supplied to under-resourced classroom libraries.


About GroundSwell: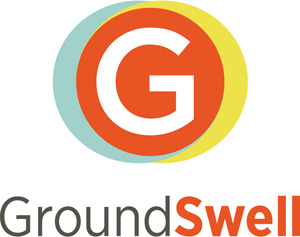 Do Something Good for a Change! GroundSwell, an initiative of the Greater Philadelphia Cultural Alliance, is building a movement of residents who take action to make Philadelphia a world-class place to live, work, and play, and who speak out on behalf of our region's cultural assets.
Arts @ Penn and Cultural Alliance: Additional Book Drop Off Points
The GroundSwell Philadelphia READS Book Drive is supported by multiple locations, and books are being collected through Mother's Day (Sunday, May 12, 2013). Check hours at individual organizations before dropping off donations.
On the Penn campus:
Penn Museum, 3260 South Street, www.penn.museum
Annenberg Center for the Performing Arts, 3860 Walnut Street, www.pennpresents.org
Arthur Ross Gallery, 220 South 34th Street, www.upenn.edu/ARG
Institute of Contemporary Art, 118 South 36th Street, www.icaphila.org
Office of Community and Public Affairs, 133 South 36th Street, 5 fl, www.upenn.edu/ogca
In Center City (Greater Philadelphia Cultural Alliance): http://www.philaculture.org/
The Philadelphia Building – Lobby 1315 Walnut Street


---

Penn Museum (the University of Pennsylvania Museum of Archaeology and Anthropology), celebrating its 125th anniversary in 2012, is dedicated to the study and understanding of human history and diversity. Founded in 1887, the Museum has sent more than 400 archaeological and anthropological expeditions to all the inhabited continents of the world. With an active exhibition schedule and educational programming for children and adults, the Museum offers the public an opportunity to share in the ongoing discovery of humankind's collective heritage.

Penn Museum is located at 3260 South Street, Philadelphia, PA 19104 (on Penn's campus, across from Franklin Field). Public transportation to the Museum is available via SEPTA's Regional Rail Line at University City Station; the Market-Frankford Subway Line at 34th Street Station; trolley routes 11, 13, 34, and 36; and bus routes 21, 30, 40, and 42. Museum hours are Tuesday and Thursday through Sunday, 10:00 am to 5:00 pm, and Wednesday, 10:00 am to 8:00 pm, with P.M. @ PENN MUSEUM evening programs offered select Wednesdays. Closed Mondays and holidays. Hot and cold meals and light refreshments are offered to visitors with or without Museum admission in The Pepper Mill Café; the Museum Shop and Pyramid Shop for Children offer a wide selection of gifts, books, games, clothing and jewelry. Penn Museum can be found on the web at www.penn.museum. For general information call 215.898.4000. For group tour information call 215.746.8183.


Captions (top to bottom) The Museum's rich collection of art and artifacts from around the world provides the setting for a night of stories and a celebration of literacy. Pictured here, a Museum docent tells stories in a related gallery. At Philadelphia READS! Community Night, Wednesday, April 10, guests can hear stories from around the world, selected and told by the Penn Museum keepers, curators, staff, and graduate students. Photo: Penn Museum; Year-round, students and families come face to face with world cultures and genuine art and artifacts, including this 12-ton Sphinx which dominates the Egypt (Sphinx) gallery. At Philadelphia READS! Community Night, Wednesday, April 10, guests can learn to write their name in Egyptian hieroglyphs and then hear a fable told by Egyptian Section Curator Jennifer Wegner. Photo: Penn Museum; Philadelphia READS! Community Night, Wednesday, April 10, kicks off a month-long children's book drive in cooperation with the Greater Philadelphia Cultural Alliance's GroundSwell initiative. Pictured here, educators are all smiles at the Philadelphia READS book bank, which supplies donated children's books for pre-school and school programs around the city. Photo: Philadelphia READS; A young visitor looks into the eyes of history. This gilded mask originally covered the head of a mummy, Ptolemaic-Roman Period (after 300 BCE). The deceased, in a long wig, is shown in an idealized fashion. The golden flesh may represent the skin of the immortal Egyptian gods. At Philadelphia READS! Community Night, Wednesday, April 10, stories come to life as Museum curators, keepers, staff, and graduate students tell their favorite stories in the galleries. Photo: Penn Museum