NEW AND CHANGING SPECIAL EXHIBITIONS
Year of Sound: Hollywood in the Amazon
August 18, 2013 through July 27, 2014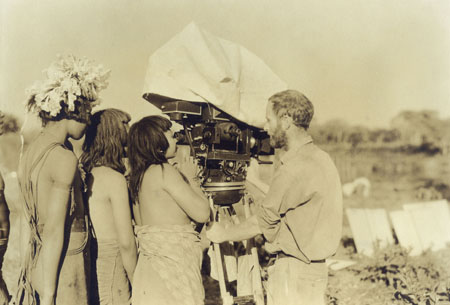 In 1931, an expedition from the Penn Museum introduced a revolutionary new research method in the remote Amazonian jungles of Brazil. Transporting state-of-the-art equipment by sea, air, and river, the team arrived in territory occupied by the Bororo people and recorded an expeditionary film, Matto Grosso, the Great Brazilian Wilderness, incorporating live sound. It was the first time non-Western people were seen and heard on sound-synced film.
A collaboration between Academy Award-winning cinematographer Floyd Crosby (father of musician David Crosby), wealthy industrialist E. R. Fenimore Johnson (whose father founded Victor Talking Machine Company), big game hunter Sasha Siemel, and Penn Museum anthropologist Vincenzo Petrullo, the groundbreaking film is presented in its entirety. Several artifacts from the Bororo people, collected during the expedition, as well as new translations of the Bororo speakers heard in the film, are part of this special exhibition, developed in conjunction with the University of Pennsylvania's 2013–2014 Year of Sound. Special Exhibitions Gallery, 3rd floor.
In the Artifact Lab: Conserving Egyptian Mummies
Evolving Exhibition Project through Summer 2014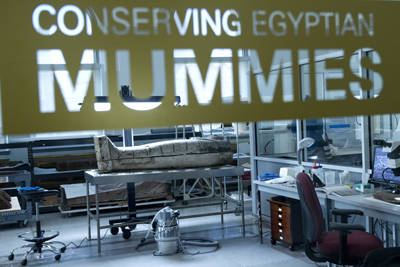 The Penn Museum invites you behind the scenes with this evolving project! Part exhibition, part working laboratory, a glass-enclosed conservation lab brings you right into a museum conservator's world. See the tools of the trade and watch as conservators work on a wide array of Egyptian funerary artifacts, including ancient coffins, portraits, and, of course, mummies! Enjoy this unique opportunity to follow conservators (working Tuesday through Sunday, with question and answer periods posted on site) as they protect, restore, and preserve pieces of ancient Egyptian history. In the Artifact Lab, which opened in the fall of 2012, is made possible through the generosity of Mr. and Mrs. John R. Rockwell. 3rd Floor, behind Iraq's Ancient Past.
ONGOING SPECIAL EXHIBITION
Black Bodies in Propaganda: The Art of the War Poster
Opened June 2, 2013. Through March 2, 2014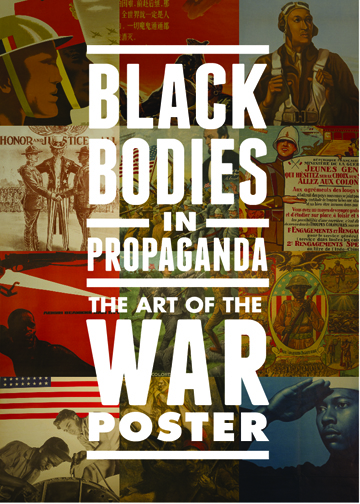 Propaganda is used to mobilize people in times of war. Black Bodies in Propaganda presents 33 posters, most targeting Africans and African-American civilians in times of war. These carefully designed works of art were aimed at mobilizing people of color in war efforts, even as they faced oppression and injustice in their homelands. Witness changing messages on race and politics through propaganda from the American Civil War to the African Independence movement in this innovative, world-premiere exhibition.
Dr. Tukufu Zuberi—host of the long-running PBS television series History Detectives—curates the exhibition. The Lasry Family Professor of Race Relations, and Professor of Sociology and Africana Studies at the University of Pennsylvania, he provides his perspective on more than 200 years of African and African American military history, told through his private collection of propaganda posters. In addition to the posters, the exhibition features three objects from the Penn Museum's African Collection, as well as a touchscreen interactive to explore some of the posters' distinctive iconography, archival military recruitment films, and a related segment from PBS' History Detectives. Merle-Smith East Gallery, 1st Floor.
The Penn Museum (the University of Pennsylvania Museum of Archaeology and Anthropology) is dedicated to the study and understanding of human history and diversity. Founded in 1887, the Museum has sent more than 300 archaeological and anthropological expeditions to all the inhabited continents of the world. With an active exhibition schedule and educational programming for children and adults, the Museum offers the public an opportunity to share in the ongoing discovery of humankind's collective heritage.
The Penn Museum is located at 3260 South Street, Philadelphia, PA 19104 (on Penn's campus, across from Franklin Field). Public transportation to the Museum is available via SEPTA's Regional Rail Line at University City Station; the Market-Frankford Subway Line at 34th Street Station; trolley routes 11, 13, 34, and 36; and bus routes 21, 30, 40, and 42. Museum hours are Tuesday and Thursday through Sunday, 10:00 am to 5:00 pm, and Wednesday, 10:00 am to 8:00 pm, with P.M. @ PENN MUSEUM evening programs offered select Wednesdays. Closed Mondays and holidays. Admission donation is $15 for adults; $13 for senior citizens (65 and above); free for U.S. Military (and free for military families over the summer, through participation with the Blue Star program); $10 for children and full-time students with ID; free to Members, PennCard holders, and children 5 and younger.

Hot and cold meals and light refreshments are offered to visitors with or without Museum admission in The Pepper Mill Café; the Museum Shop and Pyramid Shop for Children offer a wide selection of gifts, books, games, clothing and jewelry. The Penn Museum can be found on the web at www.penn.museum. For general information call 215.898.4000. For group tour information call 215.746.8183.