From Gallery Romps (for ages 3 to 6 and their parents or chaperones), to Second Sunday Family Workshops (drop-ins welcome, suitable for ages 5 and older), from 40 Winks with the Sphinx Sleepovers (ages 6 to 12 and their chaperones), to World Culture Days and Afternoons (fun for all ages), Penn Museum offers families age-appropriate programs to inspire, educate and enjoy.
For more details, visit our online events calendar at www.penn.museum/calendar.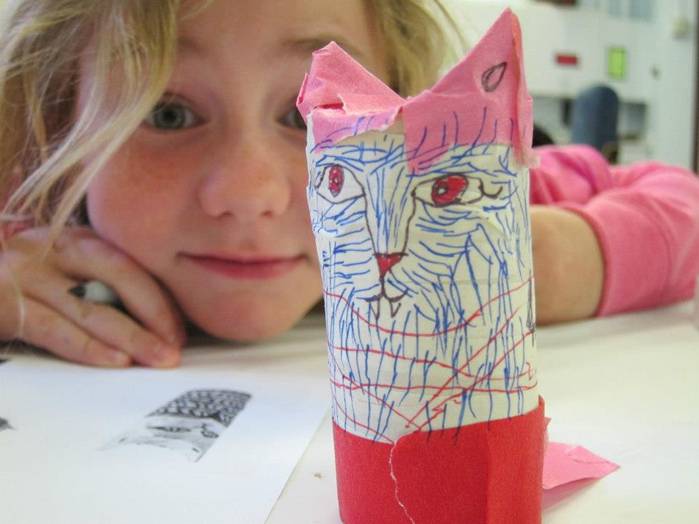 Family Second Sunday Workshops
Second Sunday of each month, 1:00 - 4:00 pm
Families of all ages are invited to deepen their experience, learn and discover together at these monthly, walk-in workshops offered in the new Education Classroom. Activities change each session. Programs are free with Museum admission, and advance registration is only required for groups of 10 or more.
September 8
Golden Cartouches
A cartouche, an oval encircling Egyptian hieroglyphs, is a nametag of a pharaoh. In this drop-in workshop, participants can learn to write their name in hieroglyphs and become instant royalty when they make your own cartouche to take home. Guests can also explore hands-on artifacts associated with ancient Egypt.
October 13
Owl Puppets
Athena, a favorite goddess of the ancient Greeks, is symbolized by an owl. Participants craft their own owl puppet to take home during this drop-in workshop, and learn more about Athena and other ancient Greek gods when they explore the Greece Gallery with a brochure. Free with Museum admission.
See the full lineup of Family Second Sunday Workshops at:
www.penn.museum/kids-and-family.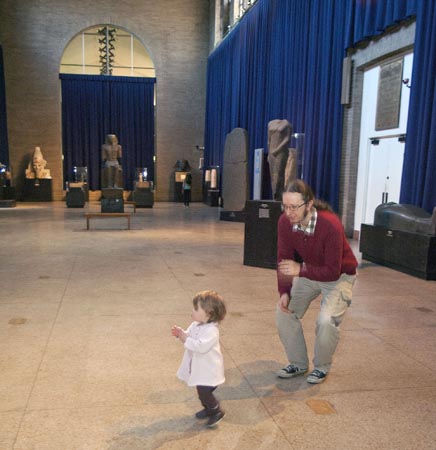 Gallery Romps
Egypt
September 21
Saturday, 10:30 - 11:15 am
New this year, Penn Museum has a program designed for families with preschoolers! Young children (ages 3 to 6) and their favorite grownups are invited to explore the Penn Museum's galleries through stories, crafts, and play. Kids can journey with Hen, Goose, and Duck on a picnic, and explore a feast for the afterlife on an Egyptian tomb mural nearby. Each workshop is limited to 25 people and advance registration is encouraged. To register, email This email address is being protected from spambots. You need JavaScript enabled to view it. or call 215.898.4016.
Egypt
October 26
Saturday, 10:30 - 11:15 am
Kids can take an adventure with Bill and Pete down the Nile at the foot of the Museum's 12-ton sphinx, and make a special craft inspired by ancient Egypt to take home. Each workshop is limited to 25 people and advance registration is encouraged. To register, email This email address is being protected from spambots. You need JavaScript enabled to view it. or call 215.898.4016..
World Culture Afternoons
Penn Museum galleries, classrooms, and auditoriums come alive with music and dance, performances and workshops, and talks and tours in these popular family-friendly programs, all free with Museum admission donation. For more information, call 215.898.2680.
September 28
Saturday, 1:00 - 5:00 pm
World Culture Afternoon
Turkish Delight!
Visitors are invited to an afternoon of pure Turkish delight! The event features Turkish dancing and music, talks on ancient and modern Turkey, an authentic cuisine demonstration, crafts, and more. This GlobalPhilly 2013 event is sponsored by the Turkish American Friendship Society of the United States and the Middle East Center of the University of Pennsylvania.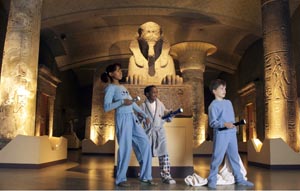 Sleepover Programs
40 Winks with the Sphinx
October 13; November 8; more dates listed online
Friday, 5:30 pm - Saturday, 9:00 am
Penn Museum's popular sleepover program, geared to ages 6–12 and their families or chaperones, invites guests to an overnight "expedition" of the Museum. The night's activities take intrepid explorers on a journey through time and across continents, with hands-on games, crafts, and more! A scavenger hunt and a flashlight expedition through the galleries offer new ways to connect with the ancient artifacts awaiting discovery. Later in the night, explorers roll out their sleeping bags to doze at the foot of the largest granite Sphinx in the Western Hemisphere! For more information, go to www.penn.museum/40Winks or call 215.898.2680.
Special One-Time Events
October 19
Saturday, 1:00 pm - 4:00 pm
National Archaeology Day Celebration
Hijinks with the Sphinx
This month, our magnificent, 3,200-year-old granite Sphinx, the largest in the Western Hemisphere, is celebrating its 100-year anniversary at the Penn Museum! Guests hear stories of the Sphinx and see an exclusive display of Egypt-related pop-culture drawn from the Museum Egyptologists' personal collections. Guests can match wits in a True/False game about ancient Egypt, race through an Indiana Jones-style obstacle course, and enjoy an ancient hairstyles demonstration. Penn Museum members get an exclusive behind-the-scenes Sphinx history tour in the Museum Archives, while everyone can join the Sphinx for a celebratory slice of cake. The Egyptomania afternoon is sponsored in part by the Archaeological Association of America. Free with Museum admission. Special pre-Halloween offer: dress like an ancient Egyptian and get in for half price! For more information, call 215.898.2680.
October 23
Wednesday, 5:00 - 8:00 pm
Free Community Night
Penn Museum Open House
Visitors can find out more about what happens in the galleries—and behind the scenes—at this 125-year-old museum of archaeology and anthropology, where new research and discoveries continue to happen. Curators, keepers, and researchers share some of their projects. Docents offer gallery tours, and graduate students teach Egyptian hieroglyphics and Sumerian cuneiform mini-classes. Guests can also enjoy live performances of music and dance in the galleries. Free admission.


The Penn Museum (the University of Pennsylvania Museum of Archaeology and Anthropology) is dedicated to the study and understanding of human history and diversity. Founded in 1887, the Museum has sent more than 300 archaeological and anthropological expeditions to all the inhabited continents of the world. With an active exhibition schedule and educational programming for children and adults, the Museum offers the public an opportunity to share in the ongoing discovery of humankind's collective heritage.
The Penn Museum is located at 3260 South Street, Philadelphia, PA 19104 (on Penn's campus, across from Franklin Field). Public transportation to the Museum is available via SEPTA's Regional Rail Line at University City Station; the Market-Frankford Subway Line at 34th Street Station; trolley routes 11, 13, 34, and 36; and bus routes 21, 30, 40, and 42. Museum hours are Tuesday through Sunday, 10:00 am to 5:00 pm, and first Wednesdays of each month until 8:00 pm, with P.M. @ PENN MUSEUM evening programs offered. Closed Mondays and holidays. Admission donation is $15 for adults; $13 for senior citizens (65 and above); $10 for children and full-time students with ID; free to Members, active U.S. Military, PennCard holders, and children 5 and younger.
Hot and cold meals and light refreshments are offered to visitors with or without Museum admission in The Pepper Mill Café; the Museum Shop and Pyramid Shop for Children offer a wide selection of gifts, books, games, clothing and jewelry. The Penn Museum can be found on the web at www.penn.museum. For general information call 215.898.4000. For group tour information call 215.746.8183.
Photos (top to bottom): A young visitor admires her work at a Family Second Sunday Workshop, presented the second Sunday of each month from 1:00 to 4:00 pm; "Gallery Romps" offer a chance for our youngest visitors to enjoy the Museum; kids enjoy a craft workshop during a Penn Museum World Culture Day; guests ages 6-12 and their chaperones spend a night at the foot of the largest granite sphinx in the western hemisphere during our "40 Winks with the Sphinx" sleepover program.