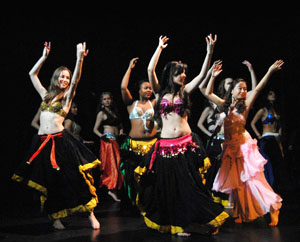 Philadelphia PA, Fall 2013— Turkey, a country that borders eight other nations and occupies the meeting point between the eastern and western world, is a cultural crossroads steeped in history—and often in the news. On Saturday afternoon September 28, 1:00 to 5:00 pm, Penn Museum highlights some of the wonders, and the changes, in Turkey, with a Turkish Delight! celebration of the Republic of Turkey. The day features a panel discussion about democracy in Turkey today, and a talk about the newest discoveries at the famous archaeological site of Gordion (legendary home of King Midas of the Golden Touch). Visitors will be treated to traditional belly dance and folk dance performances, a family craft workshop, a mini "Grand Bazaar" to buy Turkish treasures, and more. Turkish Delight! is FREE with Penn Museum admission donation ($15 for adults; $13 for senior citizens (65 and above); free for U.S. Military; $10 for children and full-time students with ID; free to Members, PennCard holders, and children 5 and younger).
A Global Philly 2013 event, Turkish Delight! is co-sponsored by the Turkish American Friendship Society of the U.S. (TAFSUS), Turks @ Penn, the American Research Center in Turkey (ARIT), the Middle East Center at the University of Pennsylvania, and the Turkish Cultural Foundation(TCF).
No Turkish Day would be complete without belly dancing, and the Penn student group Penn Yalla promises to shake things up—with an open Belly Dance Workshop at 1:30 pm. At 1:00 pm and again at 3:30 pm, the Turquoise Turkish Folk Dance Group from Penn State University performs traditional Turkish dances—and invites the audience to join in.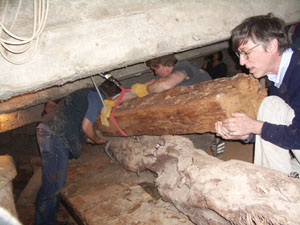 Turkey has a magnificent past, and contains archaeological sites of more than a dozen successive civilizations spanning 10,000 years. Dr. C. Brian Rose, Penn Museum curator and excavation director at the famous archaeological site of Gordion, Turkey—where Alexander the Great is said to have cut the Gordion knot, and King Midas to have met his end—is just back from a 2013 season at the site. He will share what he and his colleagues have recently learned at a 2:00 pm talk. Mr. Halil Demirdelen, Deputy Director of the Museum of Anatolian Civilizations, Ankara, offers an interactive table to explore more about the rich archaeology of Turkey, throughout the afternoon.


The Republic of Turkey was founded in October of 1923, as the once great Ottoman Empire, weakened by World War I, came to an end. At 2:45 pm, Dr. Mehmet Darakcioglu, Associated Director of Penn's Middle East Center, and Wharton senior Naz Özbek offer insights and perspective at a short panel discussion that focuses on "Democracy in Turkey Today."
Kids of all ages can stop by at an open crafts table, where they can create a whirling Turkish dancer—using paper plates, marshmallows and craft sticks—to play with and take home.
Turkish food is yet another delight included in the day. The Museum's Pepper Mill Café features Turkish cuisine on its menu, as well as other family-friendly foods and snacks.
One more delight! Visitors can try a free sample of Turkish delight, a popular sweet enjoyed in Turkey and around the world—while supplies last!
The Penn Museum (the University of Pennsylvania Museum of Archaeology and Anthropology) is dedicated to the study and understanding of human history and diversity. Founded in 1887, the Museum has sent more than 300 archaeological and anthropological expeditions to all the inhabited continents of the world. With an active exhibition schedule and educational programming for children and adults, the Museum offers the public an opportunity to share in the ongoing discovery of humankind's collective heritage.
The Penn Museum is located at 3260 South Street, Philadelphia, PA 19104 (on Penn's campus, across from Franklin Field). Public transportation to the Museum is available via SEPTA's Regional Rail Line at University City Station; the Market-Frankford Subway Line at 34th Street Station; trolley routes 11, 13, 34, and 36; and bus routes 21, 30, 40, and 42. Museum hours are Tuesday and Thursday through Sunday, 10:00 am to 5:00 pm, and Wednesday, 10:00 am to 8:00 pm, with P.M. @ PENN MUSEUM evening programs offered select Wednesdays. Closed Mondays and holidays. Admission donation is $15 for adults; $13 for senior citizens (65 and above); free for U.S. Military; $10 for children and full-time students with ID; free to Members, PennCard holders, and children 5 and younger.
Hot and cold meals and light refreshments are offered to visitors with or without Museum admission in The Pepper Mill Café; the Museum Shop and Pyramid Shop for Children offer a wide selection of gifts, books, games, clothing and jewelry. The Penn Museum can be found on the web at www.penn.museum. For general information call 215.898.4000. For group tour information call 215.746.8183.
Image captions (top to bottom): University of Pennsylvania student group Penn Yalla shakes things up with a belly dance workshop during the Penn Museum's "Turkish Delight" on Saturday, September 28 (Photo by Penn Yalla); Dr. C. Brian Rose, Curator-in-Charge of the Penn Museum's Mediterranean Section, helps to remove a wooden beam from the roof of the burial chamber of Tumulus MM at Gordion, Turkey. Dr. Rose discusses his recent work at this famed archaeological site during a lecture at the Penn Museum on Saturday, September 28 at 2:00 pm as part of the "Turkish Delight" celebration (Photo courtesy C. Brian Rose).