Celebrating almost 20 years of engaging children with summer fun and learning through Penn Museum's world-renowned collections.
Camp Dates: June 29 – August 21, 2015





Click the "Register" button above to register or to access your online account to make additional payments.


New to camp? Please read our Frequently Asked Questions listed below
Campers delight in topics such as mythology, dance, music, art, and customs from both long ago civilizations and modern cultures. Through gallery tours, scavenger hunts, art activities, games, and special guest performances, campers will discover the diversity of humankind, past and present.
Anthropologists in the Making Summer Camp is generously supported by The Coca-Cola Company which has donated Minute Maid apple juice for the campers.
Daily Schedule
8:00am - 9:00am


Pre-Camp Supervision (optional, additional fee)
9:00am – 9:30am
Meet and Greet

Break into age appropriate groups, participate in an icebreaker activity and review camp rules and the day's activities

9:30am – 10:30am
Cultural Connections

Explore the weekly theme through interactive talks or gallery tours. On Fridays, campers participate in a museum-wide scavenger hunt

10:30am – 10:45am
Snack Time (snack provided)


10:45am – 12:00pm
Creative Connections

Engage in hands-on activities, which may include art-making, theatrics, and more.

12:00pm – 1:00pm
Lunch and Free-Play

Eat a lunch from home or purchase one from the Museum's Pepper Mill Café. After lunch, children can play with board games or cards (provided).

1:00pm – 2:00pm
Outdoor Excursions

Enjoy organized, recreational games and free play at a Penn campus field. On some days, come back to the Museum early to finish a project, visit a behind-the-scenes area of the Museum, or meet with a special guest. A movie may be subsituted during inclement weather.


2:00pm - 3:00pm

Camp Reflections

Break into age appropriate groups and reflect about the day. Engage in a team-building activity, trivia, and more.

3:00pm
Camp Conclusion


3:00pm - 5:00pm



After-Camp Supervision (optional, additional fee)



Additional Activities
"Behind-the-scenes" fun: Campers meet professionals in the fields of archaeology, anthropology and tour "VIP areas" of the museum such as Archives and Conservation.

Wednesdays: Campers delight in the World Wonders performing arts series.
Fridays: Family and friends are invited to attend the Camp's showcase of learning.
---
2015 Themes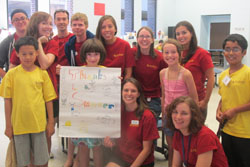 Week 1: Americas, the Beautiful (June 29-July 2) No camp on July 3
Enrollment for this session has closed!
Explore North America, South America, and the countries in between through music, dance, art, and artifacts. Make Pueblo pottery designs, learn a Brazilian dance and more. Go behind-the-scenes when you view objects from the American section not on view. At the Showcase of Learning, curate a gallery presentation for family and friends.
Week 2: Animals of Ancient Egypt (July 6-July 10)
This session and its wait list have sold out!

Baboons, and falcons, and cats…oh my! Explore all-things animal of the ancient Egyptian world. Learn about pets and farm animals, animal mummies, cat goddesses, and more. Chat with an Egyptologist and see artifacts from ancient Egypt not on view. Craft a tomb mural, a cat mummy, a papyrus book, and more.
Week 3: I Dig Anthropology (July 13-July 17)
This session and its wait list have sold out!

Biological anthropology, cultural anthropology, linguistic anthropology, and archaeology make up the branches of anthropology. Participate in activities that celebrate all four fields, from excavating a simulated dig site, to learning the development of the alphabet, to studying the social organizations of families around the world. Chat with a physical anthropologist and visit an archaeological lab.
Week 4: A Sailor's Life for Me (July 20-July 24)
This session and its wait list have sold out!
The conquest of new lands, a desire for exploration, and a longing for wealth have led humans throughout time to set sail across oceans and seas. Discover the fabled Spice Route and the Panama Canal. Learn how the Vikings raided and traded in places as far away as Constantinople and make a Viking helmet. Discuss the Titanic and other famous ship wrecks
Week 5: Mummy Mania (July 27-July 31)
This session and its wait list have sold out!

Get to know mummies from and beyond the land of Egypt. Make a Roman mummy portrait, create a Peruvian mummy bundle, and a design a mask inspired by a Maori mummy. Visit In the Artifact Lab: Conserving Egyptian Mummies and chat with an Egyptologist. You just might even touch a mummy
Week 6: Celebrate Good Times (August 3-August 7)
This session and its wait list have sold out!

Join-in the party! Celebrate seasonal, religious, and historic festivals and ceremonies through time and across continents. Get into the festive spirit as you make traditional crafts and cultural food. Learn about ancient Roman and contemporary Native American rites of passage. Craft a cherry blossom tree, a Roman bulla, and more. During the Friday Showcase, create a "Passport to Cultures" activity for parents to complete.

Week 7: Classic Myths and Legends (August 10-14)

This session and its wait list have sold out!

This week is going to be epic! Meet the ancient Roman and Greek gods and goddesses. Discover tales of Rome's legendary founding, listen to some tragic and comedic Greek tales, and learn who Aesop really was. Practice oration skills, create a Greek mask, try your hand at a wax tablet, and more
Week 8: Ancient Marvels (August 17-August 21)
This session and its waitlist have sold out!

Learn about architectural feats created long ago and ancient inventions that still influence us today. Explore the "Seven Wonders of the World" when you create a diorama. Experiment with building arches and domes and enjoy a traveling science show. Take a walking tour of the University of Pennsylvania's campus and be on the lookout for centuries-old design influences.
---
Tuition and Fees
A limited amount of partial scholarships ($100 off tuition) are available until May 1. To be considered for the scholarship, please e-mail This email address is being protected from spambots. You need JavaScript enabled to view it. before May 1 The maximum scholarship applications have been received this year.

| | |
| --- | --- |
| Register by May 1: | $270 Members / $290 Non-members per week |
| Register after May 1: | $290 Members / $310 Non-members per week |
| Pre-camp (8:00am - 9:00am): | $5 per day/$25 per week |
| After-camp (3:00pm - 5:00pm): | $10 per day/$50 per week |
---
I am filing out my taxes and need a receipt and the Museum's Tax Id number. How do I access this information?

The Museum's tax id is 23-1352685. To obtain a receipt, you may access your online account.
I am a Penn staff/faculty member. Do I receive the Member discount?
Only families who enroll at the Household level and above are eligible for Camp discounts. Penn staff/faculty are not automatically members at this level. This is a separate $95(fully tax-deductible) fee. Learn more about Penn Museum Household membership
How many campers can enroll in a session? What are the popular themes? Does the camp sell out?
We cap each week to 65 campers. Most sessions sell out each year, so registering before May 1 is encouraged. Our most popular themes each year include the mock excavation week, the Egypt week, and the Classical week. Every year, we get an increasing number of campers who return
About how many weeks do children attend? Do most children attend all eight weeks? Do you get new campers?

Most campers attend at least two sessions; they likely attend these back-to-back. Each year, several campers attend all eight sessions. About half of the campers return from the year prior, while half of the campers are new each year.
How are the campers divided, or do all ages interact with each other?
Campers are divided into four separate groups of about 17 campers. These groups are based on age and break down (approximately) as follows: 7-8; 8-9; 9-10; 11-13. The group of 7 to 9-year-olds and the group of 9 to 13-year-olds visit different areas of the Museum and interact with each other from 9:30am – 10:30am. During lunch and outdoor play times, the whole camp is together. The camp breaks into the four separate age groups for Snack Time, hands-on components, behind-the-scenes activities, and Camp Recap
What is the ratio of campers to counselors? Are the counselors high school students?
All counselors are 21 or older, must have had previous experience working with children, and must pass clearances. Camp volunteers, who are teens, act as assistants to the camp staff. Camp staff include eight counselors, approximately three to five volunteers per week, and two camp directors. Two counselors are assigned to about 17 campers each week; therefore, the ratio is about 1 counselor to 8 campers.
Do you offer a sibling discount?
We do not offer a sibling discount. Please consider becoming a Member to receive discounts. Learn more about Penn Museum membership.
My child is 6 years-old. My child is turning 14. Can I enroll him/her?
If your child has completed first grade, you may enroll him/her for Camp 2015. If your child is turning 14 and entering eighth grade, consider a Camp volunteer position for him/her
My child can no longer attend the camp. Are any of the fees refundable or transferable?
The $100 deposit, due at time of registration, is non-refundable. If you cancel your child's registration three or more weeks prior to the start date of the session, all tuition and fees (minus the deposit) will be refundedRefunds cannot be given if you cancel a session two weeks or less prior to the session start date. If your child wants to enroll in a different session, we will be able to transfer all funds paid to a different session (no penalties) if the space is available and if you decide to transfer three or more weeks prior to the start date of the session
I just registered online. Will I receive additional paperwork? When do I have to make additional payments?
You will receive a confirmation e-mail upon registration. You will receive additional mandatory paperwork, via e-mail, by June 2. These forms must be completed and returned two weeks prior to the start of your child's camp session. If you create an online account at time of registration, you may log into your account at any time to make additional payments. Balances are due two weeks prior to the start of each camp session. You will be enrolled in automatic billing and the remaining balance will be withdrawn from your account two weeks prior to each camp week start date.
I'm not sure if I'll need pre- and after-camp. Should I enroll anyway?
If you think that you may need pre- or after-camp, enroll at time of registration. No payment is needed at time of registration for pre/after-camp. Payments for pre- and after-camp can be paid ongoing during the week of your child's session
---
Contact
For questions e-mail This email address is being protected from spambots. You need JavaScript enabled to view it. or call 215.898.4016