Attention International Students!
45th Annual International Students and Scholars Welcome Reception
The University of Pennsylvania's Museum of Archaeology and Anthropology
Friday, October 17, 2014
5:00 pm - 7:00 pm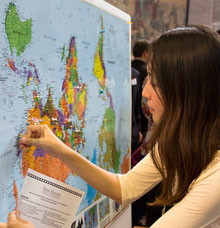 Join more than 1000 guests for the International Student Reception on October 17, 2014, 5:00 to 7:00 PM at the Penn Museum. This signature event, celebrating its 45th year, includes music and dance performances, networking with people from around the world, and introductions to local resources.
Visit interactive information tables that highlight resources for international visitors in Philadelphia and meet Consuls from several countries. Also view our impressive collection, including exhibits in our Upper Egypt, China, Iraq's Ancient Past galleries. With the Penn Museum's impressive collection setting the stage, enjoy a fabulous spread of international foods and beverages to complement our global celebration.
The International Student Reception is hosted by the Penn Museum's International Classroom (IC) program, which was created to promote intercultural understanding between the residents of the Delaware Valley area and people from around the world. International students from local colleges volunteer time through the International Classroom program to teach about their country and culture to school groups, community organizations, teacher workshops, and libraries. Interested international students attending the reception can also find out how to apply to become an IC speaker and/or contact This email address is being protected from spambots. You need JavaScript enabled to view it. .
Provided free of charge to international students, the Museum's International Student Reception is the only welcome event of its kind in the country and is considered as a national model among educators.