Embrace the summer with good tunes and great times at the Penn Museum, during the sixth annual Summer Nights Concert Series! Each week, from June 17 - September 2, brings a new musical experience to the Museum's outdoor courtyard, presented every Wednesday evening from 5:00 to 8:00 pm.
Admission is just $10 and includes admission to the Museum's galleries! Penn Museum members and PennCard holders are free!
Concerts move indoors during inclement weather.
---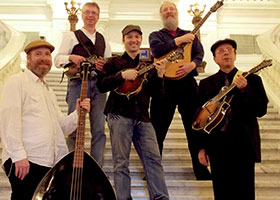 Harrisburg Mandolin Ensemble
June 17
This Pennsylvania-based group returns to kick off the summer series. Inspired by the early 20th-century tradition of the community mandolin concert, the group lays down original tunes and arrangements, as well as selections of jazz, swing, bluegrass, old-time, folk, and world music.
---
Xande Cruz
June 24
With a sound as rich and diverse as his native São Paulo, Xande Cruz adeptly blends urban and traditional, colors and sounds, together in a soulful way like none other. His music defies genres by combining Afro-Brazilian rhythms with samples, funk guitars, bass, drums, horns, and vocals.
---
Vulcans
July 1
Americana and folk artists Vulcans bring lush three-part harmonies, compelling instrumentation, and engaging arrangements to their songs. Winners of numerous awards, contests, and distinctions, Vulcans have earned acclaim from critics and audiences alike. The group crafts modern Americana tunes using harmony as an instrument in itself, creating winding and bending melodies that sway from major, to minor, and home again.
---
Zydeco-A-Go-Go
July 8
With Creole Zydeco and Cajun 2-steps, this group combines funky New Orleans rhythm and blues and vintage Louisiana rock 'n roll into a spicy gumbo of irresistible dance music.
---
Philadelphia Songwriters Project 2015 Winners
July 15
The Philadelphia Songwriters Project showcases up-and-coming musicians, with a diverse array of sounds that enthralls audiences with their lyrical and musical nuance. This performance features all four winners of their tenth annual songwriting contest.
---
Farah Siraj
July 22
Named Jordan's "Musical Ambassadress," Jordanian virtuoso Farah Siraj balances a career that spans the United States, Europe, and the Middle East. Farah performs her original compositions, fusing influences of Middle Eastern music, flamenco, jazz, bossa, and pop, with lyrics in Arabic, Spanish, and English.
---
El Caribefunk
July 29
This band from Colombia joins the summer series with a powerful rhythm and energy all their own. Their fun, upbeat style brings together funk, salsa, and elements of Caribbean music, including calypso, zouk, and Haitian compas, and gets audiences on their feet and dancing from the first note.
---
West Philadelphia Orchestra
August 5
An eclectic ensemble made up of Philly's finest and wildest musicians, the West Philadelphia Orchestra gets the crowd moving with the poignant melodies and the frenetic, propulsive rhythms of Eastern Europe.
---
Trinidelphia
August 12
Trinidelphia has been pleasing local audiences since 2005 with a perfect combination of American and Caribbean styles. Fusing Trinidadian Soca and Calypso with Latin jazz, reggae, salsa, and American top 40, they have developed a sound all their own. Their unique and rhythmic arrangements of jazz and popular songs cast the steelpan in fresh new light, pushing the stylistic and artistic boundaries of an often-typecast instrument.
---
Undercover
August 19
If you're in the mood for hand-clapping, foot-stomping, good-time, sing-along music, this is your band. Get ready to start rocking as this group takes you back in time with your favorite classic rock hits, from bands like the Beatles, the Rolling Stones, the Eagles, the Band, and Elvis Presley.
---
Red Hot Ramblers
August 26
The Red Hot Ramblers are an authentic 1920s jazz ensemble in every way. They exemplify red-hot syncopation, stompin' rhythms, and lyrical melodies associated with the Jazz Age. Their snappy on-stage appearance will make you think you've stepped back in time to the Roaring '20s. From concert halls to dimly lit bars to swing dances to outdoor events/weddings, the group has been pleasing audiences since 2012. The Red Hot Ramblers are sure to put a smile on your face and a hop in your step!
---
Animus
September 2
Bill Koutsouros' internationally acclaimed ensemble provides the summer series finale, offering an exciting fusion of ancient and modern music with traditional elements of Greek, rock, Middle Eastern, blues, Indian, jazz, and African music.