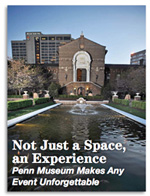 As seen in Forbes Magazine, Not Just a Space, an Experience. Find out what the Penn Museum and Restaurant Associates Catering have to offer.
You start with cocktails in the shadow of a 13-ton red granite sphinx. Follow that with dinner under a 90-foot-high Chinese Rotunda. Top it off with dancing next to the lion-headed goddess Sekhmet. This isn't something from an Indiana Jones movie. It's your next event, held in the Penn Museum. Read more
"The caterers were incredibly flexible and creative and the food was absolutely amazing. The room for dinner was so stunning it literally took my breath away."
— Aly Cunningham, April 9, 2011 Wedding
---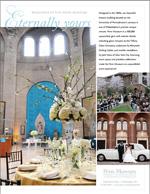 ---

Designed in the 1890s, this beautiful historic building located on the University of Pennsylvania's campus is one of Philadelphia's premier unique venues. Penn Museum is a 300,000 square-foot gem with exterior details including glass mosaics by the Tiffany Glass Company, sculptures by Alexander Stirling Calder, and marble medallions by John Ross of New York City. The Museum houses one-of-a-kind artifacts acquired from over 400 archaeological and anthropological expeditions, and we invite you and your guests to discover the world in just one night. Stunning event space and priceless collections make the Penn Museum an unparalleled event experience!

We welcome all wedding ceremonies and receptions, mitzvahs, corporate, and philanthropic events!
Pricing
Rates vary for corporate, university, and non-profit events according to specific gallery, number of guests, and days scheduled/booked. Rates are based on a four-hour time block. Please contact This email address is being protected from spambots. You need JavaScript enabled to view it. for more information.

Rates for private functions such as weddings, birthday parties, mitzvahs, and other events require Penn Museum membership. Discounted facility rental rates apply for all members. Rates are based on a five-hour time block. Please contact Facility Rentals Office for more information.
Hours
Events in our galleries may be held between 6:00 pm to 10:00 pm, Sundays, Tuesdays and Thursdays, 10:00 am to 10:00 pm on Mondays and 6:00 pm to 12:00 am on Fridays and Saturdays. For day time facility rentals, please contact This email address is being protected from spambots. You need JavaScript enabled to view it. .
Catering
Catering by Restaurant Associates is the Museum's exclusive caterer and one of the nation's premier catering companies. Restaurant Associates' philosophy is a commitment to quality that encompasses simplicity, style, and passion. All food, beverage, and equipment are handled through catering. For more information visit their website: www.restaurantassociates.com.
Other Services
Audio/Visual services, docent-led tours, event decor, transportation, and entertainment must be coordinated through the Facility Rentals Department. For recommendations, please contact the This email address is being protected from spambots. You need JavaScript enabled to view it. .
Journey across time and continents and make history with your next event at the Penn Museum! We look forward to hearing from you.