June 2, 2013 – March 2, 2014
Merle-Smith Galleries, 1st Floor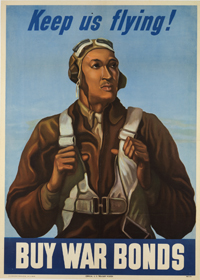 Propaganda is used to mobilize people in times of war. Black Bodies in Propaganda: The Art of the War Poster presents 33 posters, most targeting Africans and African-American civilians in times of war. These carefully designed works of art were aimed at mobilizing people of color in war efforts, even as they faced oppression and injustice in their homelands. Witness changing messages on race and politics through propaganda from the American Civil War to the African Independence movement in this innovative, world-premiere exhibition.
Read more: Black Bodies in Propaganda: The Art of the War Poster