A new exhibition at the University of Pennsylvania Museum of Archaeology and Anthropology September 26, 2010 through February 6, 2011
To download high-resolution images click on the image to view the large file, right-click or apple/command-click on the image then select save.
Archaeologists and Travelers in Ottoman Lands Logo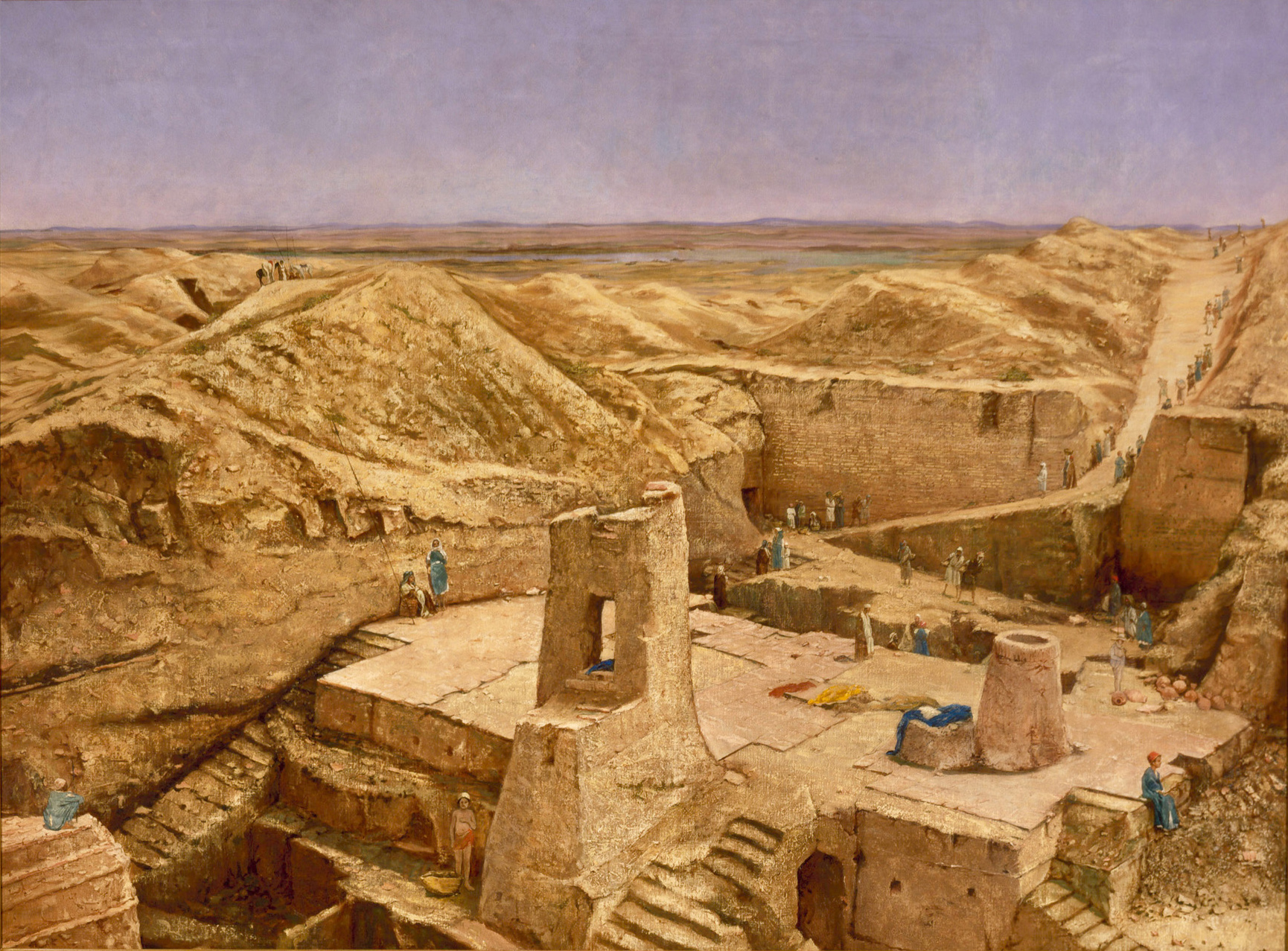 The Excavation at the Temple Court in Nippur
Oil on Canvas
Osman Hamdi Bey
1904
Object #48-2-332
This painting, based on an 1893 photograph by John Henry Haynes, was commissioned by the University of Pennsylvania in 1903 for its envisioned Nippur Gallery.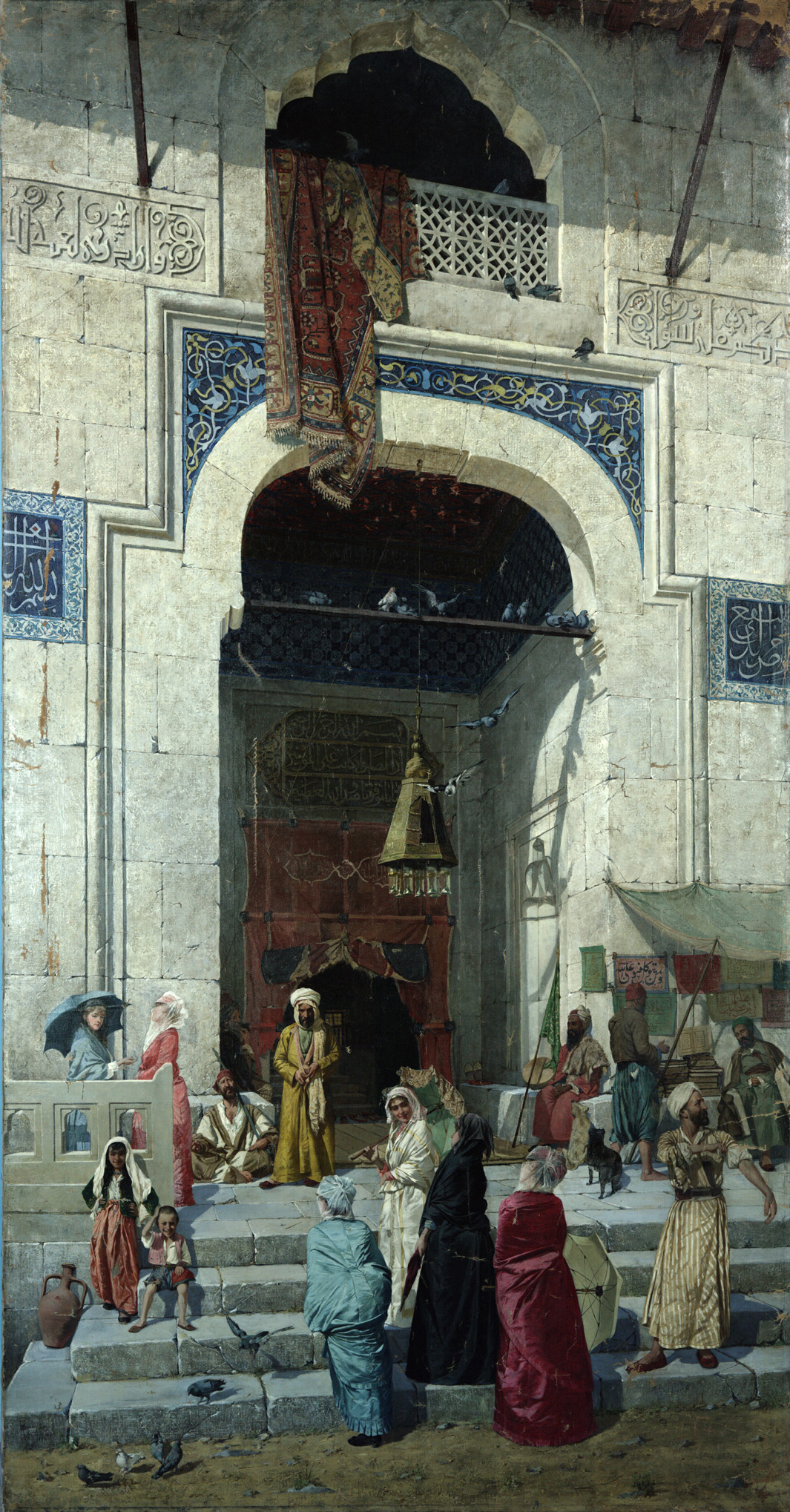 At the Mosque Door
Oil on Canvas
Osman Hamdi Bey
1891
Object #184892
This painting features several self-portraits of Hamdi Bey (based on photographs), plus unveiled, modern Turkish women.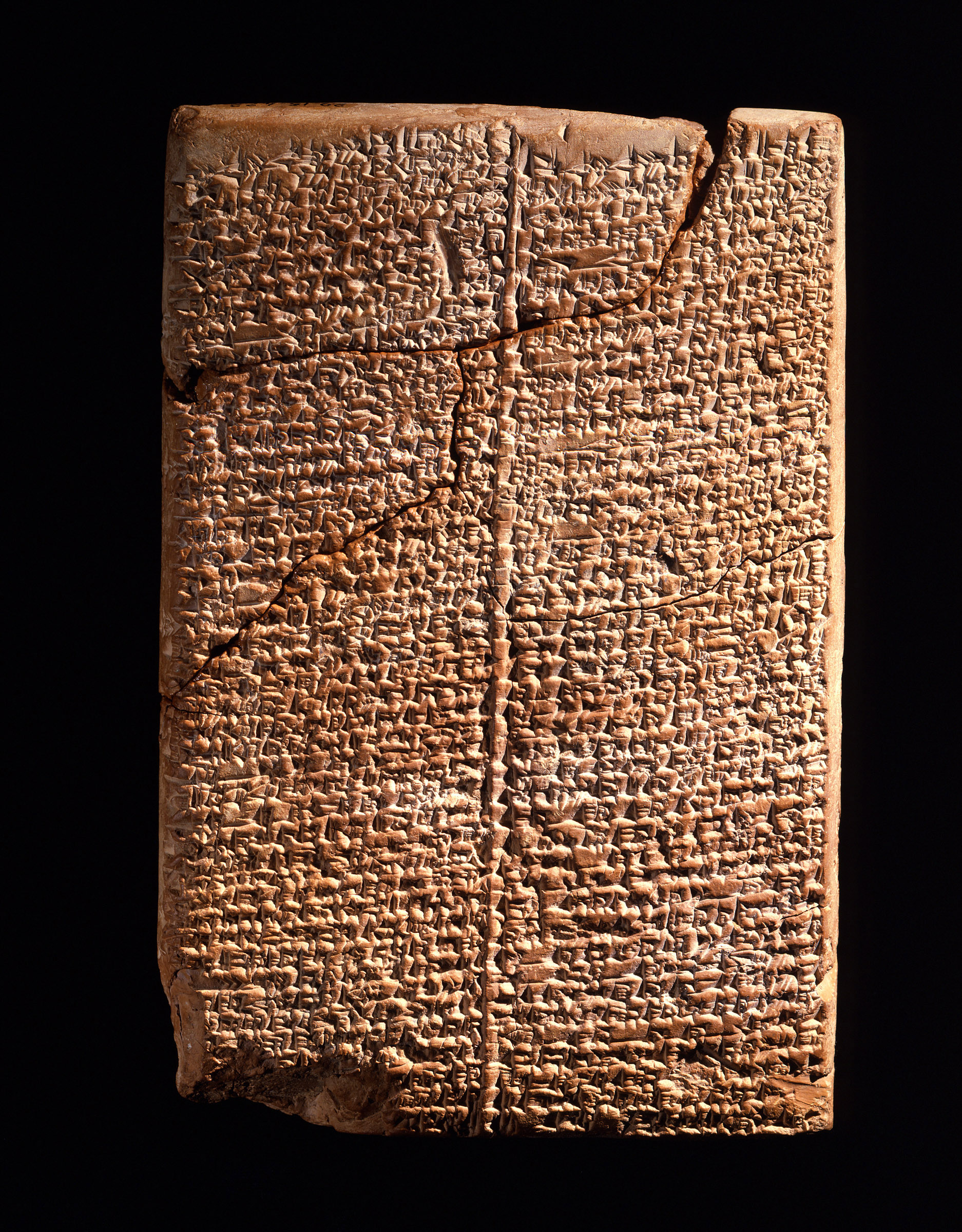 Hymn to the Goddess Inanna
Clay
ca. 1730 BCE
Nippur
Object #B7847
Tablet translation of the hymn reads: Lady of all the divine powers, resplendent light, righteous woman clothed in radiance, beloved of An and Urac! Mistress of heaven, with the great diadem, who loves the good headdress befitting the office of priestess, who has seized all seven of its divine powers!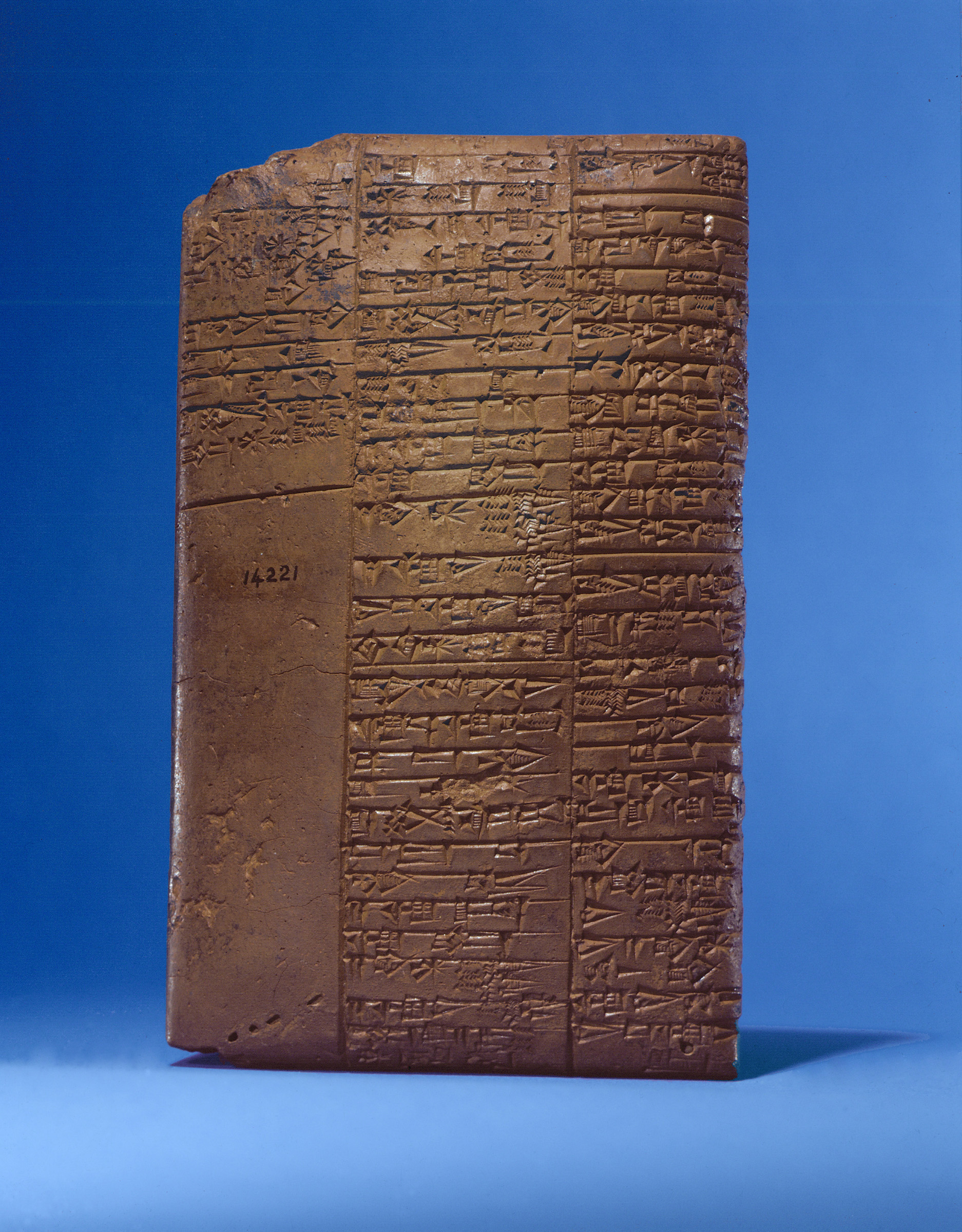 Medical Text
Clay
2200-2100 BCE
Nippur
Object #B14221
This is the oldest known medical text, written in Sumerian. It is a collection of 15 prescriptions, most involving obscure plants and potions.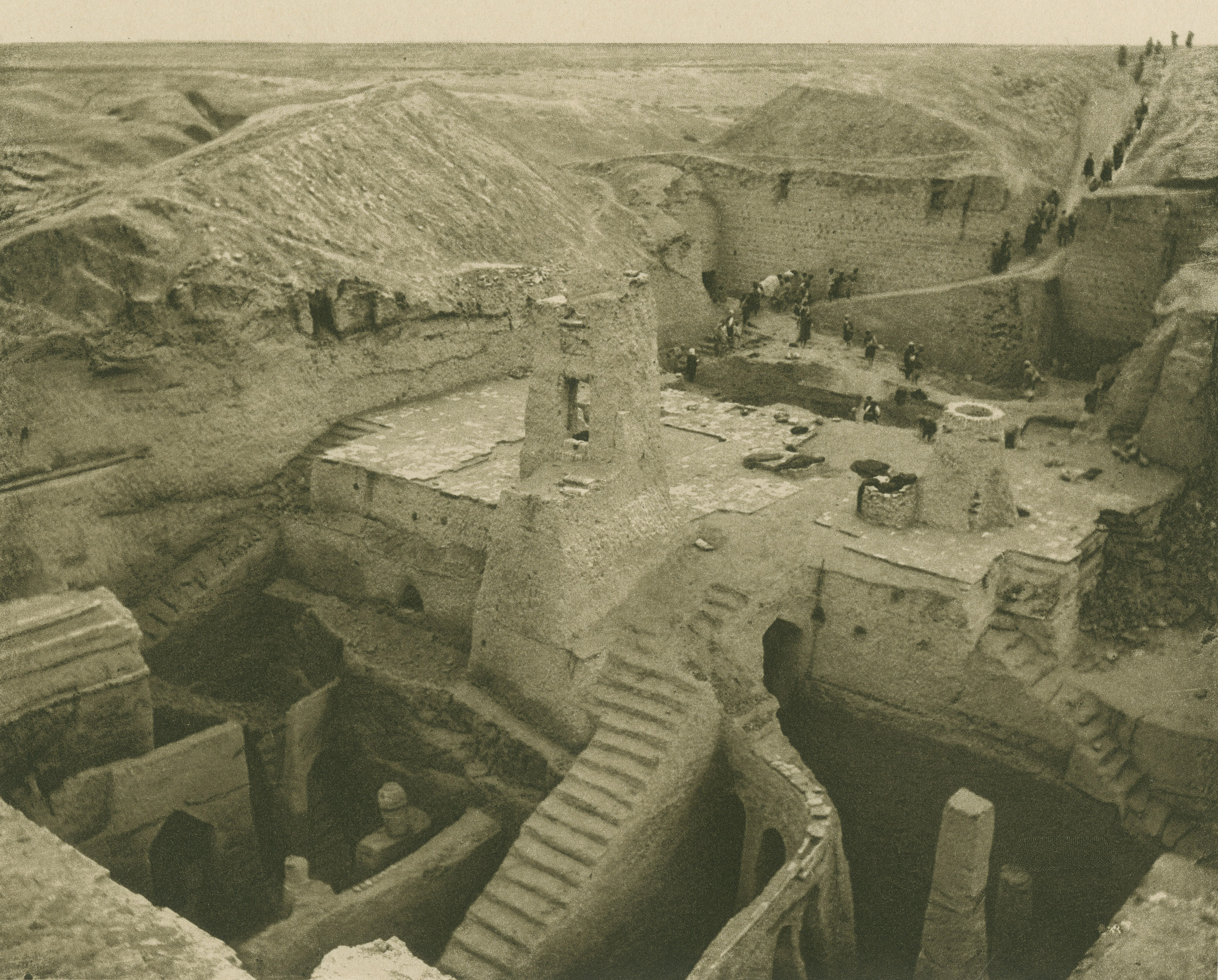 Temple Court
Archival Print
John Henry Haynes
1893
This Nippur temple excavation photograph, by John Henry Haynes in 1893, became the frontispiece of Hilprecht's 1903 book, Explorations in Bible Lands, and subsequently the inspiration for Hamdi Bey's 1904 painting, "The Excavations at the Temple Court at Nippur." (Penn Museum negative # 305)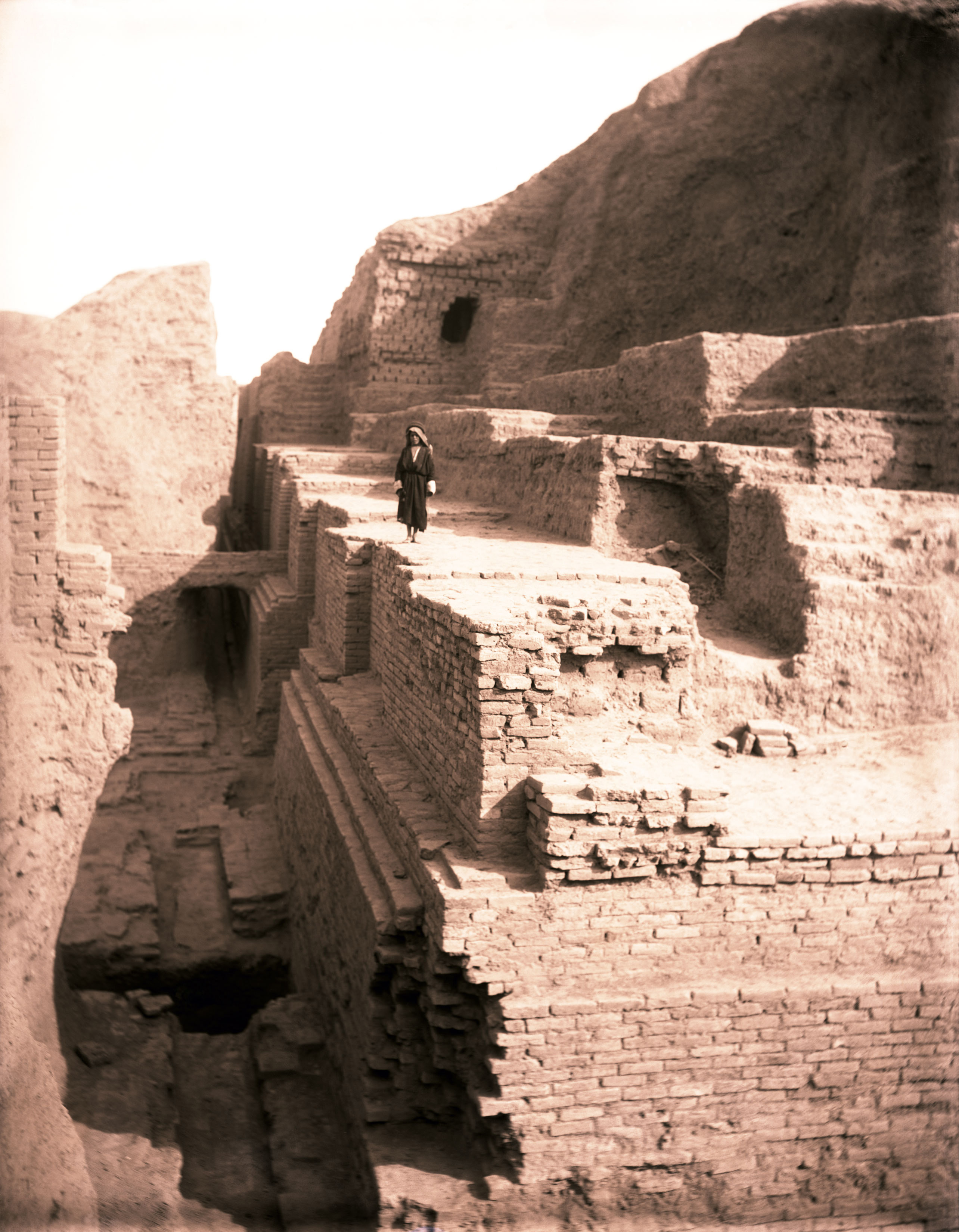 Ziggurat
Archival Print
John Henry Haynes
1893-94
John Henry Haynes photographed the ziggurat's foundations from a high vantage point and posed an isolated worker in the middle distance at an angle that dramatically emphasized the spatial recession. (Penn Museum negative # 5680)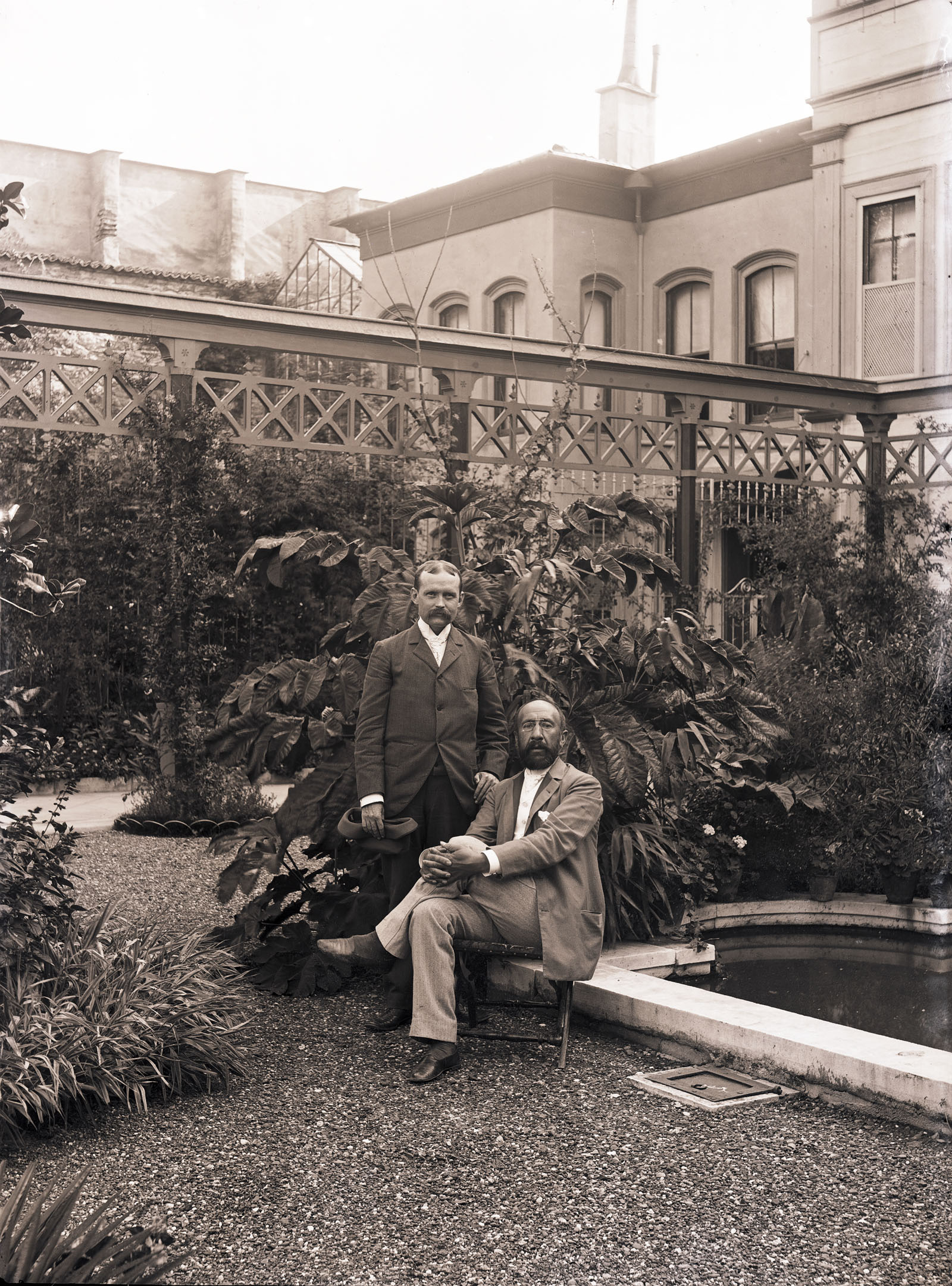 Osman Hamdi Bey with J.P. Peters
Archival Print
Photographer Unknown
1889
Original Nippur excavation director J.P. Peters, University of Pennsylvania, visited Hamdi Bey on both journeys to Nippur, first from 1888-89 and then again from 1889-90. Here they are photographed in the garden of Hamdi Bey's family home on the Bosporus strait. (Penn Museum negative # 19194)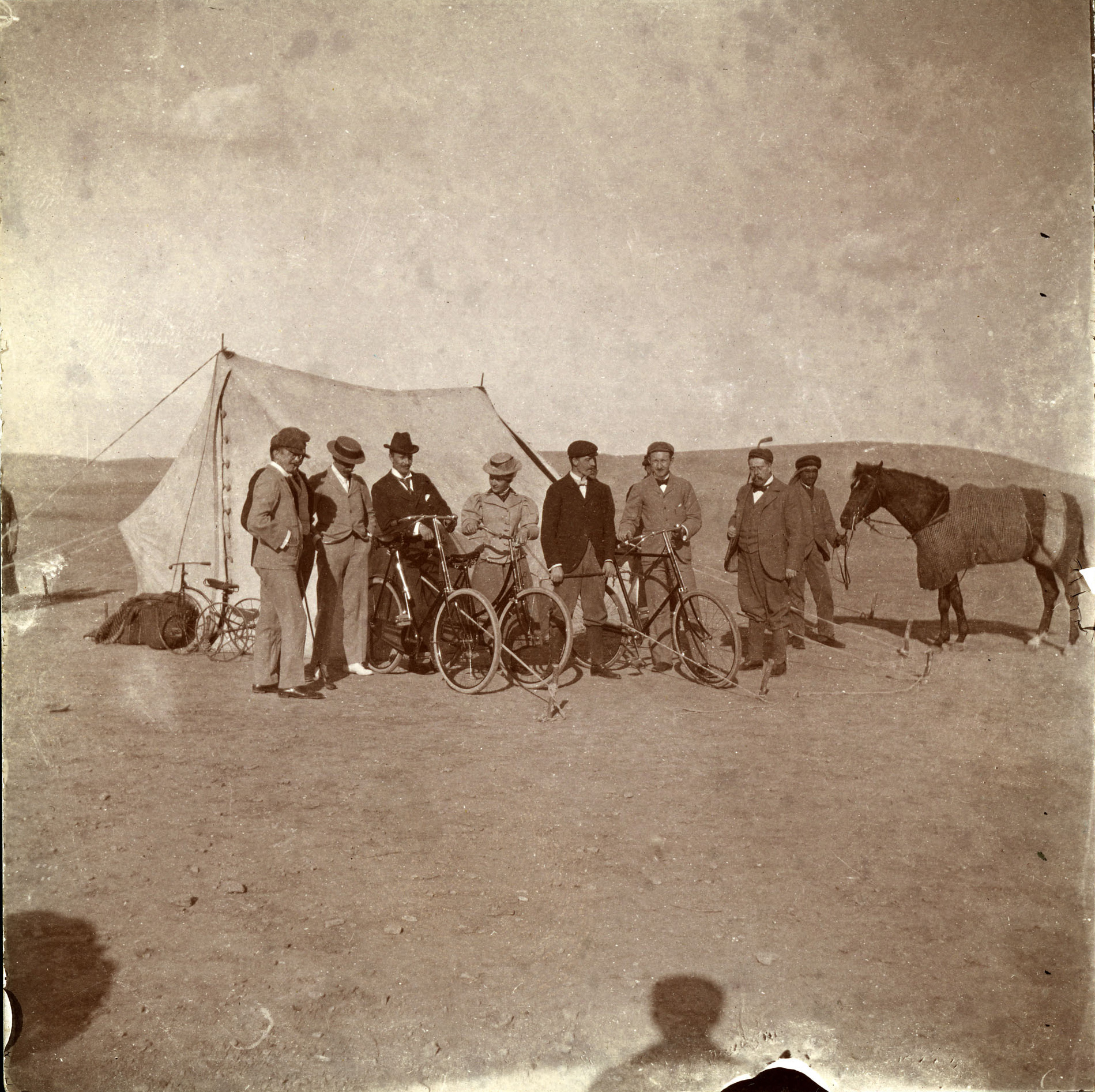 Nippur Team
Archival Print
C. Fisher
1900
The excavation team at Nippur included John Henry and Cassandria Haynes (center), and Hilprecht (standing right) wielding a golf club. This photo was taken at the end of the fourth season. Photo: C. Fisher. (Penn Museum negative # 184826)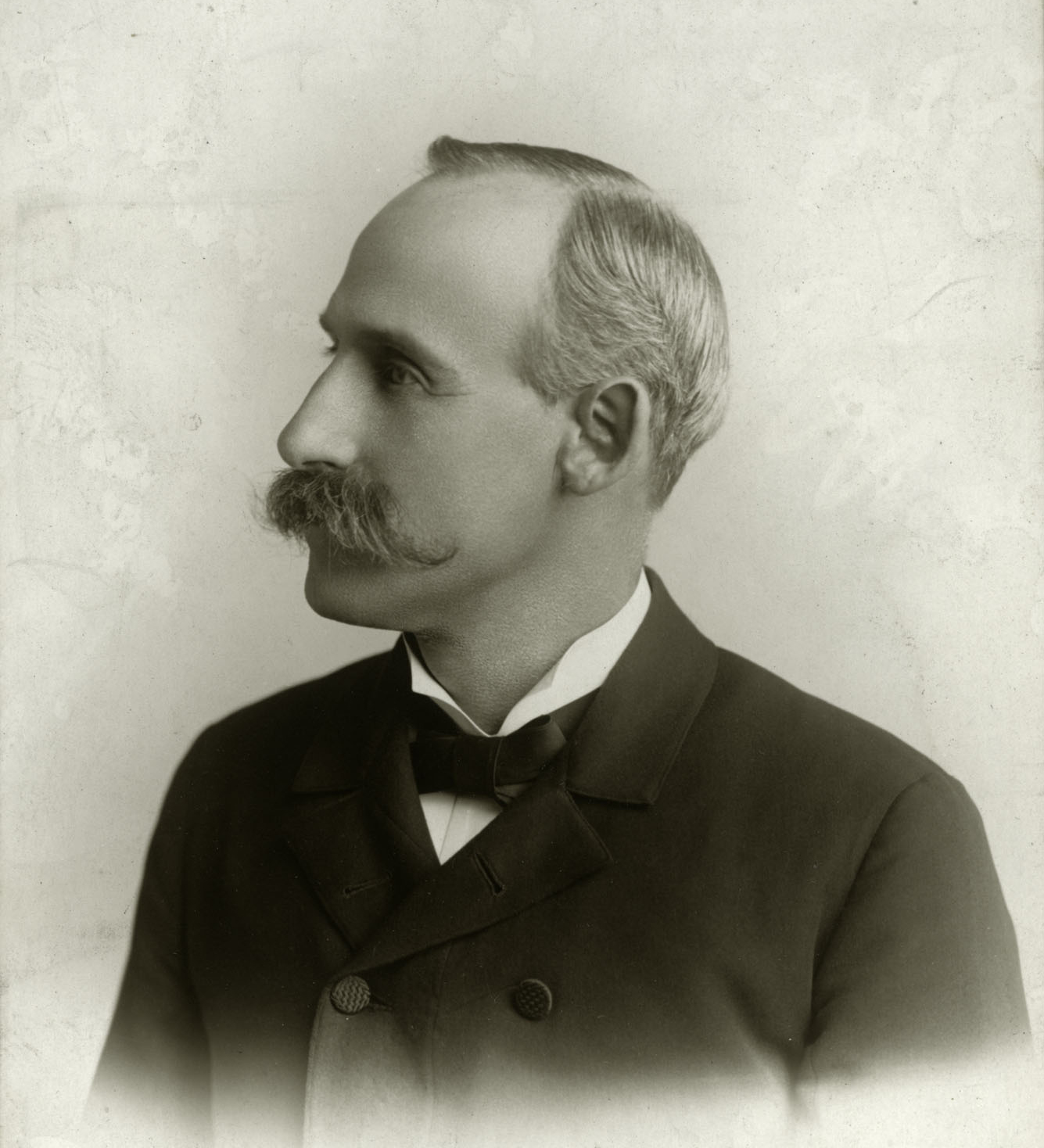 Archival Print
Photographer Unknown
ca. 1900
John Henry Haynes in a studio portrait at the end of his career as an archaeologist.  (Penn Museum negative # 149706)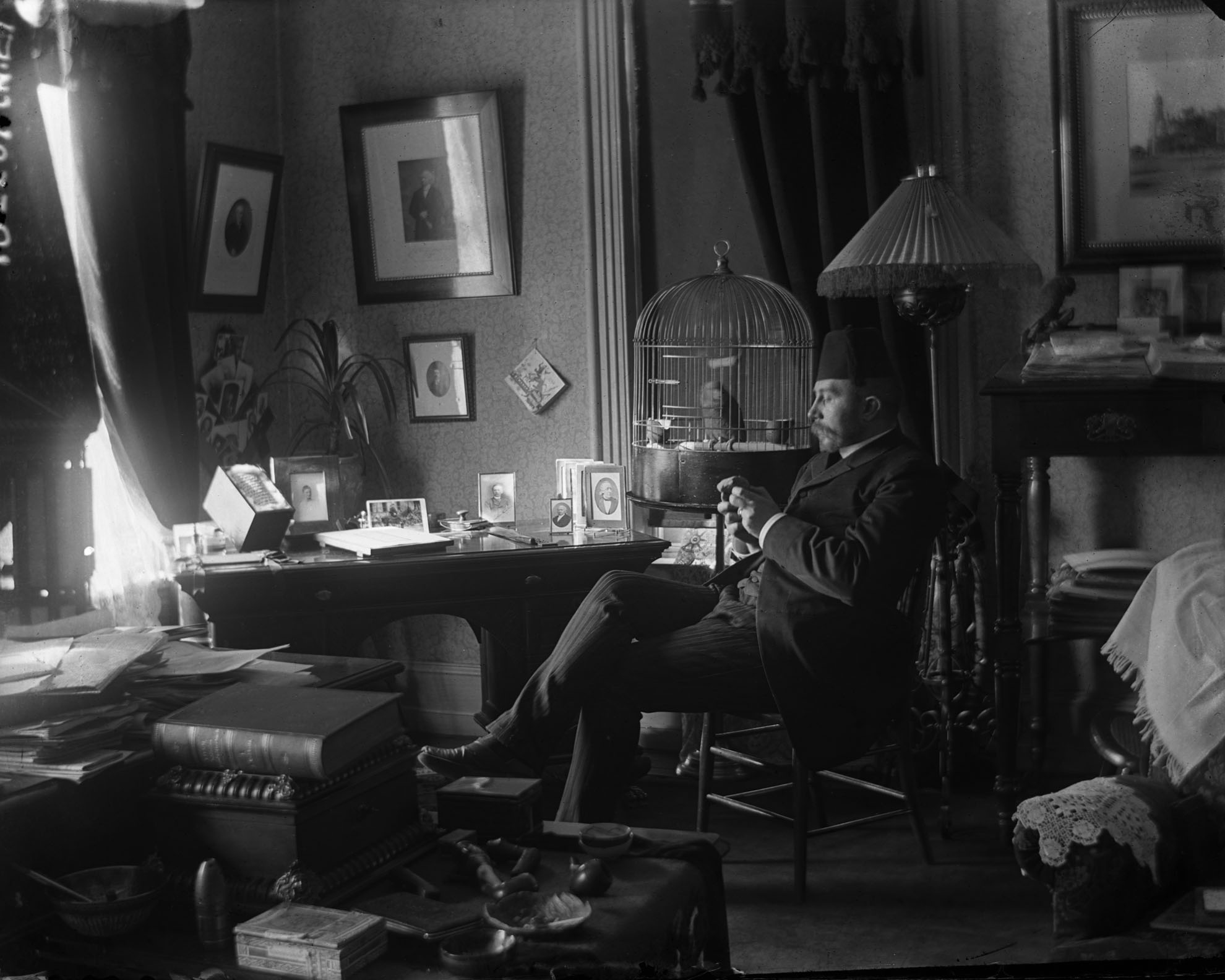 Hermann Vollrath Hilprecht
Archival Print
Photographer Unknown
ca. 1895
Hermann Vollrath Hilprecht poses as an Oriental gentleman in his study in Constantinople (present-day Istanbul, Turkey).  With the support of the University of Pennsylvania, he oversaw the excavations at Nippur from his base in Constantinople and catalogued the cuneiform tablets in the Imperial Museum. (Penn Museum negative # 102207)
Baghdad Along the Tigris
Archival Print
John Henry Haynes
ca. 1880s
This photo shows the banks of the Tigris River in Baghdad (present-day Iraq). The round, pitch-covered boats, known as kufas, float in the foreground, with a pontoon bridge visible in the distance. (Penn Museum neg. #184824)
Cappadocia Landscape
Archival Print
John Henry Haynes
ca. 1880s
The volcanic region of central Turkey fascinated Haynes, who took more than one hundred photos of it during his travels. Most depict the odd, eroded landscape into which dwellings and chapels were created in the 9th -14th centuries CE. (Penn Museum negative # 174585)