44th Annual International Students & Scholars Reception
Friday, October 4 from 5:00 to 7:00 pm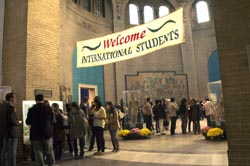 PHILADELPHIA, PA 2013—The Penn Museum opens its doors to the world, as international students, scholars, and professionals new to the Delaware Valley are invited to attend this year's 44th annual International Students Reception on Friday, October 4, 5:00 to 7:00 pm. The Welcome Reception, held in the Chinese Rotunda at the Penn Museum, 3260 South Street on the University of Pennsylvania campus in Philadelphia, is free for all international students—and is a featured event in the GlobalPhilly™ 2013 exposition.
The annual Welcome Reception is considered a national model amongst international educators, hosting hundreds of international guests every year, from over 100 countries around the world. The Penn Museum's International Classroom program leads the celebration to connect international guests with the local community and its leaders, and to introduce attendees to the multicultural community of Philadelphia.
Special guests include Consul General of Italy Andrea Canetara, Honorary Consul General of Mexico Carlo Giralt-Cabrales, Honorary Consul of Latvia John J. Medveckis, and Honorary Consul General of Lithuania Krista Bard, who will be on hand to greet guests. The event also features entertainment as diverse as the guest list; visitors are treated to performances of Chinese classical and folk dance by the Penn Chinese Dance Club, African-themed percussion by La Salle University's Neo-African Drums 'n Dance group, a unique combination of multicultural music and dance by the co-ed student group PennHype, and a colorful performance by Mutya Philippine Dance Company.
In addition to live entertainment, guests can look forward to an appetizing selection of refreshments during the reception. Food and beverages are donated in part by honeygrow, Jimmy John's, Josephine Klein, Luke's Lobster, Nada and Martyn Miller, Shonta Collins, and Trader Joe's.
This bustling annual event is made possible through the efforts of the Penn Museum, the University of Pennsylvania, the Office of the Vice Provost for Global Initiatives, more than 70 volunteers, and more than 65 area co-sponsors—including Temple University, Drexel University, University of the Sciences in Philadelphia, Philadelphia University, La Salle University, Albright College, the Wistar Institute, the Philadelphia / Delaware Valley Chapter of the Fulbright Association, and the Law Office of Matthew I. Hirsch.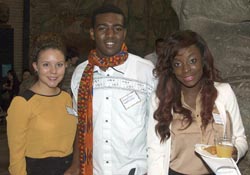 Since its creation in 1961, International Classroom has helped regional students, teachers and families learn firsthand about other cultures, through programs presented by international residents, students, and scholars living in the Delaware Valley. In addition to offering group programs for a fee, International Classroom offers a limited amount of free programs to underserved Philadelphia public schools every year, through support from local corporations, foundations, and individual donors.
International Classroom Manager of Outreach Prema Deshmukh sums up the program: "In today's multicultural society, International Classroom is more relevant than ever as learning about diversity, sensitivity to languages, and understanding different cultures has become an important part of curriculum in higher education. As our world becomes more interconnected, people need and want to learn about different cultures."
The International Students Reception is a GlobalPhilly™ 2013 featured event. GlobalPhilly 2013 is an international exposition presented by the Global Philadelphia Association from September 15 through November 1, featuring a wide array of global, international, and multicultural events and activities sponsored by the Association's 100-plus members, and shining a spotlight on the many international dimensions of the Greater Philadelphia area. The Global Philadelphia Association will highlight these events as part of its mission to move Philadelphia forward as a world city. Learn more about the initiative at www.globalphiladelphia.org.
For more information about the International Students Reception, or to learn more about International Classroom at the Penn Museum, call Prema Deshmukh, at 215.898.4065.
The Penn Museum (the University of Pennsylvania Museum of Archaeology and Anthropology) is dedicated to the study and understanding of human history and diversity. Founded in 1887, the Museum has sent more than 300 archaeological and anthropological expeditions to all the inhabited continents of the world. With an active exhibition schedule and educational programming for children and adults, the Museum offers the public an opportunity to share in the ongoing discovery of humankind's collective heritage.
The Penn Museum is located at 3260 South Street, Philadelphia, PA 19104 (on Penn's campus, across from Franklin Field). Public transportation to the Museum is available via SEPTA's Regional Rail Line at University City Station; the Market-Frankford Subway Line at 34th Street Station; trolley routes 11, 13, 34, and 36; and bus routes 21, 30, 40, and 42. Museum hours are Tuesday through Sunday, 10:00 am to 5:00 pm, and the first Wednesday of each month until 8:00 pm, with P.M. @ PENN MUSEUM evening programs offered. Closed Mondays and holidays. Admission donation is $15 for adults; $13 for senior citizens (65 and above); $10 for children and full-time students with ID; free to Members, active U.S. Military, PennCard holders, and children 5 and younger.
Hot and cold meals and light refreshments are offered to visitors with or without Museum admission in The Pepper Mill Café; the Museum Shop and Pyramid Shop for Children offer a wide selection of gifts, books, games, clothing and jewelry. The Penn Museum can be found on the web at www.penn.museum. For general information call 215.898.4000. For group tour information call 215.746.8183.