Jump n' Funk at the Penn Museum
DJ Rich Medina Brings Afrobeats, Visual Montage, and New Audience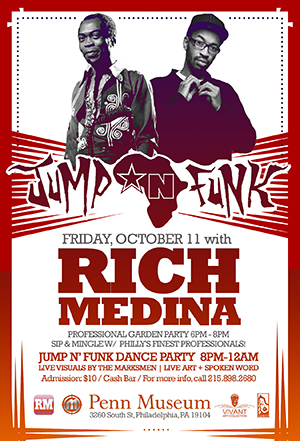 PHILADELPHIA, PA, September 16, 2013—Penn Museum opens its doors to DJs, poets, dancers, photographers, live painters and the entire creative community for a night of Jump n' Funk! On October 11, 2013, DJ Rich Medina and partner Mark Hines take center stage for the evening (8:00pm – Midnight) introducing guests to dance, music, and visual display inspired by late African musical icon Fela Anikulapo Kuti.
A pre-event Professionals Garden Party in the Museum's Warden Garden off the Kamin Entrance, runs from 6:00 to 8:00 pm (cash bar). Garden Party sponsors include National Black MBA – Philadelphia Chapter, NExT Philadelphia: Network of Extraordinary Talent (Formerly the Urban League Young Professionals of Philadelphia), Haitian Professionals of Philadelphia, Philadelphia Black Public Relations Society, and the University of Pennsylvania Black Alumni Society (BAS).
Admission to the all-ages show Jump n' Funk, including Penn Museum admission, is just $10. Advance registration through the Penn Museum online event calendar is recommended.
With this event, international Philly-based DJ Rich Medina and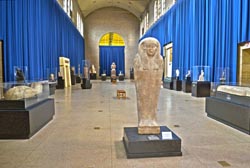 The Marksmen brings Jump n' Funk to a Philadelphia-based museum for the second year in a row (the 2012 event at the Philadelphia Museum of Art drew 1,300 people). The exciting, energetic night revolves around the music (performed in the Museum's Egypt (Mummies) gallery). The evening features multi-disciplinary arts, which includes spoken word in the Egypt (Sphinx) Gallery-Penn Museum is celebrating 100 years since the arrival of the 15-ton ancient Egyptian Sphinx to Philadelphia; live painting with Stacey "Flygirrl" Wilson and other Philly artists in the Chinese Rotunda, and photographers taking pictures of guests—and posting on the spot—to social media.
Guests are invited to wander the Museum galleries and take in special exhibitions, including the critically acclaimed Black Bodies in Propaganda: The Art of the War Poster.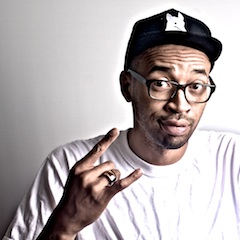 Rich Medina: There are few nightclub DJs that have accomplished as much on a global scale as Rich Medina. From his humble beginnings as a young b-boy-turned-DJ in Lakewood, NJ, to his current status manning the decks as one of the most popular DJs in Philadelphia and NYC, Rich Medina has consistently taken multi-ethnic crowds on a sonic journey through hip-hop, house, Afrobeat, funk and soul, unearthing one musical gem after another, for almost 20 years. Rich introduced a new generation of people to Afrobeat music in 2001, with Jump N' Funk, the first and most consistent US dance party dedicated to the late African musical icon, Fela Anikulapo Kuti.
Vivant Art Collection: Vivant Art Consulting develops and curates cultural exhibitions and multi-cultural programs that attract diverse audiences and communities. Vivant develops custom proposals, marketing strategies, coordinating strategic partnerships, and establishing media relationships that target civically engaged minority audiences, young and established professionals.
The Penn Museum: The University of Pennsylvania Museum of Archaeology and Anthropology is dedicated to the study and understanding of human history and diversity. Founded in 1887, the Museum has sent more than 300 archaeological and anthropological expeditions to all the inhabited continents of the world. With an active exhibition schedule and educational programming for children and adults, the Museum offers the public an opportunity to share in the ongoing discovery of humankind's collective heritage.
The Penn Museum is located at 3260 South Street, Philadelphia, PA 19104 (on Penn's campus, across from Franklin Field). Public transportation to the Museum is available via SEPTA's Regional Rail Line at University City Station; the Market-Frankford Subway Line at 34th Street Station; trolley routes 11, 13, 34, and 36; and bus routes 21, 30, 40, and 42. Museum hours are Tuesday and Thursday through Sunday, 10:00 am to 5:00 pm, and Wednesday, 10:00 am to 8:00 pm, with P.M. @ PENN MUSEUM evening programs offered select Wednesdays. Closed Mondays and holidays. Admission donation is $15 for adults; $13 for senior citizens (65 and above); free for U.S. Military; $10 for children and full-time students with ID; free to Members, PennCard holders, and children 5 and younger.
Hot and cold meals and light refreshments are offered to visitors with or without Museum admission in The Pepper Mill Café; the Museum Shop and Pyramid Shop for Children offer a wide selection of gifts, books, games, clothing and jewelry. The Penn Museum can be found on the web at www.penn.museum. For general information call 215.898.4000. For group tour information call 215.746.8183.