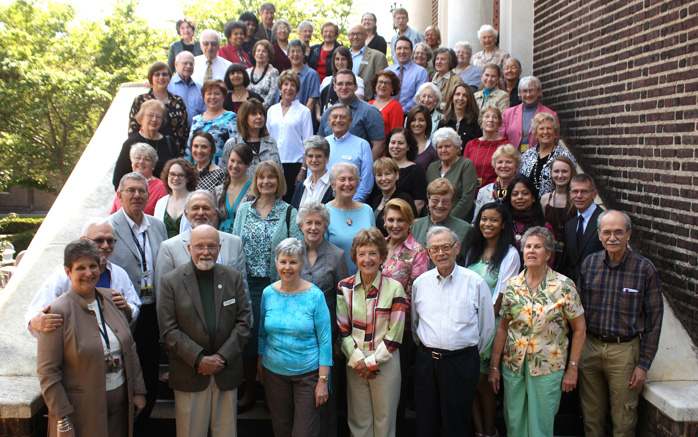 Since its beginnings in the late 1880s, the Museum has depended on volunteer help for many of its projects and much of its development. Today, more than 250 volunteers participate regularly, making important contributions to the public and research areas of the Museum. Some volunteers come in daily, and many have served for 20, 25, and even 30 years!
For most volunteer positions the only requirement is an interest in archaeology, anthropology, and world cultures, a love of learning, and a willingness to make a regular commitment. Applicants with special skills and training may be assigned to areas that require specific knowledge and work experience.
Time Commitment
There are no specified days or hours for work. Volunteer time is based on the availibility of the volunteers and the needs of the particular area. Two to four hours, one or two days per week, are usual.
Volunteer Benefits
Volunteers receive free permit parking and a discount on purchases made in the Museum's Main Shop and Pyramid Shop. Volunteers are encouraged to join the Museum as members, and new volunteers recieve a 10% discount on individual or family membership. An annual all-volunteer party is a fun way to meet and socialize with other volunteers who work throughout the Museum.
To Volunteer Contact:
Kelley Hirsch, Programs Assistant
(215) 746-6774
This email address is being protected from spambots. You need JavaScript enabled to view it.
---
Archives
The Archives at the Penn Museum is a repository for 2,000 feet of records and over 300,000 photographic and other visual materials documenting the administrative history of the Penn Museum and its archaeological and anthropological fieldwork and research. Archives Scribes assist in organizing and documenting the historical records. Previous archival experience or library training is helpful.
Collections
Curatorial Sections that employ volunteers include the African, American, Asian, Egyptian, Mediterranean, Near East, and Oceanian Sections. Volunteers help to organize and maintain the storage collections, pull objects, and check and update cards and inventory records. Responsibilities may include computer data input.
Conservation
The Conservation Laboratory is responsible for the treatment, repair, and restoration of Museum collections. Volunteers who are interested in Conservation should have experience with Museum conservation processes.
Volunteer Guides (Docents)
The Volunteer Guides offer gallery tours to school and adult groups, Tuesday through Friday, with occasional weekend tours for the general public. Although it is helpful to have expertise in a particular culture or historic period, it is more important to be enthusiastic about sharing the Museum's galleries with visitors and getting them engaged with the objects on display. Training to lead a gallery tour takes between six to twelve months, depending on the amount of time a volunteer is available. Once trained, guides need to be able to devote one morning a week to leading tours. For more information or to become a Penn Museum Guide call the Docent Coordinator at (215) 898-2681.
Education
Education Office Volunteers help the Education Department to confirm school group tours, help groups line up for orderly transfer to the respective galleries, and assist with general office duties.
Volunteers interested in working with children and the public have opportunities to volunteer with various programs, such as Cartifacts. Cartifact Volunteers engage visitors as they handle and explore reproductions of objects on display and facilitate discussion around a topic. Themes include "Daily Life in Ancient Rome," "Textiles," and "The Egyptian Afterlife."
The International Classroom (IC) provides in-house as well as outreach programs that bring cross-cultural learning experiences to young people. In addition to clerical tasks, IC Volunteers assist in developing programs and resource materials.
Membership
The Membership Office oversees the Museum's active membership program, including special lectures, reports, receptions, and dinners. Membership Volunteers assist with general clerical tasks as well as provide support for special functions when needed.
Mobile Guides
The Mobile Guides (or Museum on the Go) program, takes traveling programs into Philadelphia Public Schools each year. Volunteers work in teams in this award-winning outreach program, bringing objects and information to students about Ancient Egypt, Native Americans, and the cultures of Africa.
Public Information Office
The Public Information Office (PIO) works with every department and research division in the Museum to communicate to the wider world about the Penn Museum and its many activities. PIO Volunteers help with related marketing, telephone, information distribution, outreach events, website, and computer projects.
Registrar's Office
The Registrar's Office handles administrative matters relating to the Museum's collections and is the coordinating center for the Museum's collections inventory project. Registrarial Volunteers help with filing and maintaining records, sorting and numbering objects, inventory data input, and general office duties.
Special Events
The Museum sponsors a wide variety of special events for members and the public on weekends and in the evening. Special Events Volunteers help with many aspects of special events.
Visitor Services
Visitor Services Volunteers are committed to providing an enjoyable and engaging experience for visitors at the museum. Tuesdays through Sundays, they dispense knowledge throughout the galleries, and/or at a "Cartifact" program station. An enthusiasm for interaction with people of all ages is preferable.
---
Contact

Kelley Hirsch, Programs Assistant
(215) 746-6774
This email address is being protected from spambots. You need JavaScript enabled to view it.