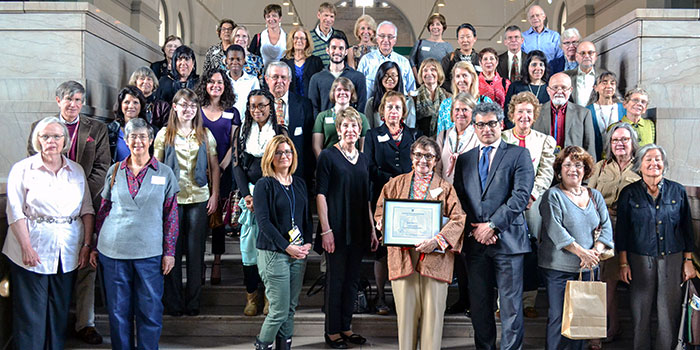 Since 1887, the Museum has depended on volunteer help for many of its projects and much of its development. Today, more than 200 volunteers participate regularly, making important contributions to the Museum. Some volunteers come in daily, and many have served for 20 or more years!
If you are interested in volunteering at the Penn Museum, please review the volunteer opportunities listed below and then submit an application for a specific opportunity. Applications will only be considered for these opportunities. For most volunteer positions the only requirement is an interest in archaeology, anthropology, and world cultures, a love of learning, and a willingness to make a regular time commitment, usually two to four hours, one or two days per week.
Volunteer Benefits
Volunteers may request VIP parking passes. They receive a 10% discount on purchases made in the Museum's shops and cafe. Volunteers are also encouraged to join the Museum as members, and new volunteers receive a 10% discount on individual or family memberships.
---
Volunteer Opportunities
---
African Section Volunteer
Description: The African Section of the Penn Museum houses over 20,000 objects from all regions on the continent. Images of some of the collection can be seen via the online collections database, but there is still more work to be done. As a result, the African Section is looking for a qualified volunteer to photograph a group of 2,000 objects, edit the resulting images, add them to the Museum database, and help to improve the object record information which, along with the images, are an important component of the Museum's presence on the Web.
Required Training: A candidate for this project will be given training in using KE Emu, the Museum's collections management software, and in safe object handling (a session taught by a member of the Museum's Conservation Department).
Qualifications: The candidates should be comfortable using a SLR camera, photo editing software and, ideally, have experience in photographing three-dimensional objects.
Time Commitment: A commitment of about ten hours a week is desirable and candidates should be available on Wednesdays or Thursdays between the hours of 10:00am and 4:00pm. The position will begin in August 2015.
---
Special Events Volunteer
Description: The Museum sponsors a wide variety of special events for members and the public on weekends and in the evening. Special Events Volunteers help with many aspects of special events including set-up, check-in, helping at kids' craft tables, and more.
Required Training: None
Qualifications:
Able to communicate and work comfortably with the public, including small children and adults
Ability to walk and stand for long periods of time
Responsible and punctual
Requirements: None
---
Docent Volunteer
Description: Docents lead gallery tours on behalf of the Penn Museum. Tours last 50 minutes, and focus on one of the cultures highlighted in the Museum's galleries. The content for these tours is developed in consultation with the Guide Program Manager, lead gallery docent, as well as curatorial sections. Most tours are for school-aged children, with occasional private tours for families and adults.
Required Training: Training for the docent program is quite rigorous. Before joining the museum's docent program, applicants will be interviewed by Learning Programs staff. Following a successful interview, perspective docents will accompany several docent tours. After selecting a gallery to focus on, the perspective docent will be given a reading list with background on the collection in that gallery. New docents must also complete a 12-hour training course focusing on educational best practices for leading tours. After developing a 50-minute tour, perspective docents will demonstrate the tour for other docents and the Guide Program Manager. Successful completion of training, and readiness to lead tours, is based on approval by the Guide Program Manager.
Qualifications: Docent volunteers must have at least 1 year of educational experience. This can include working in a classroom. Less formal experiences, such as working as a summer camp counselor, or tutor may also be considered. Docents must be over 18 years of age.
Requirements: Docents are required to purchase a membership to the Penn Museum. This will keep them informed on all upcoming museum events. They are also required to offer one day a week to be free to lead tours, as well as leading up to two weekend tours per semester. In addition to this availability, docents are required to attend a monthly meeting, the first Monday of every month. Finally, docents must undergo a background check for clearances on child abuse and criminal activity.
---

Contact
This email address is being protected from spambots. You need JavaScript enabled to view it.
(215) 898-4050