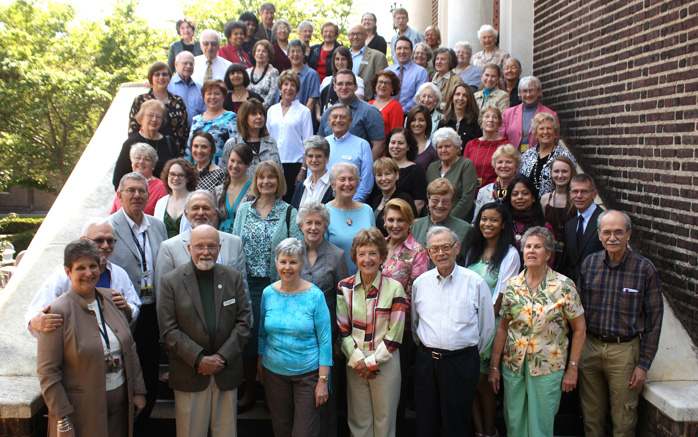 Since 1887, the Museum has depended on volunteer help for many of its projects and much of its development. Today, more than 200 volunteers participate regularly, making important contributions to the Museum. Some volunteers come in daily, and many have served for 20 or more years!
If you are interested in volunteering at the Penn Museum, please review the volunteer opportunities listed below and then submit an application. For most volunteer positions the only requirement is an interest in archaeology, anthropology, and world cultures, a love of learning, and a willingness to make a regular time commitment, usually two to four hours, one or two days per week.
Volunteer Benefits
Volunteers may request VIP parking passes. They receive a 10% discount on purchases made in the Museum's shops and cafe. Volunteers are also encouraged to join the Museum as members, and new volunteers recieve a 10% discount on individual or family memberships.

---
Volunteer Opportunities
---
Cartifacts Volunteer
Description: Cartifacts is an informal, in-gallery public program that provides hands-on experiences for Penn Museum visitors of all ages. Cartifact Volunteers set up displays of five to ten touchable artifacts at carts located in the Museum's galleries and explain the function and history of each object. Each cart is focused on a gallery theme. Cartifact Volunteers engage visitors in short-term discussions utilizing open-ended questions.
Required Training: Volunteers will be interviewed and introduced to all available carts. Volunteers will study the training manual of the cart of his/her choice for up to two weeks. After two weeks, Cartifact Volunteers will be tested on their familiarity with the objects and their ability to facilitate discussions with visitors about the material.
Qualifications: This volunteer opportunity is open to mature high school students and adults. An ideal Cartifact Volunteer demonstrates good listening and conversational skills, has enthusiasm for the material, and has knowledge of the Penn Museum's collections and floor plan.
Requirements: Commitment for at least one day a week is preferred, but not a requirement. Cartifact Volunteers may schedule themselves to work for any hours during the following times: Tuesday-Friday, 12pm-4pm; Saturday-Sunday, 10am-4pm; or special evening events.
---
Conservation Volunteer - Pre-Program Intern
Description: The Museum's Conservation Lab occasionally accepts Pre-Program Volunteer Interns who are specifically interested in pursuing a career in conservation and need to build experience before applying to graduate school. Interns will be supervised in carrying out a variety of basic conservation and preventive conservation tasks. Because such internships require a considerable time commitment on the part of Conservation Department staff we will be quite selective in accepting interns.
Required Training:
Preference will be given to those with previous conservation experience
Previous experience handling artifacts in a Museum setting
A background in chemistry, fine arts or art history, or archaeology is preferred
Qualifications:
Basic hand skills and manual dexterity
A strong interest in pursuing conservation as a career
Patience with repetitive tasks
Willingness to work in sometimes challenging environments
Experience with digital photography and preferably familiarity with image editing software such as Adobe Creative Suite
Requirements: Candidates must be available for at least one full day (10 am to 4 pm Monday to Friday) each week for at least a six-week period. Experience has shown that shorter commitments do not benefit the intern and are too demanding for our staff.
---
Oceanian Section Volunteer
Description: The Oceanian Section of the Penn Museum houses over 22,000 objects from the Pacific islands (Polynesia, Melanesia, Micronesia), Australia, and Insular Southeast Asia (Malaysia, Indonesia, and the Philippines). The Museum has made its collections available on the Web, but a relatively small number of the Oceanian objects have images, and catalog information is often incomplete. The Oceanian Section is looking for a qualified volunteer to photograph objects, edit images, add them to the Museum's collections database, and help improve the object records which, along with the images, are an important component of the Museum's presence on the Web.
Required Training: Training will be provided on the Museum's collections database (KE EMu) and in safe object handling practices.
Qualifications: It is desirable that candidates be comfortable using a digital SLR camera (Olympus E-550) and, ideally, have experience photographing three-dimensional objects. A photographer will be available for consultation.
Requirements: A time commitment of at least four hours per week is desirable, and because of the supervisor's schedule they must occur Tuesday, Wednesday, or Thursday between 10 am and 4 pm. The position is available immediately for the rest of the Spring term, and will be open again in the Summer of 2014.
---
Special Events Volunteer
Description: The Museum sponsors a wide variety of special events for members and the public on weekends and in the evening. Special Events Volunteers help with many aspects of special events including set-up, check-in, helping at kids' craft tables, and more.
Required Training: None
Qualifications:
Able to communicate and work comfortably with the public, including small children and adults
Ability to walk and stand for long periods of time
Responsible and punctual
Requirements: None
---
Volunteer Guide (Docent)

Description: Volunteer Guides (Docents) offer gallery tours and facilitate in-gallery experiences for school and adult groups, Tuesday through Friday, with occasional weekend tours for the public. Although it is helpful to have expertise in a particular culture or historic period, it is more important to be enthusiastic about sharing the Museum's galleries with visitors and getting them engaged with the objects on display.
Required Training: Training to lead a gallery tour takes between six to twelve months, depending on the amount of time a volunteer is available. Training includes lectures by Museum Staff and Researchers on the Museum's collection and its history. Trainees will also learn best practices to successfully engage audiences from K-12 to adults. Trainees select an exhibition gallery on which to focus, and work with docents experienced in that area, as well as Museum Learning Programs Staff to develop a tour of that gallery. Once the Senior Guide passes them on content, their tour is evaluated by Museum Learning Programs Staff to ensure that proper engagement practices are present, particularly with school students.
Qualifications:
Able to communicate and work comfortably with the public and K-12 students
Desire and ability to conduct independent research on the tour's subject area
Responsible and punctual for scheduled tours
Requirements:
Availability to give at least one tour per week during the academic year (September-June)
Attendance at monthly meetings scheduled on Mondays
Participation in ongoing continuing education programs throughout the year
---
Contact
This email address is being protected from spambots. You need JavaScript enabled to view it.
(215) 898-4050