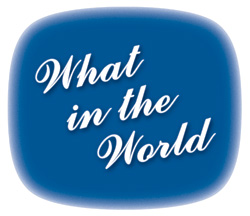 What in the World? was the Penn Museum's popular weekly TV program that first aired in 1951. Unidentified objects were presented to a panel of experts who were asked to guess what in the world it was.
You can watch six of the remaining episodes on our YouTube playlist. There, you'll also find a set of contemporary videos about selected objects at the Penn Museum, created by multi-disciplinary artist Pablo Helguera. Helguera installed a What in the World interactive exhibition at the Penn Museum as part of Philagrafika 2010.
Today, the What in the World lives on through the Museum's Facebook page, where a series of weekly posts lets our fans and followers play this object ID game for themselves. Objects are generally posted early on Thursdays, with the correct answer posted later that day. Check back for a new mystery object each week!
---