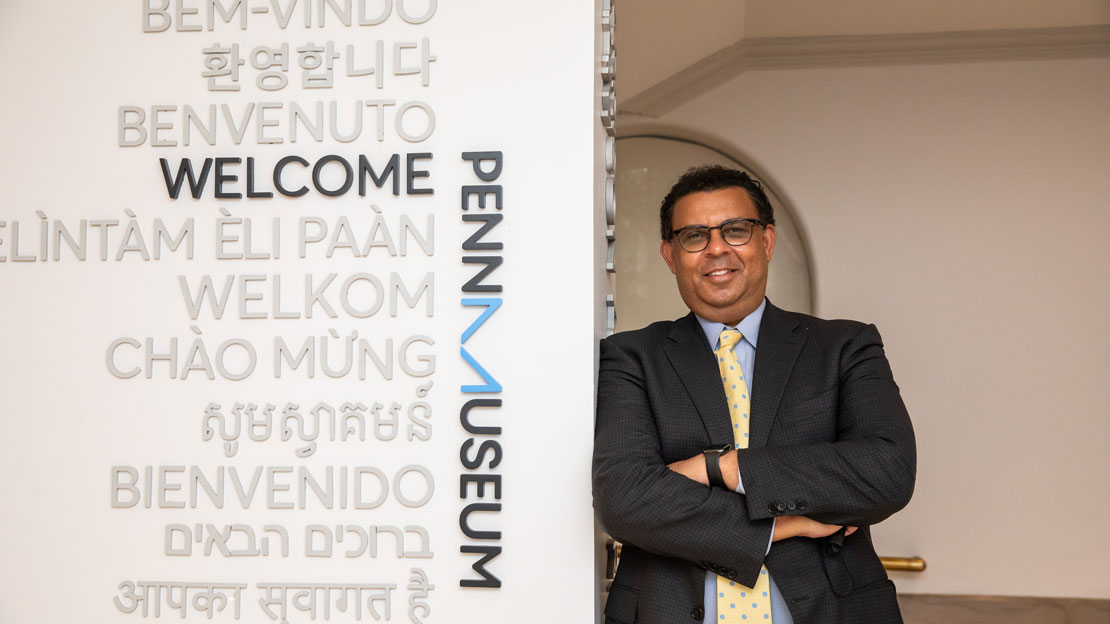 Welcome to the Penn Museum.
It is my great pleasure—as the Penn Museum's 12th director—to welcome you to enjoy our Museum's collections and stories during a safe and awe-inspiring visit.
I invite you to experience three levels of galleries, including an entirely reimagined Main Level, with the new Sphinx Gallery just inside the Main Entrance, leading to powerful galleries of Africa and of Mexico and Central America. When you visit, you will also enjoy a range of new amenities that make the Penn Museum fully accessible to all visitors for the first time.
Our safety precautions are at the forefront of visitor experience. These guidelines promote the well-being of our community so we may all continue learning. We are pleased to say that 100% of visitors who responded to post-visit surveys since our initial post-pandemic reopening in July 2020 reported feeling safe throughout their time at the Penn Museum.
While we'd love to see you in person—safely distanced of course—I invite you to continue to experience the Penn Museum At Home and enjoy tours, conversations, films, crafts, and more from wherever you are in the world. You can even shop the Penn Museum through our new online store, which offers a wide range of unique gifts, kids' activities, jewelry, accessories, books, and more for contactless pickup or delivery to your home.
I hope to see you—in our galleries or online—soon.
All the best,

Christopher Woods
Williams Director
Executive Team
Christopher Woods, Ph.D., Williams Director
Jess Bicknell, Director of Exhibitions
Genny Boccardo-Dubey, Chief Operating Officer
Jennifer Brehm, Merle-Smith Director of Learning & Community Engagement
Tia Jackson-Truitt, Ph.D., Chief Diversity Officer
Amanda Mitchell-Boyask, Executive Director of Advancement
Stephen J. Tinney, Ph.D., Deputy Director, Chief Curator, Head of Collections and Research
Jo Tiongson-Perez, Chief Marketing and Communications Officer
Laura Hortz-Stanton, Director of Collections
Board of Advisors
The Penn Museum gratefully acknowledges the leadership and support of the members of its Board of Advisors, as of July 2022:
Peter G. Gould, Ph.D., LPS10, Chair
David Brownlee, Ph.D. (ex-officio)
David T. Clancy, W70
William L. Conrad, PAR
Erica Weissman Desai, C96
Edward Fernberger, Jr., W71
Peter C. Ferry, C79, PAR
Steven J. Fluharty, Ph.D., C79, GR81, PAR (ex-officio)
Irfan M. Furniturewala, WG01, PAR
George M. Gephart, WG79, PAR
Ghislain Gouraige, Jr., C80, PAR
Ingrid A. Graham (emerita)
Michael J. Kowalski, W74, PAR
Diane v.S. Levy
Liz Magill, J.D., (ex-officio)
Frederick J. Manning, W69, PAR
Arnab Mishra, W96
Andrew R. Moelis, C10
Barbara W. Riley
Adam Rosen
Herbert L. Sachs, W69, PAR
Eric J. Schoenberg, Ph.D., GEN93, WG93, PAR
Adam D. Sokoloff, W84, PAR
Matthew J. Storm, C94, WG00
Gregory Annenberg Weingarten
Jill Topkis Weiss, C89, WG93, PAR
Charles K. Williams II, Ph.D., GR78, HON97 (emeritus)
Beth A. Winkelstein, Ph.D., (ex-officio)
Christopher Woods, Ph.D., (ex-officio)
---
Other Volunteer Groups
The Penn Museum gratefully acknowledges the contributions of time, talent, and financial support of the members of the following volunteer groups, as of July 2022:
Director's Council
Carrie Cox, PAR, Chair
Arthur J. Burke, Esquire, C89, W89
Lawrence S. Coben, Ph.D., G03, GR12
Isabella de la Houssaye
Douglas T. Dietrich, WG00
Luis Fernandez-Moreno, WMP89
Judy Brick Freedman, Ph.D.
S. Zane Grodman, M.D., C12
Bryan R. Harris, C83
John C. Hover II, C65, WG67
Andrea R. Kramer, Esquire, L76, PAR
Sharon N. Lorenzo
Marco L. Lukesch, C01, W01
Joseph E. Lundy, Esquire, W65
Bharti Malkani, C91
Susan T. Marx, CW66
John J. Medveckis, PAR
Carlos L. Nottebohm, W64, PAR
Patrick M. Oates, Ph.D.
George R. Pitts, Ph.D., GR77
Judith B. Poss, C87, PAR
William L. Potter, WG88, PAR
Gretchen P. Riley, CW70, PAR
Brian P. Tierney, C79, PAR
Samuel Phineas Upham, Ph.D., WG05, GRW06
Nina Robinson Vitow, CW70, WG76
Natalie B. Wilensky
---
Campus and Cultural Advisory Council
David B. Brownlee, Ph.D., Chair Shapiro-Weitzenhoffer Professor of the History of Art, University of Pennsylvania
Francesca Ammon, Ph.D. Associate Professor of City and Regional Planning, University of Pennsylvania
William Burke White, Ph.D. Richard Perry Professor and Director, Perry World House, University of Pennsylvania
Scott Cooper, Ph.D. President and CEO, Academy of Natural Sciences at Drexel University
Dejay Duckett, Director of Curatorial Services, African American Museum in Philadelphia
Sara Jane (Sally) Elk, President and CEO, Eastern State Penitentiary
Oliver St. Clair Franklin O.B.E., Investment analyst (former President of International House)
Derek Gillman, Distinguished Visiting Professor, Visual Studies, Drexel University
Susan Glassman, Director, Wagner Free Institute
Andrea Goulet, Ph.D. Professor of Romance Languages, University of Pennsylvania
Kelly Lee, Chief Cultural Officer, City of Philadelphia
John McInerney, Director, Sachs Program for Arts Innovation, University of Pennsylvania
Kathleen Morrison, Sally and Alvin V. Shoemaker Professor and Chair, Anthropology, University of Pennsylvania
Will Noel, John T. Maltsberger III '55 Associate University Librarian for Special Collections, Princeton University Library
Karen Redrobe, Ph.D. Jaffe Professor of the History of Art, University of Pennsylvania
Ralph M. Rosen, Ph.D. Rose Family Endowed Term Professor of Classical Studies, and Associate Dean for Graduate Studies, University of Pennsylvania
Monique Scott, Ph.D. Director of Museum Studies, Bryn Mawr College
Jenny Thompson, The Gloria and Jack Drosdick Curator of European Painting and Sculpture and Curator of the John G. Johnson Collection, Philadelphia Museum of Art