Pullover wool dress, ca. 5th-3rd century BCE. Excavated from Tomb No. 55 of Cemetery No. 1, Zaghunluq, Charchan, Xinjiang Uygur Autonomous Region, China. © Xinjiang Uygur Autonomous Region Museum.
This is one of the objects coming to the Penn Museum in the Secrets of the Silk Road exhibition in February 2011. I am trying to convince the Museum Shop to make a reconstruction of it to sell in the Gift Shop. Even though it's over 2,000 years old, it could pass for DKNY's 2011 Fall Children's Collection.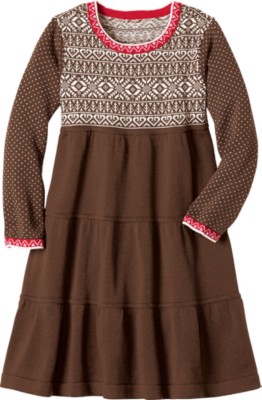 Obviously our dress was not mass-produced. And the thousand hands of fashion designers, production specialists, manufacturers, and marketers were not involved in the production of this design. It was hand-made under very different circumstances than the bulk of the clothing that the majority of us wear today. Despite those differences, there are certain overwhelming commonalities that still persist 2,500 years later, translated and manipulated across the many miles of the Silk Road. I did a quick web search to find similar clothing and found the same yoke construction in the above brown dress and vintage Simplicity patterns, and the same use of asymmetry and contrasting blocks of color as this contemporary sweater dress.
This dress in the Secrets of the Silk Road exhibition was made from a patchwork of dyed wool pieces. The child who wore it must have had it for several years, because triangular pieces of wool have been added to increase the length of the hem and the arms. This is one of many garments found in the Zaghunluq tombs, including robes, short jackets, pants, shirts, shawls, hats, and socks. It's amazing how objects of material culture like this one can shed light on the daily life of people who lived in the "western regions" when the Silk Road was just starting to become a major trade route.
I'm not sure that the gift shop will re-create this dress in particular, but there will be some felted objects inspired by the other amazing objects in the exhibition like this beautifully preserved (almost smurfy-looking) hat.

Felt Hat, c. 1800-1500 BCE, Excavated from Xiaohe (Little River) Cemetery 5, Charqilik County Xinjiang Institute of Archaeology Collection. Wrapped around the hat and between the red yarn are two weasel pelts with their heads hanging at the middle of the hat. On either side of the edge of the hat a cord that would have fit under the wearer's chin is attached.