The month of April is a month full of dedications – everything from Fools (April 1) to Administrative Professionals (April 24) and even the whole Earth itself (April 22) receive a special day.  My personal favorite celebration for April is National Poetry Month.
Back in February, second graders from Abington School District visited the Penn Museum.  They had learned about the roles of curators, conservators, and other museum staff (stuff I didn't discuss in class until grad school!) and wanted to experience it all first-hand.  They practiced conservation techniques and had a special chat with Molly Gleeson from In the Artifact Lab.
To supplement their visit, the students were also given an interpretation task:  select an object from Iraq's Ancient Past and write a five-line poem, a cinquain, about what you see and feel.
In the spirit of the month, you can read two poems a week written by the guest interpreters.
Special thanks to Ms. Tanay, the parents of the Abington School District 2nd graders, Molly Gleeson, and Dari Sutton for making this visit and blog post possible!
Week One Poems: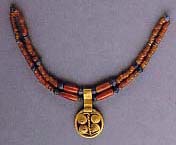 Beads of Gold, Lapis lazuli, and Carnelian
Exotic
Wondering, Patterns
Shining, Amazing, Glowing
Who used this artifact?
Beautiful
by Charlotte
Earring
Gold
Lapis lazuli, Unique
Shining, Glowing, Interesting
Who made this?
Cool
by Katy