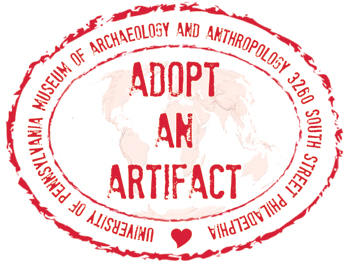 Penn Museum helps local libraries expand knowledge and understanding of human cultures through the Adopt an Artifact program.
Adopting an Artifact from the Penn Museum can be done on several levels, each level providing various benefits and opportunities. For more information about the different levels, visit the Adopt an Artifact site. When a library adopts an artifact, they receive even more opportunities for exploration and knowledge!! How awesome!
Last year, the Upper Dublin library in Fort Washington, PA adopted the Penn Museum's Sphinx on behalf of over 1,200 children participating in their Summer Reading Club, "One World, Many Stories." Patrons were able to vote for their favorite artifact in the library or online using the Upper Dublin library website. The Sphinx won with 239 votes followed by a cat mummy (169), Foo Lions (149), and an Etruscan helmet (62).
As a part of their adoption package, the Upper Dublin library held a lecture by Stephen R. Phillips, Ph.D. an Egyptologist from the Penn Museum about mummies! His "I Want My Mummy" program was funded by the Commonwealth of Pennsylvania and sponsored by the University of Pennsylvania Museum of Archaeology and Anthropology.
Learn more about Adopt an Artifact!