Penn Museum Asia Seminar
Thursday, August 18, 2022
|


1:30 PM – 3:00 PM ET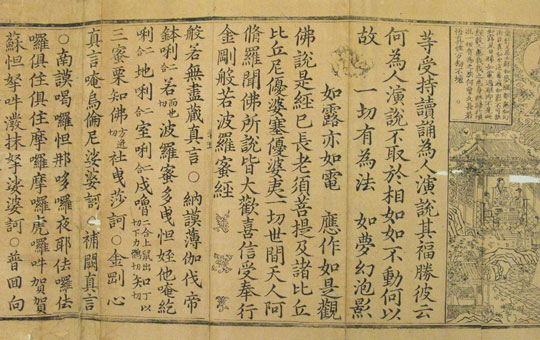 Location
Penn Museum
Event Type
Lectures
The Penn Museum Asia Seminar brings speakers to the Museum to present on topics related to Asian art, archeology, and history. These in-person talks relate to objects in the Museum collection, or to the work of curators. On August 18th, we welcome Susan Huang, Associate Professor of Transnational Asian Studies at Rice University, and Bryce Heatherly, PhD candidate at the University of Pennsylvania, to talk about the history of illustrated printed books in East Asia, including the illustrated Buddhist books found inside the Museum's lacquer statue of the Buddha (C405A). The Penn Museum Asia Seminar is always open to the public, and attendance is free.
The Dynamic Spread of Buddhist Print Culture


Mapping Book Roads under Mongol Rule




Susan Huang

Uighurs in China under Mongol rule in the thirteenth and fourteenth centuries played a major role as middlemen spreading Buddhist print culture. This talk looks at the sponsors, users, and transmitters of Buddhist books. It draws on Buddhist printed fragments excavated in Turfan, Xinjiang and an epigraphic source found in Quanzhou in southeast China. Taken together with the Mongol postal relay system, visualized using ArcGIS maps, elite Uighurs' vast network extending from China to the Uighur homeland in Central Asia can shed light on the dynamic spread of Buddhist print culture under Mongol rule.

Susan Huang is an Associate Professor at Rice University.

Identifying the Illustrated Sutra Prints from Inside the Museum's Lacquer Buddha C405A


Bryce Heatherly

When the lacquer Buddha (C405A) was acquired by the Penn Museum in 1923, five woodblock printed books were found inside its hollow core. Two are rare examples of the Illustrated Diamond Sutra, a Buddhist book that circulated throughout China and Korea in the 14th and 15th centuries. This talk traces the development of this book over a century of successive printings, and discusses how it can shed light on the world of Buddhist book production.

Bryce Heatherly is a PhD student in the Department of East Asian Languages and Civilizations at Penn.