Sold Out - Ancient Alcohol Tour & Wine Tasting
Eastern Mediterranean Wine Mashup
Sunday, March 19, 2023
|


6:00 PM – 7:30 PM ET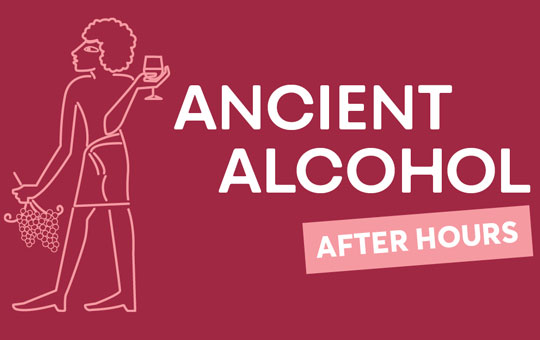 How similar is the wine that we drink today to the wine that people enjoyed in an ancient crossroads of cultures 4,000 years ago?
In this edition of our popular Ancient Alcohol series, join us for a wine tasting like you've never experienced before, paired with an intimate interactive tour of the Museum's newly-opened gallery, highlighting human ingenuity from the Eastern Mediterranean! This region, which today includes Israel, the Palestinian Territories, Jordan, Syria Lebanon, and Cyprus, was a cosmopolitan hub of diverse cultures, where innovations like the world's first alphabet were born—and it's where we will begin our spirited journey, as we drink our way through ancient history!
Bringing you the ultimate mashup of innovations in winemaking over oceans of time are archaeologists Mark Van Horn and Curator Eric Hubbard, together with Philadelphia winemaker Eli Silins of Camuna Cellars. As they lead you through the gallery, you'll learn about the evolution of wine production and uncover how this ancient alcohol was considered alive, both culturally and chemically. Explore how wine in the Eastern Mediterranean was made, consumed, and infused with spiritual meanings which remain important to many today.
During each tour stop, you will pause and be invited to sample three different wines from Camuna Cellars. Taste the ways that Eli, its founder, translates these ancient methods into modern-day winemaking, as he commits to creating fermented beverages that are good for the land, the body, and soul.
This Event Is Sold Out.
View more Ancient Alcohol After Hours