Sustainable Saturday
Saturday, May 6, 2023
|


10:00 AM – 4:00 PM ET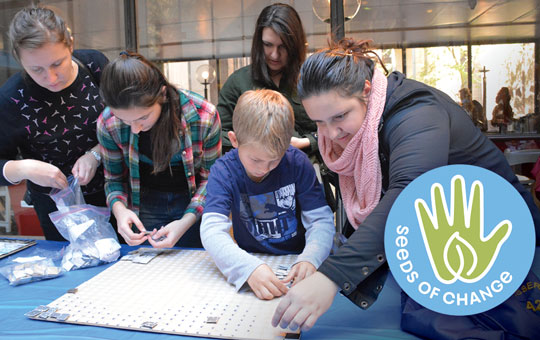 As a living hub for ongoing dialogue, connection, and activism, the Penn Museum presents Seeds of Change, a new series of programs intended to spark curiosity, share facts, and inspire action around some of the most pressing issues of our time—starting with climate change.
Learning about climate change doesn't have to be scary. There are plenty of ways kids can make a positive impact.
Part of the Seeds of Change series, Sustainable Saturday is a day for families to celebrate the earth, where kids and adults can connect to the natural world. Learn about respect for the earth from Indigenous cultures. Listen to a story about protecting our natural world. Bring a children's book from home for a book exchange. Other activities include making seed packets for your garden and creating artwork using recycled materials.
Schedule
Time
Activity
Location
10:00 am - 4:00 pm
Seed Ball Making
Warden Garden
10:00 am - 4:00 pm
Egg Carton Flowers
Asia Gallery
10:00 am - 4:00 pm
Book Exchange
Sphinx Gallery
10:30 am
Simple Sustainability: Make Your Own Garden Workshop
What is sustainability, and how can you practice it at home? Join museum educators to learn about sustainability and make your own garden.
Widener Lecture Room
11:15 am
Interactive Storytelling Performance by Ingrid Bohn
Ingrid Bohn is an Interactive Storytelling performance artist who engages her audiences through story, song, dance, and poetry. Her portrayal of character's personalities aid in understanding the beauty of all cultures.
Egypt Gallery
12:30 pm
Simple Sustainability: Make Your Own Garden Workshop
What is sustainability, and how can you practice it at home? Join museum educators to learn about sustainability and make your own garden.
Widener Lecture Room
2:00 pm
Interactive Storytelling Performance by Ingrid Bohn
Ingrid Bohn is an Interactive Storytelling performance artist who engages her audiences through story, song, dance, and poetry. Her portrayal of character's personalities aid in understanding the beauty of all cultures.
Egypt Gallery
3:00 pm
Performance by Ollinpapalotl Aztec Mexica
Join us for a performance to honor the Earth
Warden Garden
View more Kids & Family Events