Sold Out - Indigo + Shibori Dyeing Workshop
Saturday, May 20, 2023
|


1:00 PM – 3:00 PM ET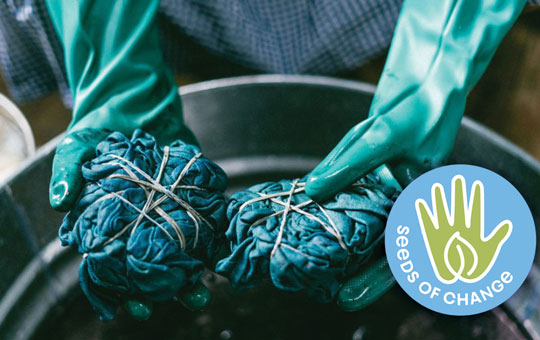 As a living hub for ongoing dialogue, connection, and activism, the Penn Museum presents Seeds of Change, a new series of programs intended to spark curiosity, share facts, and inspire action around some of the most pressing issues of our time—starting with climate change.
Fast fashion and textile waste is a large contributor to the climate crisis. Join us as we explore ways to reduce the environmental impact of the clothes we wear.
In this workshop, textile designer Melanie Hasan shares an age-old technique for creating eco-friendly sustainable fashion.
Shibori, from the word shiboru (to wring or squeeze) is a Japanese tie-dye technique dating back to the early 8th century. You'll learn how to:
use traditional Japanese resist techniques and fabric manipulation, such as stitch-resist using needle and thread, arashi, and itajime
dye 3 cotton handkerchiefs to create different shades of blue
learn how to maintain an indigo vat
learn how to wash and care for naturally dyed textiles
This Event Is Sold Out.
Workshop is for adults and teens only.
Instructor
Melanie Hasan is a textile designer and owner of the Modest Transitions studio and boutique in Fishtown. Her line of naturally dyed and handcrafted apparel is inspired by nature's beauty and a conscious future. Modest Transitions aims to empower people through sustainable garments, beauty, and inclusion, while respecting Mother Earth. From sourcing fabrics and materials with integrity, to creating baths of natural dyes, their products help eliminate toxic waste while creating timeless and aesthetically pleasing wearable art.
View more Adult Events