Opening Day
Ancient Food & Flavor
Saturday, June 3, 2023
|


10:00 AM – 4:00 PM ET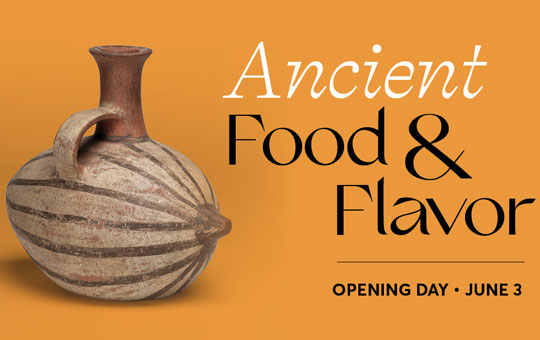 Location
Penn Museum
Event Type
On June 3, prehistoric leftovers are served as we uncover our new exhibition Ancient Food & Flavor.
Curious minds and palates are invited to a gastronomical journey across time. Examine food and plant remains preserved from thousands of years ago, and learn what leftovers can tell us about ancient diets, traditions, and identities.
Join us for Opening Day!
Included with Museum Admission
Buy Tickets
10:00 am – 12:00 pm
Chat with Station Guides
You can view the exhibition anytime during the day, but between 10:00 am and 12:00 pm the guides will be available to chat and answer your questions about the exhibition. The first 200 guests will also receive packets of strawberry seeds to take home and sow!
Merle-Smith Galleries
11:00 am – 12:00 pm
Members-only CAAM Lab Tour
A special perk for members: Exclusive access to the Center for the Analysis of Archaeological Materials (CAAM) Lab. Exhibition curators Katherine Moore, Ph.D., and Chantel White, Ph.D. will show you the spaces and tools used to research ancient leftovers. Not a member? Learn more.
CAAM Lab
1:00 – 2:00 pm
Conversation with Exhibition Curators
Join exhibition curators Katherine Moore, Ph.D., and Chantel White, Ph.D. as they share the research behind Ancient Food & Flavor. As teaching specialists in the CAAM Lab, Moore and White will present the untold histories revealed by burned seeds, dried meats, and waterlogged fruits that were remarkably preserved for thousands of years.
Rainey Auditorium
2:00 – 4:00 pm
Metate Corn Grinding
Get a taste of how ancient communities would grind maize (corn) into masa flour using a stone metate (grinding tool). This hands-on experience will be led by Masa Cooperativa, an immigrant-owned tortilla cooperative co-founded by South Philly Barbacoa's husband-and-wife restaurateurs.
Mosaic Hall
Share your flavor: #Timelessflavor
Share your favorite food––a meal, recipe, ingredient or vegetable garden! Send us a photo or video with a short caption, and it could appear in the exhibition! Two ways to share:
Post it on social media using #TimelessFlavor and tag @pennmuseum. Not on social? Email it to This email address is being protected from spambots. You need JavaScript enabled to view it..
Parking Advisory
On Saturday, June 3, Garage 7 (next to the Penn Museum) will open for public parking starting at 12 pm. For those arriving before noon, please plan ahead to park in a lot nearby. Public transportation information is also available here.