Egyptomania!
---
Date

Saturday 19 March 2016

Time

11:00AM - 4:00PM

Category
---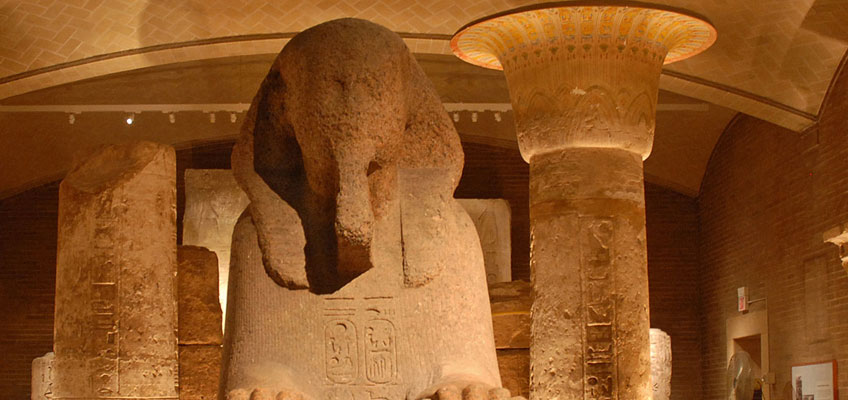 It's a celebration of all things Egyptian at this World Culture Day. The galleries come to life with a medley of activities to help visitors discover ancient Egypt, one of the world's oldest civilizations. Guests enjoy an Mummy Makers workshop, interactive belly-dancing, hands-on crafts and games, Egyptian hieroglyph lessons, and talks on Egyptian history and archaeology. Egyptologists Josef Wegner and Jennifer Houser Wegner tell stories from their new book, The Sphinx That Traveled to Philadelphia: The Story of the Colossal Sphinx in the Penn Museum. The American Research Center in Egypt, Pennsylvania Chapter, joins in the celebration by waiving admission to its Annual Korsyn Lecture featuring Andrew Oliver, art historian and former director of the Museum Program at the National Endowment for the Arts, as he presents "American Travellers on the Nile: Early US Visitors in Egypt, 1774-1839." Guided thematic tours of the Museum's Egyptian galleries, a special "Unearthed in the Archives" talk with Senior Archivist Alex Pezzati, and a chance to watch live mummy conservation in the In the Artifact Lab: Conserving Egyptian Mummies exhibition, round out the day.
Free with General Admission.
---
Schedule
| | |
| --- | --- |
| 11:00 am | "Name that God" audience participation game |
| 11:30 am | Mummy Makers Workshop |
| 12:00 pm | "Animals of Egypt" Family Gallery Tour |
| 12:30 pm | Chat with Museum conservators as they work on mummies and more inside In the Artifact Lab |
| 12:30 pm | Hieroglyphs Class |
| 1:00 pm | Curator talk and book signing: "The Sphinx That Traveled to Philadelphia: The Story of the Colossal Sphinx in the Penn Museum" with Josef Wegner and Jennifer Houser Wegner, Associate Curators in the Museum's Egyptian Section |
| 1:30 pm | Hieroglyphs Class |
| 1:30 pm | "Unearthed in the Archives" with Alex Pezzati, Senior Archivist |
| 1:45 pm¬ | Egyptian Storytime for Children |
| 2:00 pm | Mummy Makers Workshop |
| 2:30 pm | Egyptian folkloric dance with Habiba |
| 2:45 pm | "Name that God" audience participation game |
| 3:30 pm | Chat with Museum conservators as they work on mummies and more inside In the Artifact Lab |
| 3:30 pm | American Research Center in Egypt, Pennsylvania Chapter, Annual Korsyn Lecture: "American Travellers on the Nile: Early US Visitors in Egypt, 1774-1839" with Andrew Oliver |
| 3:30 pm | Hieroglyphs Class |
---
All Day Events
Wesekh Necklace and Mummy Craft Station
Interactive Egyptian tomb simulation
Egyptian-themed scavenger hunt
Pepper Mill Café
Egypt-inspired menu options
---
Location: