Dig It! International Archaeology Day
---
Date

Saturday 12 October 2019

Time

10:00AM - 3:00PM

Location

Penn Museum

Category
---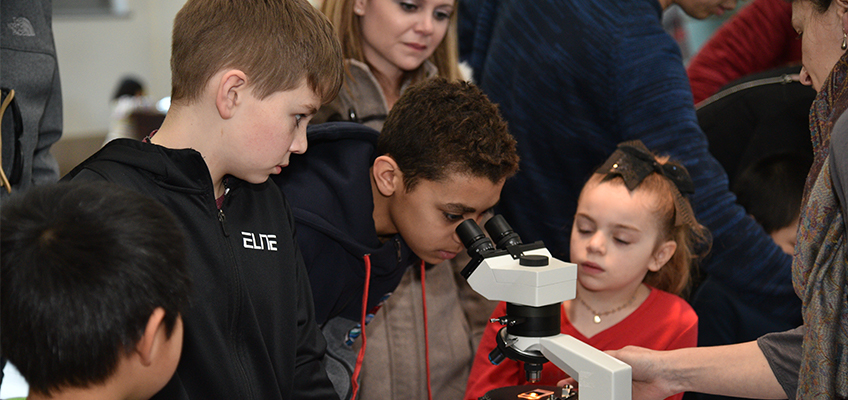 Have you ever wondered what it's like to be an archaeologist? Join us as we celebrate International Archaeology Day—featuring activities for aspiring explorers of all ages. Museum archaeologists, conservators, curators, and collections staff provide a behind-the-scenes look into our excavation sites, lab techniques, and current research. During this special event, co-sponsored by the Philadelphia Chapter of the Archaeological Institute of America, meet experts working in North America, Egypt, the Near East, and right here in Philadelphia.
This event is part of Penn Family Day: Free admission for Penn faculty, staff, and their families. Otherwise open to the public and included with Museum Admission.
SCHEDULE FOR THE DAY
| | |
| --- | --- |
| 10:00AM-1:00PM | Sniff: Perfumed Oils of the Ancient World - Learn about the scents and senses of the Ancient World. |
| 11:00AM-1:00PM | Books as Artifacts - Join librarian and archaeologist, Deb Stewart, to see an assortment of archaeological publications from the Museum Library's collections. |
| 11:30AM-12:15PM | Mummy Makers - Discover how to be an ancient Egyptian embalmer through each step of the process, including brain removal, evisceration, desiccation, and wrapping. |
| 11:30AM-12:15PM | Middle East Global Guides Tour - Hear historical information and personal experiences that connect to the Middle East artifacts on display from a Global Guide. |
| 12:00PM-12:15PM | Daily Dig - Join Dr. Kate Moore in Ancient Egypt: from Discovery to Display for a talk about Archaeozoology, the study of animal remains and what they tell us about people from the past. |
| 12:00PM-12:30PM | The Artifact Lab Open Window - The Artifact Lab allows you to speak with on-duty conservators about their current work and ask questions about artifacts in their care. |
| 1:00PM-1:15PM | Daily Dig - Join Penn Ph.D. candidate Brigitte Keslinke in the Rome Gallery for a talk about archaeological excavation. |
| 1:30PM-2:30PM | Middle East Galleries Tour - Take a guided docent tour of the new Middle East Galleries and hear how people went from small settlements to a globalized world. |
| 1:00PM-3:00PM | Open Labs - Take a behind-the-scenes look with the Center for Analysis of Archaeological Materials staff. Meet ceramics expert Dr. Marie-Claude Boileau; Archaeobotany Teaching Specialist Dr. Chantel White; Zooarchaeology Mainwaring Teaching Specialist Dr. Kate Moore; Archaeometallurgy Teaching Specialist Moritz Jansen; Kowalski Family Teaching Specialist for Digital Archaeology Dr. Jason Herrmann; and Physical Anthropology Curator Dr. Janet Monge. |
| 2:30PM-3:30PM | Middle East Global Guides Tour |
| 3:00PM-3:30PM | The Artifact Lab Open Window |
Ongoing Activities (10:00AM-3:00PM)
Making a Mosaic: Re-create a Roman mosaic from the Museum's collection.
Scavenger Hunt: Complete the challenges throughout the Museum's third floor to win prizes.
Cartifacts: Touch and learn about replica objects in the Egypt (Mummies) and Rome Galleries.
---