Archaeological Adventures: Celebrating Chinese New Year
---
Date

Wednesday 11 January 2017

Time

10:00AM - 1:00PM

Location

Penn Museum

Category
---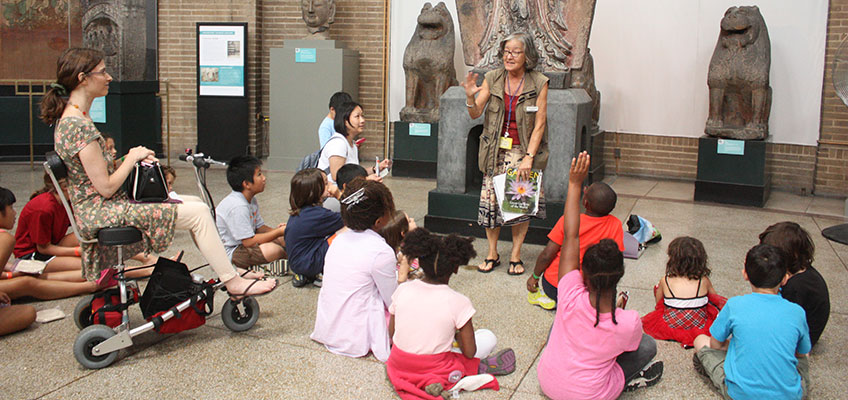 Ring in the Year of the Rooster! Discover more about Chinese culture, both ancient and modern, during this special day for homeschool and cyber school students. Learn about Chinese New Year holiday traditions and the Zodiac calendar during programs led by international students and scholars. Join a guided tour or Storytime Expedition in the Chinese Rotunda, exploring our collection of artifacts from Ancient China.
Homeschool Day admission and program costs: $12 per child/adult. One adult per family is free and children 3 and under are free.
Advance reservations are required; call 215.746.6774 for more information.
---
Program Descriptions
Note: All Ages Listed Are Suggestions and Not Requirements
Guided Tour of China (Grades 4 and up)
See everything from oracle bones (the origin of Chinese writing), to the crystal ball of the Dowager Empress of China in this eclectic gallery. Take a guided tour to explore the beautiful collection of Buddhist artwork revealing the importance Buddhism in China.
The Race for the Chinese Zodiac Workshop (Grades K-3)
Explore the origin of Chinese Zodiac animals with vivid storytelling and discover the spirit embodied by each Zodiac animal. Students will learn the relationship between the year and the Zodiac animal and will have a lot of fun exploring their own Zodiac!
Drop-In Activity: New Years Traditional Crafts (All ages)
Find out more about the art of paper cutting and try your hand at this traditional New Years craft. Explore other holiday traditions, such as knotting designs, as well as games to test your knowledge of the Chinese Zodiac animals.
Storytime Expeditions in the Chinese Rotunda (Grades K-3)
Explore the China gallery through the story of The Little Stone Lion. Travel to a small Chinese village to meet a charming stone lion loved by both old and young alike. The statue knows all the happenings of the village and guards it day and night, through all seasons.
Chinese Characters: A Journey Across Time Workshop (Grades 4 and up)
What is a Chinese character and where do they come from? Examine the developmental history of Chinese characters, a journey of many thousand years. Students will gain a better understanding of Chinese history and culture by looking at the transformation of these characters over time and practicing writing characters during the workshop.
---
Location: