Evening Expedition
---
Date

Saturday 09 September 2017

Time

4:00PM - 7:00PM

Location

Penn Museum

Category
---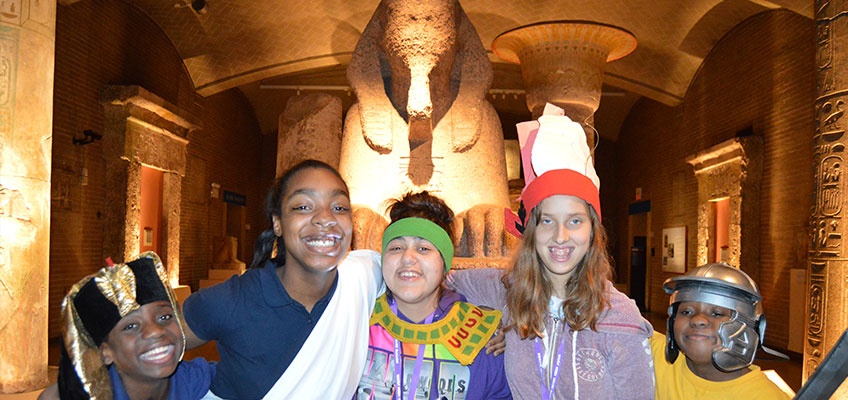 New program for families with special needs! Join other local families at the Penn Museum for an unforgettable night of sensory-friendly fun at our Evening Expedition. For children ages 8 and older, teens, and young adults with intellectual and/or developmental disabilities and their families, this program offers a hands-on look into the lives of the ancients through active, engaging, multisensory activities. Our evening explorers will take part in an interactive game show, enjoy an introductory lesson to ancient Egyptian hieroglyphs, perform adaptive yoga, make crafts, and even touch artifacts from our ancient Peruvian mummy cart! The night will culminate with a flashlight tour of select Museum galleries.
All participants should bring a flashlight for the Flashlight Expedition, and may also bring their own dinner and/or snacks. A sensory-friendly cool down space will be available to visit for the duration of the event. Please email or call Megan Becker at This email address is being protected from spambots. You need JavaScript enabled to view it. or 215.573.5309 with any questions about the event.
---
Video Social Story
Preview Evening Expedition with our Video Social Story! Our Social Story uses simplified language and outlines the evening's itinerary, highlights sensory information, and discusses Museum Manners.
Please note, the Orientation and Game Show will take place in the Egypt (Mummies) Gallery and not in Rainey Auditorium, as depicted in the video.
---
Schedule
3:00 - 4:00 p.m.
Check in: Group Entrance (Kress)
Explore: Whole Museum
4:00 – 4:30 p.m.
Orientation: Egypt (Mummies) Gallery
"What in the World?" Gameshow: Egypt (Mummies) Gallery
4:30 – 6:00 p.m
Open Exploration

Egyptian Hieroglyphs: Egypt (Mummies) Gallery
Learn about and try the writing system used by the ancient Egyptians!

Interactive Mummy Cart: Chinese Rotunda
Touch and learn about real Peruvian mummies!

Wesekh Necklace Craft Station: Mosaic Hall
Create your own broad necklace worn by ancient Egyptian men and women with craft materials!

Yoga: Pepper Hall
Learn traditional physical and mental exercise, originating in India! Poses will be adapted for all learners, including wheelchair users and those with limited mobility.

4:30 – 6:00 p.m.
Snack Room open: Group Dining
6:00 – 6:15 p.m.
Expedition preparation: Egypt (Mummies) Gallery
6:15 – 7:00 p.m.
Flashlight Expedition: Whole Museum
7:00 p.m.
Farewell
---
FAQ
Where do we park?
Pay lots are in the vicinity and metered parking is available on some streets nearby. The parking garage adjacent to the Museum on Convention Avenue is called Lot 7. We do not validate. See Directions and Parking for more detailed directions. Penn Museum does not own either garage and therefore is not responsible for their rates and regulations.
What entrance to the Museum should we use to get to the program?
Please use the Kress entrance located on the east end of the building. It is the entrance closest to the parking garages.
How do we check in?
Please enter at the Kress Entrance (on the east side of the building) to check in with your sleepover equipment.
It is snowing outside, is the program still going to happen?
The program will continue as planned unless the University of Pennsylvania decides to close due to weather. Closing is extremely rare but can happen. Please call 215.898.MELT (6358) if you are unsure if the University is closed due to snow. In the unlikely event the Museum finds it necessary to cancel the program, a full refund will be made.
How much of the Museum will be open?
All galleries will be open to explore from 5:00 pm – 7:00 pm. The Flashlight Expedition through the Museum will take you through several galleries in the dark. Please bring your own flashlight.
What if someone gets sick or hurt?
Notify a program staff member if anyone in your group gets sick or hurt.
How many chaperones are required to participate with a group?
Each group will be required to maintain a ratio of one adult supervisor per three child participants. All children must be accompanied by an adult chaperone at all times.
When do I receive confirmation for Evening Expedition?
You will receive an email confirmation immediately after you register online for Evening Expedition. Please print out your email and bring it to check-in on the date of your event along with your filled out waiver form. If you register over the phone you will get a confirmation call as soon as we receive your check in the mail (please include a phone number with your check). For group registrations please note that you will be told your payment deadline when you register.
How old do you have to be to participate in the Evening Expedition program?
Children ages 8 and older, teens, and young adults are welcome to participate.
How old must a chaperone be?
A chaperone must be at least 21 years old. Teenage siblings do not qualify.
What is the temperature like inside the Museum?
The Museum does not have one consistent temperature throughout the whole building. Each gallery is different. We recommend coming prepared with layers of clothes so you can adjust to your own comfort level.
What stuff should I leave at home?
No Heelys are permitted in the Museum. Running is prohibited in the Museum. Shoes must be worn at all times.
---
Families
Penn Museum welcomes families large and small. One adult is required for every 1-3 participating children, teens, and young adults attending. All children must be accompanied by an adult (21 years of age or older) chaperone at all times.
Registration and Policies
All participants in the program must pre-register and pay all applicable fees in advance. The program is for children ages 8 or older, teens, young adults and their chaperones aged 21 and older only. Absolutely no walk-in registrations are permitted.
$15 per participant; $15 per chaperone
---