SOLD OUT: Archaeological Adventures: More than Mummies
---
Date

Wednesday 18 October 2017

Time

10:00AM - 1:00PM

Location

Penn Museum

Category
---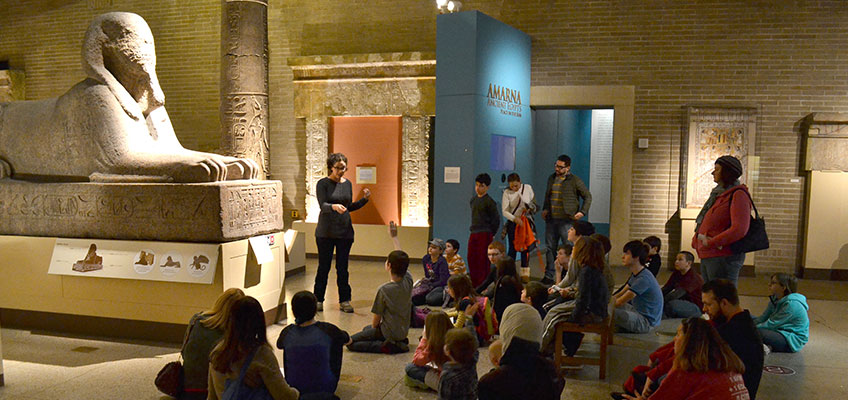 Explore all things Egypt at this extra spooky Homeschool Day! Take a tour or join a Storytime Expedition of our Egypt galleries to view the Sphinx, real mummies, and artifacts from the Museum's collection. Join an interactive workshop to discover the process of mummification, or create your own tomb "False Door." Explore Hieroglyphs and Ancient Egyptian culture through an archaeology-inspired art activity.
Homeschool Day admission and program costs: $12 per child/adult.
One adult per family is free and children 3 and under are free.
Sold Out!
---
Program Descriptions:
Note: All ages listed are suggestions and not requirements.
Guided Tour of Egypt Galleries (Grades 4 and up)
With one of the most impressive collections of Egyptian artifacts in the world, Penn Museum offers a one-of-a-kind Egypt tour including mummies, sarcophagi, and the largest sphinx in North America. Learn something new about this impressive ancient culture by taking in the Museum's unique artifacts on display in the Egypt galleries.
Preparing for Eternity: False Doors (Grades K-3)
What did the inside of an ancient Egyptian tomb look like? What did people take with them into the afterlife? Students learn about hieroglyphs, tomb offerings, and false doors—ancient Egyptian passageways between the worlds of the living and the dead. Students then create their own false doors by drawing hieroglyphs, ancient Egyptian art motifs, and the things they'd take to the afterlife.
Drop-In Activity: Make Bastet's Cuff! (All ages)
Make your way to Pepper Hall to meet Bastet, Egypt's very own cat goddess. Learn more about how Egyptians regarded cats as sacred animals, and explore different ways they honored the goddesses Bastet and Sekhmet. Create your own cuff, just like the one Bastet wears to show her power and royal status! After, see how many cats you can spot on display in our Egypt galleries.
Q&A with Conservators (All ages)
Stop by The Artifact Lab exhibition, a working conservation laboratory where visitors can watch a conservator at work and ask questions! View artifacts currently undergoing conservation, explore a Proscope station to view samples of materials under magnification, or learn more about the conservation process and ongoing activities in the lab.
Mummy Makers (Grades 4 and up)
Ever wonder how and why the ancient Egyptians mummified their dead? Learn how to be an ancient Egyptian embalmer and prepare Mr. Ulysses Penn for his journey to the afterlife! Using fabricated mummies, students will explore mummification through each step of the process, including brain removal, evisceration, desiccation, and wrapping. This workshop is demonstration-based and uses life-like mummies.
Storytime in Egypt (Grades K-3)
Take a colorful boat ride with the book We're Sailing Down the Nile. Discover sculptures and temples, tombs and mummies, and even the famous Great Sphinx! Join this program to hear a story from one of our Museum Educators, touch artifacts from our Teaching Collection, and go on a mini-tour of the Egypt galleries.
---