SOLD OUT: Archaeological Adventures: Celebrate Africa
---
Date

Wednesday 21 February 2018

Time

10:00AM - 1:00PM

Location

Penn Museum

Category
---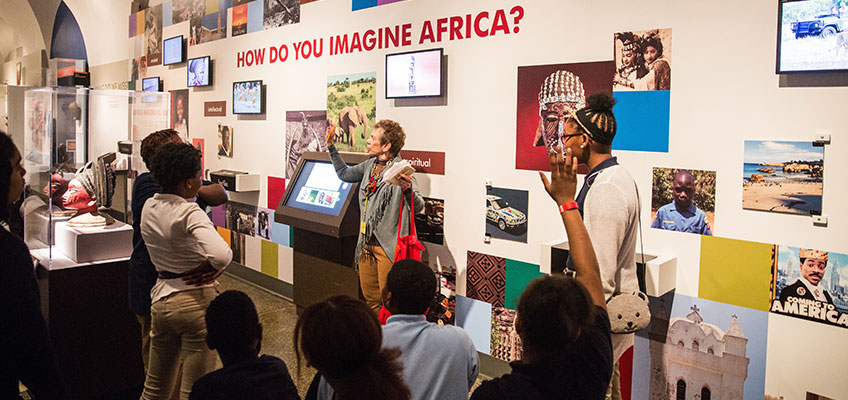 Discover more about the many countries, cultures, and languages across the continent of Africa at this program designed to help groups and families use the international collection at the Penn Museum to spark their students' learning. Examine African history more closely through a guided tour or Storytime Expedition in our galleries. Join an interactive workshop to learn more about both ancient and modern life in Africa. Celebrate the diversity of this continent through art and archaeology. Guests are encouraged to use the flexible format of interactive workshops, guided tours, interactions with conservators, and more to shape a customized experience around their homeschool or cyber school curricula.
Attendees can also take part in Artifacts Tell the Story, a special Storytime program featuring This is the Rope: A Story from the Great Migration, the 2018 One Book, One Philadelphia book selection. Your reserved ticket to this Homeschool Day allows you to participate in Artifacts Tell the Story, as well as all of the programs offered during this Archaeological Adventures Homeschool Day event.
Homeschool Day admission and program costs: $12 per child/adult.
One adult per family is free and children 3 and under are free.
Advance reservations are required; call 215.746.6774 for more information.
Sold Out!
---
Program Descriptions
Note: All ages listed are suggestions and not requirements.
Guided Tour of Africa Gallery (Grades 4 and up)
The continent of Africa is home to a wealth of cultures. Discover masterpieces of mask making and artifacts from the Asante Kingdom, just some of the favorites in this gallery. Learn something new about the ancient and modern cultures of Africa by taking in the Museum's unique collection of African artifacts.
Get Creative with Fashion and Games! (Grades K-3)
Explore the ways dress and board games have become important parts of different African cultures. Learn more about kangas, a traditional garment designed with bright colors and inspirational statements in Swahili. The kanga functions as both clothing, wrapping and a carrier of social messages. Next, try to master the game of Mancala, a two-payer strategy game played by trying to collect the most game pieces. Find out what types of materials were used to play, ranging from stones and pebbles, to seeds and beans!
Artifacts Tell the Story: A Special One Book, One Philadelphia Storytime (All ages)
Join us for a special Storytime inspired by This is the Rope: A Story from the Great Migration, the 2018 One Book, One Philadelphia selection! Explore how objects can carry stories about the past. A Museum Educator guides children on a mini tour of the Africa gallery to explore objects related to the book, with an opportunity to touch and closely examine artifacts from the Teaching Collection.
Q&A with Conservators (All ages)
Stop by The Artifact Lab exhibition, a working conservation laboratory where visitors can watch a conservator at work and ask questions! View artifacts currently undergoing conservation, explore a Proscope station to view samples of materials under magnification, or learn more about the conservation process and ongoing activities in the lab.
East African Cultures & the Refugee Experience (Grades 4 and up)
What is it like to leave the only place you've ever called home? Former refugee, turned human rights advocate Nyamal Biel Tutdeal will tell her story as a refugee, touch upon the current worldwide migration crisis, and highlight the importance of rallying as world citizens to understand the refugee experience. Explore the rich cultural traditions of East Africa that make these countries unique and connect the people of these nations, from language and teachings to art and food, with an emphasis on Africa's youngest nation, South Sudan.
Storytime in Africa (Grades K-3)
Anansi the Spider is one of the great folk heroes of the world. He is a rogue, a mischief maker, and a wise, lovable creature who triumphs over larger foes. Follow him through this Caldecott-winning adaptation, which combines bold, rich color with traditional African design motifs and authentic Ashanti language rhythms.
---