SOLD OUT: Archaeological Adventures: Rome around the World
---
Date

Wednesday 14 March 2018

Time

10:00AM - 1:00PM

Location

Penn Museum

Category
---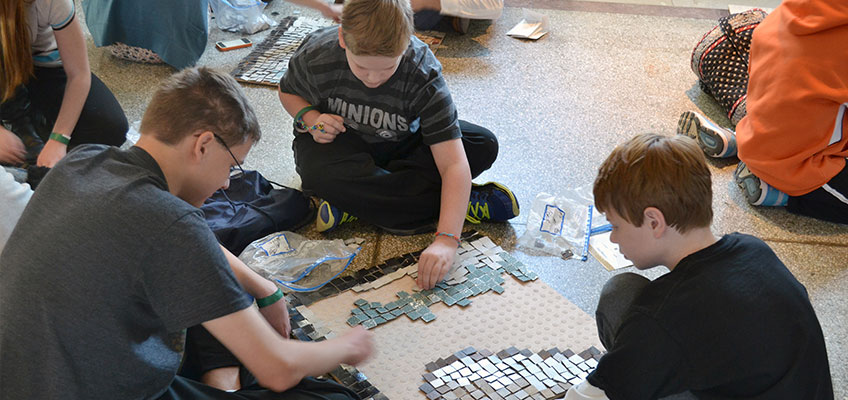 When at the Penn Museum, do what the Romans do! Discover more about life in Ancient Rome and the Mediterranean through guided tours and Storytime sessions in our Etruscan Italy, Greece, and Rome galleries. Practice your archaeological thinking through interactive workshops that simulate a real excavation, as well as the art of mosaic making. Get creative and make artwork inspired by the artifacts on display in our Mediterranean collections. Part of the Ciao Philadelphia Italian Cultural Heritage Celebrations.
Homeschool Day admission and program costs: $12 per child/adult.
One adult per family is free and children 3 and under are free.
Sold Out!


---
Program Descriptions:
Note: All ages listed are suggestions and not requirements.
Storytime in Rome Gallery (Grades K-3)
Glimpse the daily life of Ancient Romans before the destructive eruption of Mount Vesuvius, and learn about the archeological discoveries that help us piece together this incredible story. Mary Pope Osbourne's words in Pompeii: Lost and Found are illustrated by Christensen in the style of the ancient frescoes found at Pompeii.
Digging Up Rome Workshop (Grades 4 and up)
How do archaeologists interpret artifacts? Photos and video footage tell the story of Penn Museum excavations of the ancient Roman world. Students practice archaeological site interpretation, handle replica artifacts, and make observations and inferences to draw conclusions about the people that lived there.
Make Roman Paper Dolls (All ages)
Create your own paper doll, inspired by the Roman gods of the Classical World! Explore the symbols associated with gods, traditional Roman clothing, and accessories.
Medicinal Plants and Their Uses presented by the Morris Arboretum (All ages)
The Romans made a great use of the medicinal properties of the plants around them. Engage your five senses by exploring various everyday plants, flowers and seeds that we still have in our kitchens and backyards today. Special guests from the Morris Arboretum will show how different plants, seeds, and herbs were used then and now.
Q&A with Conservators (All ages)
Stop by The Artifact Lab exhibition, a working conservation laboratory where visitors can watch a conservator at work and ask questions! View artifacts currently undergoing conservation, explore a Proscope station to view samples of materials under magnification, or learn more about the conservation process and ongoing activities in the lab.
Making a Mosaic Workshop (Grades K-3)
Discover the artistry of Roman mosaics in this hands-on workshop where students learn about the various forms of this decorative art and how ancient artisans created them. Students will work in small groups, then as a class, to create a large mosaic.
Guided Tour of Rome Gallery (Grades 4 and up)
Get an inside look into the politics, religion, and art of the Roman world by examining artifacts. Ancient materials of marble, metal, and glass tell the stories of this influential civilization. Learn something new about the ancient Romans by taking in the Museum's unique collection of artifacts.
---