Strangest Things: A Night of Cryptozoology
---
Date

Wednesday 18 April 2018

Time

6:00PM - 8:30PM

Location

Penn Museum

Category
---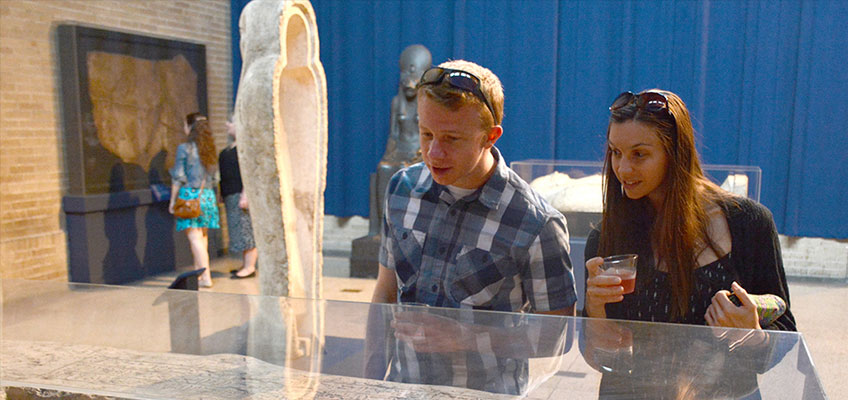 Have you ever wondered what lurks just beyond our line of vision? Round up your friends, put on your favorite '80s gear, and grab your Monster Manual for one of the strangest nights at Penn Museum.
The evening will highlight the weird and odd that have influenced myths and folklore throughout human existence. Explore these stories while mapping the Upside Down, testing your brain, and getting up close and personal with some rare specimens. Watch out for mysterious creatures lurking in the halls. Discover strange legends from ancient lands, listen to live music by '80s Revenge, and more while enjoying cocktails made especially for the night. Don't be a mouthbreather and miss out on this epic event. Adults only.
Admission: $20; $15 Penn Museum Members
(includes one drink, must be 21 or older).
---
What's in store for the night:
Creature Features—Throughout the ages humans have misinterpreted animals, creating monstrous creatures that taunt our imaginations. Join us in the gallery for 15-minutes discussions led by staff at Penn Museum.
Live Music Performance, Egypt (Mummies) Gallery, 8:15 - 9:00 pm—Dance the night away with your favorite 80s hits performed by the band 80s Revenge.
Brain Screening, Egypt (Mummies) Gallery, 6:00 - 9:00 pm—These teasers are designed with the goal of developing mind strength.
Map the Upside Down, China Gallery, 6:00 - 9:00 pm—Play this surrealist game and help us map the Upside Down with others! Works best with a partner.
Instagram Scavenger Hunt, Various Galleries, 6:00 - 9:00 pm—Feeling brave? Adventure with a friend and go on a Crypto Hunt in the galleries. For clues, flip this page upside down. Snap a photo and share on Instagram with #digthepast. Level up with each correctly identified photo shared.
'80s Photo booth, Egypt (Mummies) Gallery, 6:00 - 9:00 pm—Take selfies with your friends decked out in the hippest gear of the decade.
Hawkins Laboratory, Specimens Wing, Pepper Hall, 6:00 - 9:00 pm—Where can you find Bigfoot? Do mermaids really exist? Get up close and personal with some of the creatures that inspired our favorite myths, legends, and folklore. Talk to educators, touch artifacts, and participate in fun, hands-on activities presented by the The Academy of Natural Sciences and the Mütter Museum of The College of Physicians of Philadelphia.
Hawkins Diner, Egypt (Mummies) Gallery, 6:00 - 9:00 pm—Cash bar will feature a signature cocktail called an "Upside Down" as well as waffles and other snacks.
---