Cylinder Seal
This object is On Display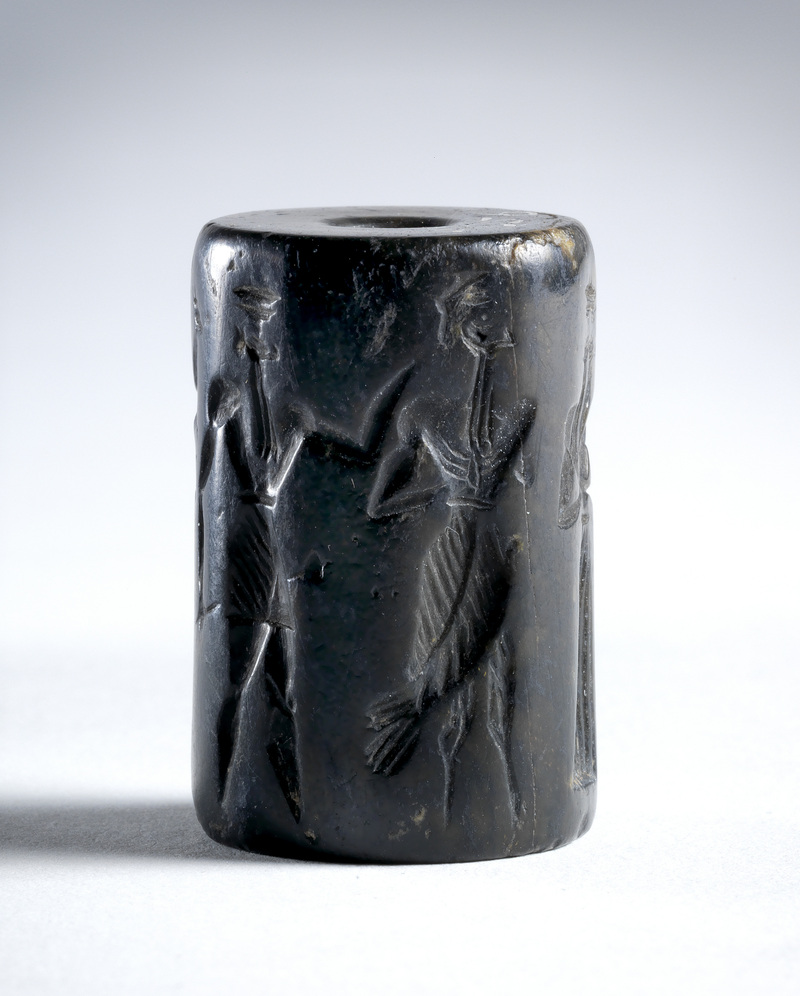 ---
---
Description
CBS Register: Babylonian seal cylinder, serpentine
PBS XIV: The birdman is brought in judgement and led by officers of the divine court who have arrested him, in the presence of a seated god. This god is surrounded by streams, flowing from a small round vase in his left hand, and a fish swims along the stream in front. His bare right hand is extended. He has a long flounced robe, covering the left shoulder, a horned mitre, his hair tied in a loop behind. His seat is a square stool, with cross bars, no back, and no pedestal. There are a flat crescent and two stars above.
The birdman has the long beard, head, arms, chest of a man; the body, legs, feet, wings and tail of a bird. He is led by force with arms tied behind his back. A bifrons leads the procession. He has his hands clasped, and a plaited skirt down to the ankles. The second officer has only a loin cloth reaching above the knee. Both wear the horned mitre as becomes divine attendants, but with bare chests and arms to show that they are servants of the god.
Last of all the human worshiper with bare head, short hair, long beard and plaited skirt brings a kid as an offering. Concave cyl. seal. Serpentine, 34 ½ x 22 mm
Current & Past Exhibitions:
Bibliography:
You may also be interested in these objects:
---
Report problems and issues to digitalmedia@pennmuseum.org.