Flask

Pilgrim Flask
This object is On Display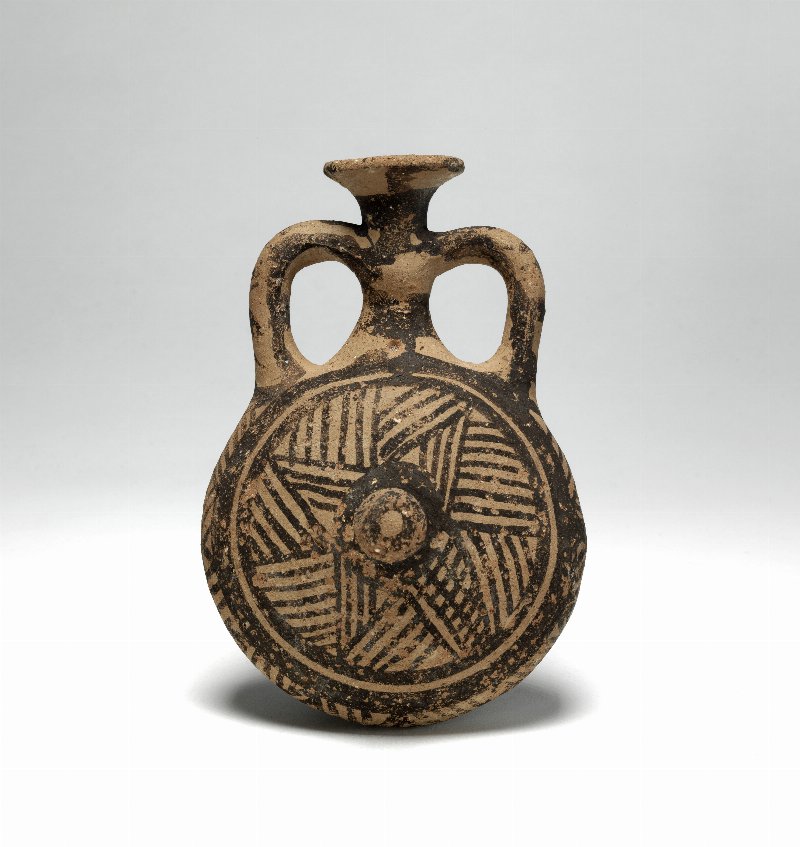 ---
---
Object Number:

49-12-664

Current Location:
Eastern Mediterranean Gallery

Currently On Display

Provenience:
Cyprus
Kourion
Kaloriziki
Site Name/Number:
Kourion
Locus:
Tomb 25:57
Period:
Proto-White Painted
Date Made:
1050–850 BCE
Early Date:
-1050
Late Date:
-850
Section:
Mediterranean
Materials:
Ceramic
Technique:
Proto-White Painted Ware
Height:
14.3 cm
Width:
10.2 cm
Depth:
9.5 cm
Credit Line:
Cyprus Expedition, J. F. Daniel, 1949
Other Number:
P52 - Field No SF

Description
Complete and intact. Narrow neck with rectangular shoulders to mid-neck; funnel mouth. One face of body flattened terminating in a knob; the other elongated with flattened termination (trunkated cone). Clay: gritty light orange-brown; sandy. Paint: thick purple-brown. Paint on upper and lower neck, handles barred; front, back and side divided into zones by a thick and narrow band. Decoration: interlaced shaded triangles resembling wickerwork.
Current & Past Exhibitions:
Bibliography:
| | |
| --- | --- |
| [Book] Catling, H. W., and Catling, E. A., and Porada, Edith, and Benson, Jack L. 1973. The Necropolis of Kaloriziki; excavated by J.F. Daniel and G.H. McFadden for the University Museum, University of Pennsylvania, Philadelphia.. Goteborg. Paul Astroms (SIMA 36). Actual Citation : Page/Fig./Plate: p. 76, no. K167, pls. 20, 61 | View Objects related to this Actual Citation |
You may also be interested in these objects:
---
Report problems and issues to digitalmedia@pennmuseum.org.