Box
This object is On Display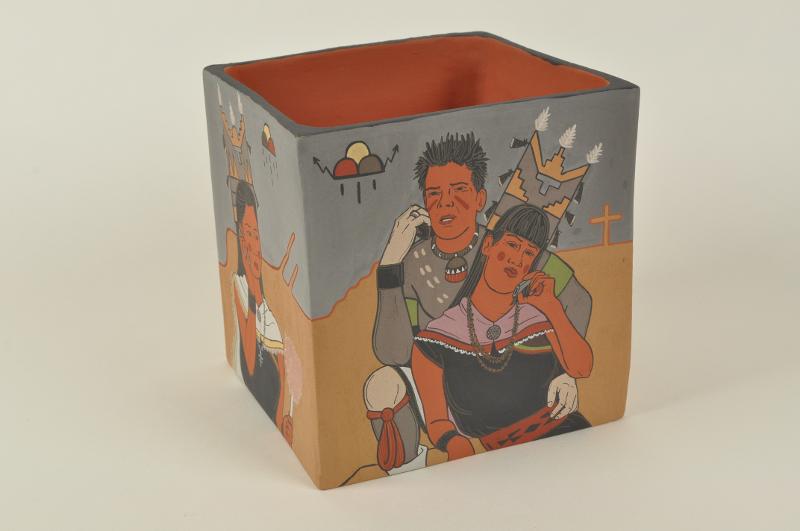 ---
---
Object Title
Corn Maiden Dancers
Object Number:

2013-14-1

Current Location:
Native American Voices

Currently On Display

Culture:
Tewa (Culture)
Provenience:
New Mexico
Santa Clara Pueblo
Culture Area:
Southwest Culture Area
Maker:
Jason Garcia
Date Made:
2012
Early Date:
2012
Late Date:
2012
Section:
American
Materials:
Ceramic
Height:
16.51 cm
Width:
15.24 cm
Credit Line:
Purchased from Jason Garcia; Sharpe Fund, 2013
Other Number:
TC-2013-2-1 - Old Loan Number

Description
Ceramic Box - "Miscommunication" depicts a Corn Maiden Dancer, made by Jason Garcia, 2012. Native clay and native slip. In his own words "The four sided box shows various Corn Maidens dressed in their traditional attire as they would be participating in dances held celebrating the Feast day of Saint Claire of Assisi at Santa Clara Pueblo on August 12. Saint Claire of Assisi is the patron saint of the blind, goldsmiths, embroiderers, and television. I use television antennas or satellite dishes in my work as a symbol/representation of St. Clara. As I created this piece, I felt that the male Corn dancer is the subject of the various Corn Maidens and he may be trying "to juggle" all of them as they are trying to get his attention. Another interpretation can be that the Corn Maidens may also be trying to warn each other of him. The four Corn Maidens also can represent four cardinal directions as well. All of the dancers are dressed in the manner of the Summer Moeity of which I am a member. The background is a continuous line of a silhouetted house/building/etc of Santa Clara Pueblo or Kha'Po Owinge'-meaning "Rose Path Village" in Tewa. Some of the buildings include the Santa Clara Pueblo Catholic Church and a kiva with a ladder emerging from the rooftop entrance. Various television antennas and direct satellite dishes are included as well."
Current & Past Exhibitions:
You may also be interested in these objects:
---
Report problems and issues to digitalmedia@pennmuseum.org.