Wall Hanging
This object is On Display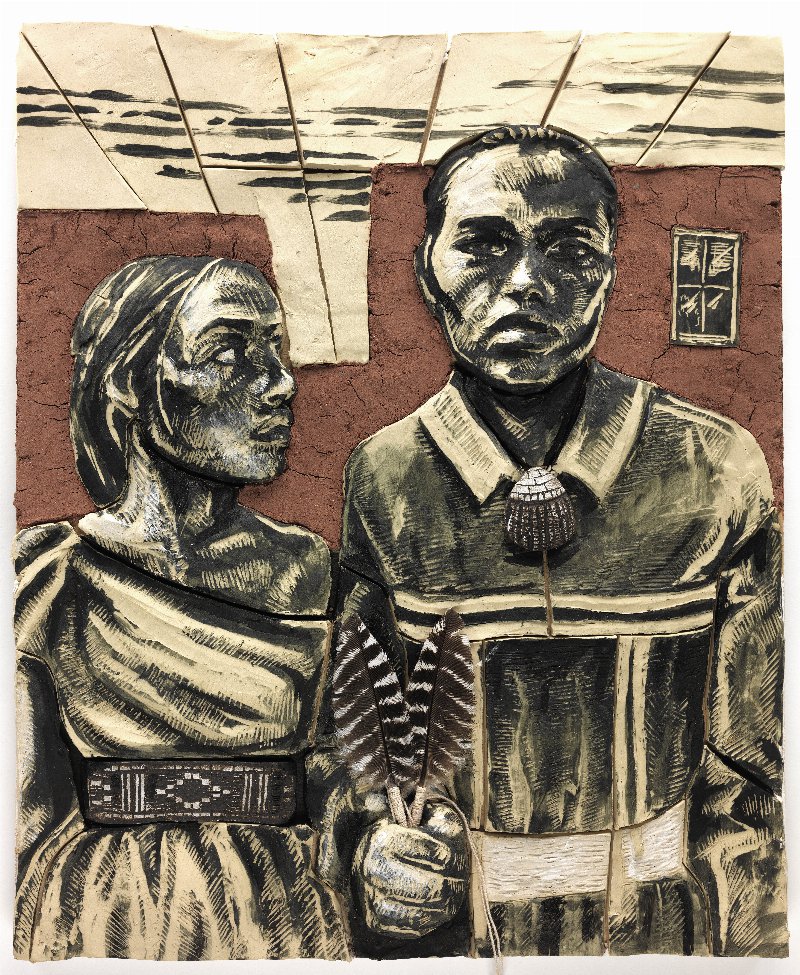 ---
---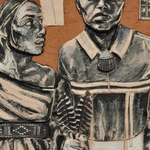 Object Title
American Gothic
Object Number:

2015-25-1

Current Location:
Sphinx Gallery

Currently On Display

Culture:
Tewa (Culture)
Santa Clara Pueblo
Provenience:
New Mexico
Pojoaque Pueblo
Santa Clara Pueblo
Culture Area:
Southwest Culture Area
Manufacture Location:
Santa Clara Pueblo
Maker:
Rose Bean Simpson
Date Made:
2012
Early Date:
2012
Late Date:
2012
Section:
American
Materials:
Wood
Stoneware
Adobe
Goose Feather
Height:
47.3 cm
Length:
0 cm
Width:
39.5 cm
Depth:
6.5 cm
Credit Line:
Museum Purchase, Sharpe Fund, 2015
Description
"American Gothic" is made by Rose Bean Simpson, a Tewa artist from Santa Clara Pueblo, New Mexico. Rose is the daughter of Roxanne Swentzell, and a member of the famous Naranjo family from Santa Clara Pueblo. In her words, "American Gothic is about the personal relationship with the masculine and feminine parts of myself." (personal communication w L.Fowler WIlliams, 2015). A self-portrait, the piece shows Rose as a woman, but also as a man. It tells of her personal story, while simultaneously commenting on Western and Pueblo concepts of gender. Rose references Western gender concepts by situating herself against the backdrop of Grant Wood's iconic American painting. She expresses Tewa concepts of gender in the piece as well, which conceptualize human gender as composed of both male and famale aspects, which in her words, "should be kept in balance as we live as a "whole person." Rose dressed her feminine side in traditional Pueblo woman's attire - a black woolen woven manta dress tied over her right shoulder with a woven belt. She dressed her male side in typical Pueblo man's dance attire - a ribbon shirt tied at the waist with the man's white woven cotton sash and a shell and turgouise necklace. The portrait is set outside an adobe home under a cloudy sky. He holds two black and white striped goose feathers tied together with cotton string, a reference to prayer feathers, and also, through their balanced black and white stripes, a reference to Rose's "two-spirit" identity. Rose herself wears a tatoo of a flock of geese across her back, which she says is a reference to her two spirit identity.
Current & Past Exhibitions:
You may also be interested in these objects:
---
Report problems and issues to digitalmedia@pennmuseum.org.