The Louis Shotridge Digital Archive was created to make the remarkable Shotridge collection accessible to scholars, students, and community leaders interested in learning more about Southeastern Alaskan Native history and culture. 

The project was supported by a major grant from the Institute of Museum and Library Services (IMLS), and a grant from the Center for Native American Studies at Penn. Project partners include the Schoenberg Center for Electronic Text and Image of the Penn Library (SCETI), the Central Council of Tlingit and Haida Indian Tribes of Alaska (CCTHITA), the Alaska State Library, and consulting Tlingit scholars. 
The Shotridge collection is widely acclaimed as one of the finest Tlingit collections in the world because of the kinds of objects represented and their detailed documentation.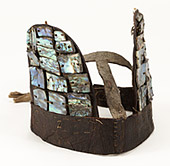 This digital archive makes Shotridge's 570 objects, 2,600 written documents, 500 black-and-white photographs, and eight sound recordings available to our Tlingit and world audiences for the first time, through a searchable website. His records contextualize Southeast Alaska's Native American history and art in the first three decades of the 20th century.  Louis Shotridge's vision to preserve Tlingit history, coupled with his indigenous knowledge and attention to detail, inspired him to collect, record and safeguard Tlingit histories, genealogies, language and art during a transformative era. The scans retain his original spellings and grammar, and thus do not employ the current Tlingit orthography. By making these collections available on line, the Penn Museum intends to promote and extend Louis Shotridge's legacy to preserve and share Native American history for future generations of Native American communities and throughout the world.

The Louis Shotridge Digital Archive was developed over a three-year period, from 2007-2010. We thank the following individuals for their generous support of this project:

In Alaska we thank the staff of the Alaska State Library, Juneau including James Simard, Librarian and Head of Historical Collections, Anastasia Tarmann Lynch, Librarian and Curator of Historical Collections, and Lilly Hudson, Tlingit student.   At Juneau's Central Council of Tlingit and Haida Indian Tribes of Alaska (CCTHITA) we thank Tribal Presidents Edward K. Thomas and Bill Martin, and Cultural Historian Harold Jacobs, who served as project consultant. We also thank consulting Tlingit scholars, Nora Dauenhauer and Teri Rofkar, Herman Davis, Andy Gamble, Andy Hope, Marsha Hotch, Clarissa Hudson, Mark Jacobs, Bob Sams, Sergei Kan, Steve Henrikson, Steve Brown, and Sue Thorson.

At the Penn Library we thank Director Carton Rogers and David McKnight, Director of Penn's Rare Book and Manuscript Library. We extend very special thanks to Dennis Mullen, Principal Web Designer and Developer of the Schoenberg Center for Electronic Text and Image, and his team including Chris Lippa, Scanning Technician, and Penn student assistants Michajlo Matijkiw and Mustafa Al-ammar.

At the Penn Museum, the Louis Shotridge Digital Archive was developed by Lucy Fowler Williams, Jeremy A. Sabloff Keeper of American Collections, in collaboration with Alex Pezzati, Archivist, and with support from Project Assistants Kathryn Venzor (2008-2009) and Ariela Kauffman (2007-2008).  Grant oversight was provided by Jennifer Bornstein.  IT support was provided by Shawn Hayla, Rajeev Thomas, Jason (Jay) Stefaniuk, and Michael Condiff. Archival photographs of the object collection were taken by Francine Sarin and Jennifer Chiappardi. Sheri Kornelli developed the timeline. Penn student assistants included Emma McClafferty, Deven Parker, Naima Pearce and Cassandra Turcotte. We thank Director Richard Hodges, Richard Leventhal, Jim Mathieu, Pam Jardine, Judith Berman, Stacey Espenlaub, William Wierzbowski, Lynn Grant, and Louise Krasniewicz. The project was overseen by Robert Preucel, Gregory Annenberg Weingarten Curator-in-Charge of the American Section.