Calling all scouts and families! Have you ever wanted to explore the museum galleries after dark? Join us during Up Late with the Sphinx for an evening filled with games and gallery activities. Drop into a hands-on workshop and make something special to take home. Finish your evening with a flashlight tour through the museum. Each ticket includes a special Penn Museum patch. This program is best suited for children ages 6-12.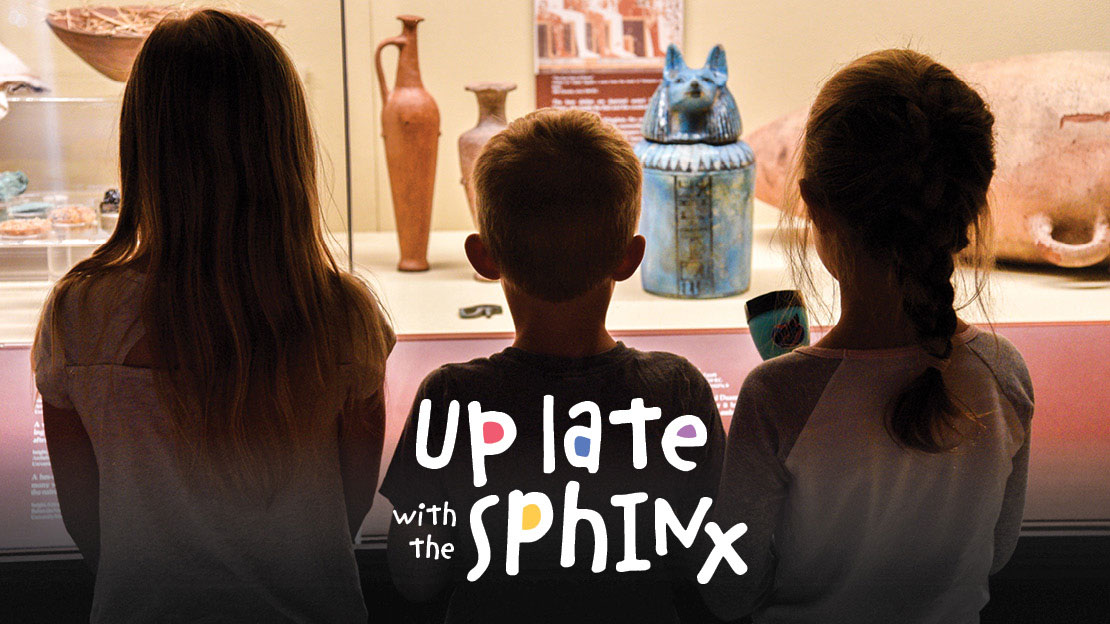 $30 General
|

$25 Member
Up Late with the Sphinx Events
Up Late with the Sphinx
Saturday | February 25 | 5:00 pm - 10:00 pm ET
---
Up Late with the Sphinx
Friday | March 31 | 5:00 pm - 10:00 pm ET
---
Frequently Asked Questions
What time is the event?

Up Late with the Sphinx is scheduled for 5:00-10:00 PM. A full schedule of activities will be shared with participants upon arrival.

How old do you have to be to participate in the Up Late with the Sphinx program?

Children must be between the ages of 6 and 12 years old.

Where do we park?

Pay lots are in the vicinity and metered parking is available on some streets nearby. The parking garage adjacent to the Museum on Convention Avenue is called Lot 7. We do not validate. See Directions and Parking for more detailed directions. Penn Museum does not own either garage and therefore is not responsible for their rates and regulations.

How much of the Museum will be open?

All museum galleries will be open during this event. The Flashlight Tour through the Museum will take you through several galleries in the dark. Please bring your own flashlight.

Will there be food at this event?

The Museum will not be providing food during the event. You are welcome to bring your own snacks or bag dinner for the evening. Your snack should be labeled with your name and placed in the Group Dining area when you arrive. The Museum does not have refrigeration for snacks. Vending machines are located in the Group Dining area. Vending machines accept $1.00 bills, coins, and cards. Food is only permitted in the Group Dining area.

It is snowing outside, is the event still going to happen?

The event will continue as planned unless the University of Pennsylvania decides to close due to weather. Closing is extremely rare but can happen. Please call 215.898.MELT (6358) if you are unsure if the University is closed due to snow. In the unlikely event the Museum finds it necessary to cancel an event, a full refund will be made.

What if someone gets sick or hurt?

Notify a staff member or a security guard if anyone in your group gets sick or hurt.

Can we leave early from this event?

Yes, participants may leave early if needed.

How many chaperones are required to participate with a group?

Each group will be required to maintain a ratio of one adult supervisor per five child participants. Children must always be accompanied by an adult chaperone.

How old must a chaperone be?

A chaperone must be at least 21 years old. Teenage siblings do not qualify.

When do I receive confirmation for Up Late with the Sphinx?

You will receive an email confirmation immediately after you register online. Please print out your email and bring it to check-in on the date of your event. For group registrations please note that you will be told your payment deadline when you register.

Can I bring a birthday cake or cupcakes to celebrate my child's birthday at this event?

Yes, but no candles are permitted. All food must be labeled and placed in the Group Dining area when you arrive. You will need to provide all plates and utensils. Snacks may be eaten between 7:45 pm and 9:00 pm. The Museum does not provide refrigeration.

What is the temperature like inside the Museum?

The Museum does not have one consistent temperature throughout the whole building and each gallery is different. We recommend coming prepared with layers of clothes so you can adjust to your own comfort level.

I am a Penn Alum, does this mean I am also a Penn Museum member and can get the member rate?

You are only a Penn Museum member if you have an official Penn Museum membership card as well as a membership number.