NAGPRA
Since the 1960s, Indian activists have patiently asserted their rights and interests in the proper and respectful treatment of Indian human remains and cultural objects. Today, we appreciate the legal rights and religious values of Native peoples due in part to several federal laws, the Civil Rights Act (1964), the American Indian Movement (founded in 1968), the Indian Civil Rights Act (1968), the American Indian Religious Freedom Act (1978), and most recently, NMAI Act (1989) and NAGPRA (1990). As a result, it is now broadly accepted that the intentional excavation of Indian burials and inadvertent discovery of burials during commercial development projects must involve consultation with appropriate descendant communities. In addition, it is increasingly accepted that Indian peoples have a legitimate interest in returning certain cultural items to their communities and in the disposition of ancestral Indian human remains in museum collections. NAGPRA has broadened American anthropology by requiring the profession to confront its colonialist past as a means of envisioning a new and more inclusive future. Legal Definitions Repatriations Further Reading A Letter from the Director On 17 November 1990, "The Native American Graves Protection and Repatriation Act" (PL 101-601) was signed into law. This act mandates the return of specific kinds of objects to Native Americans, makes illegal their trafficking across state lines, and is specific about the process and procedures for archaeological excavations. The University of Pennsylvania Museum of Archaeology and Anthropology (Penn Museum) is primarily affected by the first of these three requirements, involving museum collections. Five categories of objects are identified in the law: human remains, associated funerary objects, unassociated funerary objects, objects of cultural patrimony, and sacred objects. Since the passage of NAGPRA, and in compliance with the law, the Penn Museum has mailed over 3000 letters to federally recognized tribes informing them of our holdings and extending invitations to consult with us about our holdings. As of 2017, 48 formal repatriation claims seeking the return of collections have been received and 30 repatriations have been completed resulting in the transfer of 252 sets of human remains, 750 funerary objects, 14 unassociated funerary objects, 21 objects of cultural patrimony, 22 sacred objects and 3 objects claimed as both cultural patrimony and sacred. In the spirit of the law, Penn Museum's repatriation staff has worked vigorously to accurately inventory and research our collections, and to inform, consult and cooperate successfully with tribes about the items in our care. Observing and listening to native representatives talk about the objects has in several cases been especially rewarding and informative - in a very real sense, it has brought life to the collections. NAGPRA has simultaneously forced us to face a variety of difficult challenges, some solutions to which are still evolving as the repatriation process unfolds. Finding common ground between native interpretations of the law and those of the Museum has been a particular test, and it is in this area that ongoing discussions with tribes are most often focused. For more information about NAGPRA please see the National Park Service (U.S. Department of the Interior) National NAGPRA website. Inquiries about repatriation concerns and procedures should be submitted in writing to: Contact Julian Siggers The Williams Director University of Pennsylvania Museum of Archaeology and Anthropology 3260 South Street Philadelphia, PA 19104-6324
---
NAGPRA provides a legal mechanism for federally recognized tribes, native Alaskan corporations, and native Hawaiian organizations to make claims for human remains and certain categories of cultural objects held by American museums that receive federal funding. In complying with the law, the Penn Museum and the University of Pennsylvania acknowledge the historical and political context of Indian peoples in the United States, and recognize tribal rights of self-determination in regard to the control of human remains, sacred objects, and objects of cultural patrimony. 2016 Central Council of Tlingit and Haida Indian Tribes of Alaska Read More 2015 Keweenaw Bay Indian Community, Michigan Read More 2015 Seminole Tribe of Florida Read More 2015 Santa Rosa Indian Community, California Read More 2013 Eastern Band of Cherokee Indians of North Carolina, Cherokee Nation, Oklahoma, and United Keetoowah Band of Cherokee Indians Read More 2011 Tlingít T'akdeintaan Clan of Hoonah, Alaska Read more 2008 Hui Mālama I Nā Kūpuna O Hawai'i Nei, the Hawai'i Island Burial Council, and the Office of Hawai'i Affairs jointly Read More 2007 Pawnee Nation of Oklahoma Read more 2006 Sisseton Wapheton Oyate Tribe, South Dakota Read more 2005 Sac & Fox Tribe of Mississippi in Iowa Read more 2003 Miami Tribe of Oklahoma Read more 2002 Native Village of Kotzebue Read more 2002 Comanche Tribe of Oklahoma Read more 2002 White Mountain Apache Tribe Read more 2002 Organized Village of Grayling Read more 2000 Village of Unalakleet Read more 2000 Klamath Indian Tribe of Oregon Read more 2000 Sac & Fox Tribe of Oklahoma Read more 2000 Jamestown S'Klallam Tribe Read more 1999 Winnebago Tribe of Nebraska Read more 1998 Oneida Nation of New York & Oneida Tribe of Indians of Wisconsin Read more 1998 & 2000 Cayuga Nation of New York Read more 1994 & 2000 Chugach Alaska Corporation Read more 1991, 1996, 1997, 1999 Hui Mālama I Nā Kūpuna O Hawai'i Nei Read more 1990 Zuni Pueblo Read more
---
Penn Museum NAGPRA Resources Finding their Way Home: Twenty-five Years of NAGPRA at the Penn Museum by Lucy Fowler Williams, Stacey O. Espenlaub, Janet M. Monge Expedition Magazine, Volume 58, Number 1, Spring 2016 Out of Heaviness, Enlightenment—NAGPRA and the University of Pennsylvania Museum of Archaeology and Anthropology by Robert W. Preucel, Lucy F. Williams, Stacey O. Espenlaub, and Janet Monge Expedition Magazine, Volume 45, Number 3, Winter 2003. The Centennial Potlatch by Robert W. Preucel and Lucy F. Williams Expedition Magazine, Volume 47, Number 2, Summer 2005. The Samuel George Morton Cranial Collection—Historical Significance and New Research by Emily S. Renschler and Janet Monge Expedition Magazine, Volume 50, Number 3, Winter 2008.
---
Cultural Affiliation There is a relationship of shared group idenity which can reasonably be traced historically or prehistorically between a present day Indian tribe or Native Hawaiian organization and an identifiable earlier group. Objects of Cultural Patrimony An object having ongoing historical, traditional, or cultural importance central to the Native American group or culture itself, rather than property owned by an individual Native American, and which, therefore, cannot be alienated, appropriated, or conveyed by an individual regardless of whether or not the individual is a member of the Indian tribe or Native American organization and such object shall have been considered inalienable by such Native American group at the time the object was separated from such group. Unassociated funerary objects Objects that, as part of the death rite or ceremony of a culture, are reasonably believed to have been placed with individual human remains either at the time of death or later, where the remains are not in the possession or control of a Federal agency or museum and the objects can be identified by a preponderance of the evidence as related to specific individuals or families or to known human remains or, by a preponderance of the evidence, as having been removed from a specific burial site of an individual culturally affiliated with a particular Indian tribe. Sacred Objects Specific ceremonial objects which are needed by traditional Native American religious leaders for the practice of traditional Native American religions by their present day adherents. Associated funerary objects Objects that, as part of the death rite or ceremony of a culture, are reasonably believed to have been placed with individual human remains either at the time of death or later, and both the human remains and associated funerary objects are presently in the possession or control of a Federal agency or museum, except that other items exclusively made for burial purposes or to contain human remains shall be considered associated funerary objects.
---
Upcoming Culture Films
---
---
Live from the Archives

We are pleased to present our collaborations with filmmakers in re-working archival materials of the Penn Museum in this documentary film series.
Why I Wear Traje
This film about traditional costume in Guatemala uses footage from the Penn Museum Archives, especially films by the Anthropologist Mary Butler (1940 & 1948), Arthur and Kate Tode (1940) and Watson Kintner (1940). Here is an introduction made by the filmmaker and her non-profit organization, Mayan Families, which aims to improve the daily lives of indigenous Guatemalan people of the Lake Atitlán region:
Synopsis: Traje típico, the traditional dress worn by indigenous Guatemalans, is an important part of Mayan culture. Each piece, color, and design has a specific meaning that represents Mayan values and history. Traje is hand-made by indigenous artisans and worn by men, women, and children in all parts of Guatemala. Recently, indigenous activists and communities have begun to refer to traditional dress as "indumentaria" in order to define it as a meaningful cultural tradition as opposed to a historical costume.
Music: Secret Place by Alex Fitch
---
Venus Peregrine
The latest collaboration with a filmmaker involves a Fulbright project in India about Victorian era European female travelers, which she will contrast with current day internet consumption (virtual travel) by South Asian teen girls. The filmmaker, Courtney Stephens, currently researching in Kolkata (formerly Calcutta), will be working with the Dixon and Tode collections for this film which is titled Venus Peregrine. Watch for this film in 2015.
---
To Hold the Heart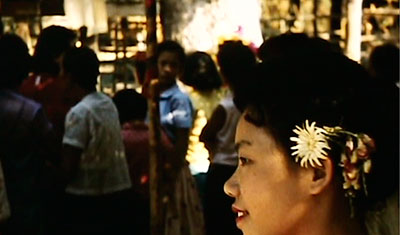 Personal narratives of three Hmong women living in the Milwaukee area, who describe their escape from Laos, this film was made as a tribute by a daughter of one of the ladies. The filmmaker, Pang Yang Her, is using 1957 footage by Watson Kintner of Laos. Look for a screening of this short film in 2015.
---
Tiki-pop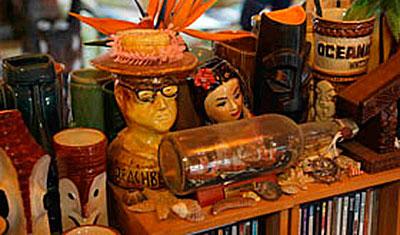 Footage from Passage to Polynesia was used in the upcoming French production Tiki-pop, a humorous look at the misappropriated material culture heritage of Polynesia, expressed in the oddball visual language of mid-century American pop culture. A hint: it's an ethnographic film about us .
---
Yvonne
British filmmaker Dani O'Toole revisits with her grandmother her voyage from formerly British Guiana to England to become a nurse, in a trajectory between 1932 and 1960, with all of the difficulties of racism and culture shock, yet with her sense of humor intact.
---
Other Film Archives Projects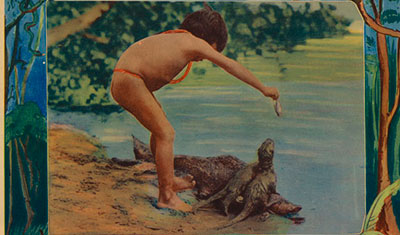 In 1930 an odd assortment of scientist and adventurers struck out from New York for the Mato Grosso region of Brazil, with the stated purpose of creating the first documentary film to be made in the field with live sound recording equipment. This film, Matto Grosso , the Great Brazilian Wilderness, a 1931-style staged documentary [expeditionary film] which takes place in what we now think was the village of Pogubu C̨oreu, with the collaboration of the São Lourençla;o Bororo people.
---
Navajo Film Themselves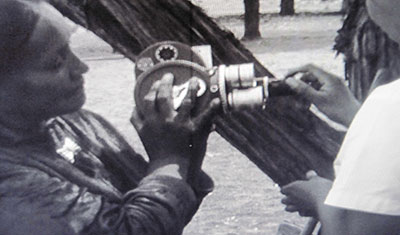 In 1966, Sol Worth, John Adair and Richard Chalfen traveled to Pine Springs, Arizona, where they taught a group of Navajo students to make documentary films. Their students were Mike Anderson, Al Clah, Susie Benally, John Nelson, Mary Jane Tsosie and Maxine Tsosie and later Susie Benally's mother, Alta Kahn. This film series is known as the Navajo Film Themselves . This site is a digital visit to the notebooks and journals of Worth and Chalfen, primary source materials for research.
---
Contact
Public Programs Department
215.898.2680