Through September 2, 2018
Penn Museum Archives' new exhibition, offered in conjunction with the University of Pennsylvania Provost Office's Year of Innovation, looks back at the pioneering Penn Museum television program "What in the World?" which aired on WCAU Philadelphia for more than a decade, and was syndicated nationally by CBS from 1951 to 1955. By means of photographs, letters, and other documents, as well as video clips from the few surviving episodes, the exhibition looks back at the highly original game show, offered to the public in the early days of television. Hosted by Penn Museum Director Froelich Rainey, the program featured a changing panel of experts from diverse fields, including such famous people as actor Vincent Price, artist Jacques Lipschitz, and anthropologist Carleton Coon, who worked together to puzzle out where in the world an artifact from the Museum's collections came from. Second floor Archives Corridor.
---
What in the World? was the first ever American network television series on archaeology. It began in 1950, the inspiration of Froelich Rainey, Penn Museum director from 1947 to 1977, and was produced collaboratively by the Museum and Philadelphia's WCAU-TV.
The show followed a wonderfully simple format: three experts (two curators from the Museum and one guest) are challenged to identify mysterious objects from the Museum's storerooms. The panelists do not compete for money or prizes, instead they work together to solve the puzzle. A moderator (usually Rainey himself) oversees the proceedings. The audience have the advantage over the experts, having been informed of the objects' identities ahead of time.
The show captivated audiences with its exciting and sometimes hilarious blend of erudition and informality. From 1951 to 1955 it was syndicated nationally on CBS, and was broadcast on more than eighty television stations around the country. In 1952, it received the prestigious Peabody Award. Unfortunately, however, the program never obtained a sponsor, and returned to local broadcast in 1957. Nevertheless, fan acclaim always remained high, and although WCAU threatened to cancel the show, viewers demanded it back. From 1963 to 1966 it also aired on non-commercial stations in a number of states, via the National Education Television (precursor to PBS). The end came in 1966 when What in the World? was finally cancelled by WCAU.
Rainey "saw the possibility of taking archaeology and anthropology to the millions via television." The success of What in the World? can be measured by its remarkable longevity, fan loyalty, and critical acclaim, and it remains a testament to Froelich Rainey's inspirational vision and innovation.
---
In "What in the World?" you will discover: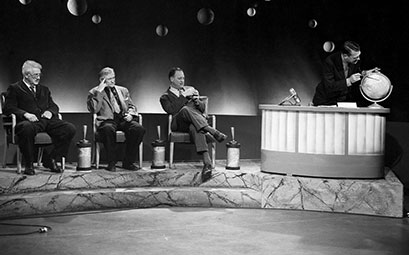 Carleton Coon, Jacques Lipchitz, Alfred Kidder II are seated. Froelich Rainey is pointing at a globe.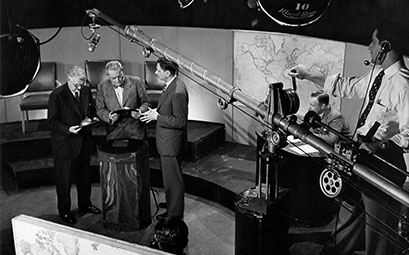 Carleton Coon, Loren Eiseley, Schuyler Cammann study an object, while Alfred Kidder II moderates.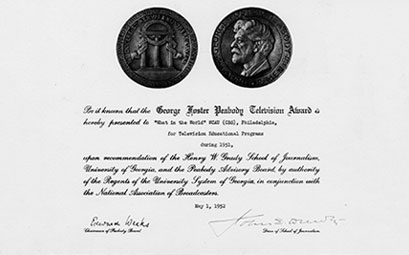 George Foster Peabody Television Award to What in the World? WCAU (CBS), Philadelphia, for television educational programs during 1951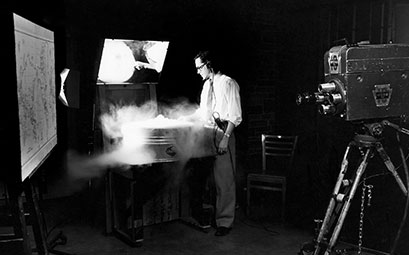 WCAU personnel creating smoke effect with dry ice.