Few institutions in the world possess collections as significant as those of the Penn Museum, collections that span nearly all of human existence. These physical resources are matched by an equally illustrious history of outstanding research and scholarship that spans more than 127 years, and the benefits that come with being a part of one of the world's great universities. As inheritors of this legacy, it is our mandate to steward our extraordinary assets for the benefit of the public that we serve and for future generations.
---
Annual Report 2015-2016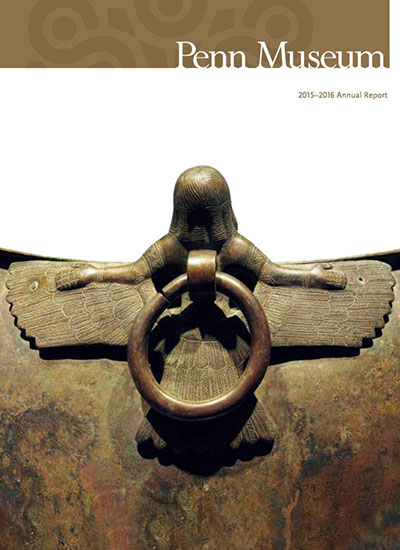 Like the University of Pennsylvania as a whole, the Penn Museum is a place of continual discovery. The challenge confronting authors of an annual report such as this is not so much the labor required to seek out discoveries—everywhere they are evident—but rather to curate them in a way that conveys the extraordinary range of research, teaching, exhibitions, publications, and programs that take place. In the pages that follow, we hope you enjoy reading about the Penn Museum "by the numbers," "by the geography," and "by the month"—all useful rubrics with which to organize a tremendous quantity of detail about the past year's activities. By nearly any quantitative or qualitative measure, it was a tremendous year for the Penn Museum.
Please download and enjoy our 2015–2016 Annual Report from the link to the PDF version below, or email This email address is being protected from spambots. You need JavaScript enabled to view it. to request a hard copy mailed to your home.
---
Contact
Development Department
This email address is being protected from spambots. You need JavaScript enabled to view it.
215.898.3099