World-Renowned Egyptologist David Silverman,
Museum Curator and Penn Professor, Leads Complementary Courses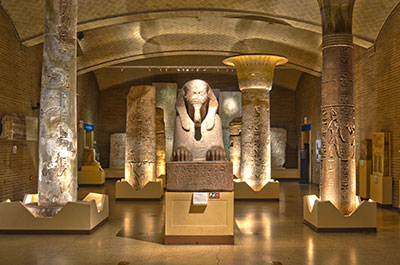 Philadelphia, PA, Fall 2016—Can't get enough of Ancient Egypt? You're not alone.
Beginning October 31, anyone in the world with access to a laptop, tablet, or smart phone can take this course: Introduction to Ancient Egypt and Its Civilization with Dr. David Silverman, the Eckley Brinton Coxe, Jr. Professor of Egyptology, University of Pennsylvania, Curator-in-Charge of the Egyptian Section at the Penn Museum, and one of the world's foremost Egyptologists—via the online open learning platform, Coursera. The course, produced by the University of Pennsylvania, is available in English and subtitled in English. The cost of participating: free ($49 for those who choose to earn a certificate of completion).
With several weeks to go before the new course begins, more than 20,000 people have already signed up. After the course kicks off, it will be offered anew each month—giving ever more learners fresh opportunities to fit the program into their schedules.
Open House for Ancient Egypt Online Students
Students who are taking Penn's online Introduction to Ancient Egypt and Its Civilization course on Coursera and are within commuting distance to the Penn Museum in Philadelphia are invited to an end-of-course Open House with David Silverman on Saturday, December 10, 11:00 am to 3:00 pm, free with Museum general admission. Activities will include short talks by Museum Egyptologists, gallery tours, a workshop about mummification, book signings—and Egyptian-inspired lunch offerings in the Pepper Mill Café.
About the Online Course
Introduction to Ancient Egypt and Its Civilization features five lecture modules, each running about an hour, beginning October 31. After the course concludes, online students will be notified by Coursera when they can sign up for Wonders of the Ancient World, which builds upon the first course, and launches in early 2017.
In these complementary Massive Open Online Courses (MOOCs), Dr. Silverman presents an in-depth investigation of the more than 3,500 years of Ancient Egyptian civilization. In each class, he uses many objects to illustrate the subject matter he discusses. A substantial number of these items are drawn from the Ancient Egyptian Galleries of the Penn Museum. While a few other MOOCs have focused in whole or in part on Ancient Egypt, none have had access to a vast collection like that at the Penn Museum, where artifacts have been obtained primarily from its own scientific excavations.
The Ancient Egypt MOOCs have been nearly two years in the making. Development involved Dr. Silverman in months of research and writing to produce scripts for each of the classes, and select the hundreds of images to be used for illustration. The film crew from School of Arts and Sciences Online Learning organized multiple day-long shoots in the Museum galleries, coordinating around the Museum's public access and event schedule.
A prolific author, speaker, and exhibition curator, Dr. Silverman developed the course with an eye to answering the many questions he has encountered over the years. "I wanted to offer a course that tapped into the deep fascination that so many people—myself included—bring with them as they explore the art and culture of the ancient Egyptians," he noted. "My hope is that through this course many questions will be answered—and new questions will arise. Ancient Egypt's culture and achievements are worthy of a lifetime of study and exploration."
As the course description notes, each hour-long videotaped lecture focuses on a different subject: History and Chronology; The Pharaoh and Kingship; Gods and Goddesses; The Pyramids and the Sphinx; Mummies and Mummification. Part two of the course explores Principles of Egyptian Art; The Basics of the Language of Ancient Egypt – Hieroglyphs; Magic; Akhenaten, Tutankhamun, and the Religion of the Aten; and The Burial of Tutankhamun and the Search for his Tomb.
About David Silverman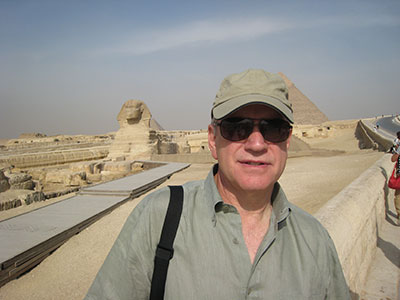 The Eckley Brinton Coxe, Jr. Professor of Egyptology in the Department of Near Eastern Languages and Civilizations at the University of Pennsylvania and Curator-in-Charge of the Egyptian Section at the Penn Museum, Dr. Silverman received his Ph.D. in Egyptology from the University of Chicago and his B.A. with honors from Rutgers University.
He has been a curator involved in many exhibitions, both in the U.S. and abroad, including the original blockbuster, Treasures of Tutankhamun. More recently he served as curator of Tutankhamun, the Golden King and the Great Pharaohs, Tutankhamun and the Gold of the Pharaohs, and Cleopatra: The Search for the Last Queen of Egypt. At the Penn Museum, his curatorial credits include Searching for Ancient Egypt, Women in Ancient Egypt, Archaeological Treasures of Ancient Egypt, and Amarna: Ancient Egypt's Place in the Sun.
Dr. Silverman has published more than a dozen books dealing with subjects such as grammar, art, religion, kingship, Middle Kingdom Studies, and epigraphy, his two latest being Akhenaten and Tutankhamun: Revolution and Reformation and Archaism and Innovation: Studies in the Culture of Middle Kingdom in Egypt. His more than 75 scholarly articles, reports, and reviews have appeared in major international journals. He has directed fieldwork projects throughout Egypt, at sites such as Giza, Bersheh, and Thebes. Since 1992, he has co-directed the Penn Museum expedition at Saqqara.
Dr. Silverman has lectured widely and has appeared in a number of television documentaries about ancient Egypt. In 2011, he was a guest on The Colbert Report.
About the Penn Museum's Egyptian Collection
With more than 42,000 artifacts, the Penn Museum's Egyptian Section contains one of the largest collections of Egyptian and Nubian material in the United States, and features material that spans an extraordinary 5,000 years of ancient Egyptian history. A 15-ton sphinx, the largest in the Western Hemisphere, and monumental architectural elements from the ca. 1200 BCE palace of the Pharaoh Merenptah, grace the Egypt (Sphinx) Gallery. The Museum's finest examples of Egyptian sculpture are exhibited in the third-floor Egypt (Mummies) Gallery. The material on display, including carved relief, stone coffins, and exquisite three-dimensional sculpture, testifies to the superb craftsmanship of Egyptian artists and sculptors throughout Egypt's long history. Two side exhibitions, Amarna: Ancient Egypt's Place in the Sun, and the popular Egyptian Mummy: Secrets and Science, offer topical exploration.
Open since 2012, In the Artifact Lab: Conserving Egyptian Mummies is an exhibition and laboratory that invites guests to observe conservators as they clean, restore, and preserve ancient funerary objects and mummies. The lab has "open window" hours to answer guests' questions twice a day, and maintains a blog to keep visitors updated on their work.
About the University of Pennsylvania's Growing Online Open Course Offerings
The University of Pennsylvania began creating massive open online courses (MOOCs) in 2012, as a founding partner of Coursera. Since then, Penn has produced 100 courses with 107 faculty members from all twelve schools, and expanded its platform partnerships to edX. In addition to MOOCs, Penn supports initiatives for online credentialing, degree programs, and co-funds technology infusion projects for faculty who want to experiment in their classrooms on-campus through the Online Learning Initiative and partnering Penn schools. For more information, please visit: onlinelearning.upenn.edu.
---
The Penn Museum (the University of Pennsylvania Museum of Archaeology and Anthropology) is dedicated to the study and understanding of human history and diversity. Founded in 1887, the Museum has sent more than 300 archaeological and anthropological expeditions to all the inhabited continents of the world. With an active exhibition schedule and educational programming for children and adults, the Museum offers the public an opportunity to share in the ongoing discovery of humankind's collective heritage.
The Penn Museum is located at 3260 South Street, Philadelphia, PA 19104 (on Penn's campus, across from Franklin Field). Public transportation to the Museum is available via SEPTA's Regional Rail Line at University City Station; the Market-Frankford Subway Line at 34th Street Station; trolley routes 11, 13, 34, and 36; and bus routes 21, 30, 40, and 42. Museum hours are Tuesday through Sunday, 10:00 am to 5:00 pm, and first Wednesdays of each month until 8:00 pm, with P.M. @ PENN MUSEUM evening programs offered. Closed Mondays and holidays. Admission donation is $15 for adults; $13 for senior citizens (65 and above); free for U.S. Military; $10 for children and full-time students with ID; free to Members, PennCard holders, and children 5 and younger.
Hot and cold meals and light refreshments are offered to visitors with or without Museum admission in The Pepper Mill Café; the Museum Shop offers a wide selection of gifts, books, games, clothing and jewelry. Penn Museum can be found on the web at www.penn.museum. For general information call 215.898.4000. For group tour information call 215.746.8183.