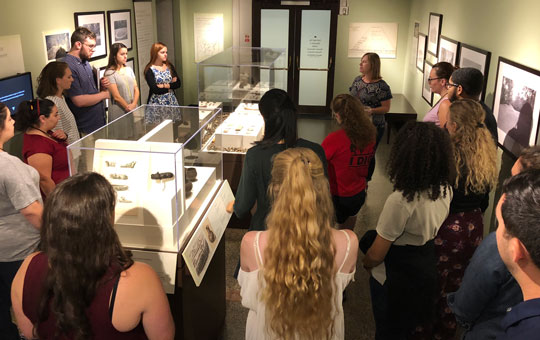 Penn Museum Summer Internship Program
Diverse populations are severely underrepresented in careers related to museums. Internships are one way to change that underrepresentation, creating a pipeline of diverse individuals with the direct experience our program provides. The Penn Museum Summer Internship Program provides college students with the opportunity to work in a museum department in their field of interest: Interns gain practical application of the principles they are learning and public speaking skills by completing and presenting their own project; participate in a weekly Museum Practice Program, where they hear from and have a chance to put their questions to staff across all Museum departments, and enjoy tours of exhibitions, galleries, and behind-the-scenes areas including Museum collections storerooms. Gifts to the Penn Museum Summer Internship Program support fully paid internships for all interns, including a housing allowance when needed, allowing equal opportunity to museum training for candidates from diverse backgrounds.
---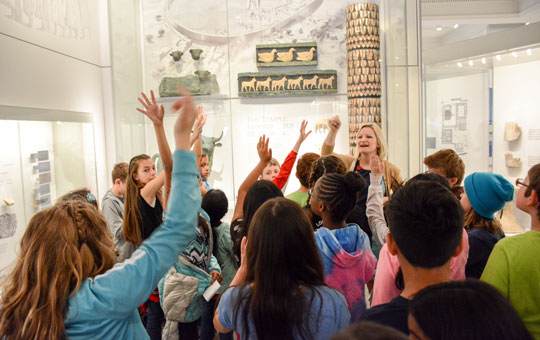 Philadelphia School District-Penn Museum Partnership Program
Since 2014, Unpacking the Past–an innovative partnership with the School District of Philadelphia–has brought archaeological collections to life for middle school classrooms studying ancient Egypt, Mesopotamia, Rome, or China. The multi-stage program enriches "Common Core" curricula in social studies, math, and science through vividly presented scenarios in the ancient world. Unpacking the Past is offered entirely free of charge, including bus transportation, to every Title I middle school in Philadelphia, with additional resources for teachers, and a free, year-long family membership for each participating student. Gifts to Unpacking the Past support educators and students in every part of Philadelphia, with over 100 participating schools each year.
---
Social Justice Collections Stewardship
The Penn Museum is reassessing its practices of collecting, stewarding, displaying, researching, and teaching with human remains, and is creating a new infrastructure for assessing repatriation and reburial requests–including community consultation at every stage. The process will complement and be modeled after the Museum's NAGPRA (Native American Graves Protection and Repatriation Act, 1990) program, which has a 30-year track record of proactively informing and consulting Native peoples and returning relevant materials. Gifts to the Social Justice Collections Stewardship Fund will support cataloging and provenance of the Museum's Physical Anthropology Collection, and work with local communities to learn their wishes and to return individuals to their ancestors, wherever possible, as a step toward atonement and repair for the racist and colonial practices that were integral to the formation of these collections.