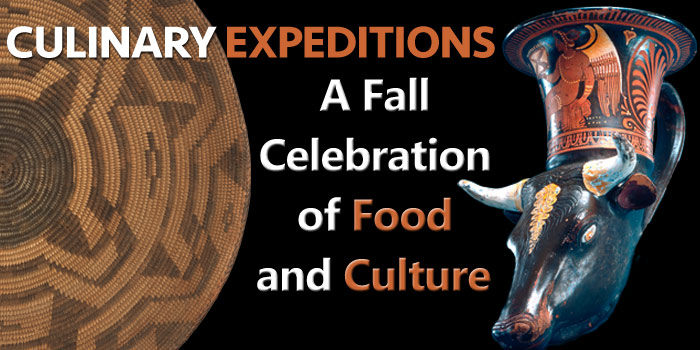 ---
"The mere smell of cooking can evoke a whole civilization."
-—Fernand Braudel, French Historian
This fall, discover more about traditional Native American cooking tools, ancient Egyptians' penchant for tilapia, and the merits of wine decantation, as the Penn Museum explores food, drink, culture and cuisine through the international galleries. Culinary Expeditions: A Fall Celebration of Food and Cultures runs September through December 2014.
---
Tours
Take a Culinary Expedition, visiting 10 food-related artifacts in the Museum galleries via a new self-guided tour, free with Museum admission donation and available at the admission desks. Pick up your guide at the front desk.
For a more in-depth focus on food and foodways, Museum docents offer special tours the first Saturdays of each month, 1:30 pm from the Museum's Kamin main entrance:
Michele Belluomini, a storyteller who has performed at many Penn Museum events, presents "Exploring Foodways: Stories Behind the Artifacts" September 6 and December 6.

Elin Danien, Ph.D., consulting scholar in the American Section of the Penn Museum, an expert on the ancient Maya, and an avowed chocoholic, offers "Delicious—and Good for You!" tours October 4 and November 1.
Image caption: Egyptian Fish Rattle Museum Object Number: E13005
---
Dining
The Museum's Pepper Mill Café joins in the celebration with Culinary Expeditions menus focused on diverse regions of the world, Fridays through Sundays, September 5 through December 21. The special menus are posted below. (Note: menu items are subject to change)
September menus for Culinary Expeditions: Africa, Asia, Egypt, and Greece
Africa, September 5–7:
Savory Poached Catfish
Parsleyed Jollof Rice
Plantain Chips
Braised Collard Greens
Asia, September 12–14:
Julian's Red Curry Chicken
Gingered Tofu & Asparagus Stir Fry
Snow Pea & Shiitake Stir Fry
Egypt, September 19–21:
Herb Stuffed Tilapia
Lentil, Rice & Chickpea Casserole
Sesame Mangoes
Sweet & Sour Okra
Greece, September 26–28:
Eggplant & Lamb Casserole
Greek Salad
Braised Carrots with Olives
Honey, Walnut & Orange Cake
---
October menus for Culinary Expeditions: Mesoamerica, Middle East, Native America, Rome, & Africa
Mesoamerica, October 3–5:
Turkey in Mole Sauce
Guacamole with Jicama
Roasted Green Chilies with Cream
Drunken Beans
Middle East, October 10–12:
Braised Chicken with Grapes
Hummus, Baba Ghanouj & Whole Wheat Pita Bread
Saffron Rice Pilaf
Beet & Yogurt Salad
Native America, October 17–19:
Roasted Salmon, Nut Oil
Wild Rice Salad with Fruit & Nuts
Acorn Squash with Black Walnuts
Rome, October 24–26:
Grilled Steak, Tuscan Style
Crispy Fried Artichokes
Creamy Herbed Polenta
Sautéed Broccoli Rabe, Caper Berries
Africa, October 31–November 2:
Spicy Stewed Chicken Thighs
Cinnamon Yams
Spicy Red Cabbage Slaw
Tapioca Coconut Pudding
---
November menus for Culinary Expeditions: Asia, Egypt, Greece, and Mesoamerica
Asia, November 7–9:
Sweet & Sour Bass
Cucumber Cashew Salad
Marbled Tea Eggs
Egypt, November 14–16:
Herb Stuffed Tilapia
Lentil Spread, Pickled Pearl Onions & Crispy Flatbread
Sesame Mangoes
Fig & Walnut Pastry

Greece, November 21–23:
Grilled Branzini
Braised Carrots with Olives
Custard Filled Baklava
Mesoamerica, November 28–30:
Chicken, Tomatillo & Pepita Sauce
Guacamole with Jicama
Drunken Beans
Mexican Style Hot Chocolate
---
December menus for Culinary Expeditions: Middle East, Native America, and Rome
Middle East, December 5–7:
Lamb & Date Kabobs
Hummus, Baba Ghanouj & Whole Wheat Pita Bread
Beet & Yogurt Salad
Rice with Black Cherries
Native America, December 12–14:
Clam Fritters
Wild Rice Salad with Fruit & Nuts
Acorn Squash with Black Walnuts
Rome, December 19–21:
Vermicelli with Calamari & Shrimp
Fennel & Orange Salad
Pignoli Cookies